Weekend Wrap-Up
The Expendables 2 Flushes Bourne From Top Spot
By John Hamann
August 19, 2012
BoxOfficeProphets.com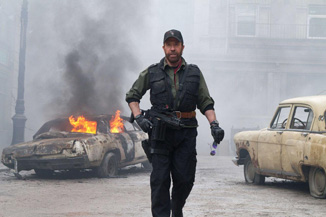 ---
We must be getting to the end of the silly season. A weekend ago, we had four new films debut on more than 800 screens. This frame we get four more and the mid-August box office flush of blockbusters takes place. Movies joining the crowd this weekend are The Expendables 2, the sequel to the surprise quarter-billion worldwide hit; ParaNorman, from the creators of Coraline; Sparkle, starring Idol winner Jordin Sparks and the late Whitney Houston; and The Odd Life of Timothy Green, a strange film about finding a 10-year-old in a cabbage patch. We haven't seen a weekend this weird since Ted, Magic Mike, and a Madea film were released together, earning a combined $119 million.

Our number one film is The Expendables 2, a film I would normally launch into for its sheer ridiculousness. However, given its fresh status at Rotten Tomatoes and the fact that it's not trying to be something it isn't, The Expendables 2 is just what we need at theaters right now - late summer escapism. Audiences were accepting of the '80s nostalgia this weekend, as The Expendables 2 earned a solid $28.8 million from 3,316 venues. It had a venue average of $8,460. The only comparison for this sequel is to the original Expendables, which Sylvester Stallone both wrote and directed. This time out, he's only writing (my mind's eye comes up with some interesting pictures when I think about Stallone writing, but that's another story).

The original Expendables opened over the same August weekend in 2010, taking in $34.8 million and soundly beating Julia Robert's Eat Pray Love (not to mention the cult film of the decade, Scott Pilgrim vs The World). At the time, the high concept Inception was the flavor of the week, and guys were looking for some old-fashioned action where they didn't have to think. Lionsgate put together a marketing campaign that played up two big cameos from Bruce Willis and Arnold Schwarzenegger, making it look like they had bigger roles than they did. Even so, the first film still earned a B+ Cinemascore and took in $13.3 million over opening day. It had a weekend multiplier of 2.61, a score that would indicate the familiarity that audiences had with the cast, making it play more like a sequel over opening weekend, where the biggest day is Friday.

This time out, the Friday for The Expendables 2 came in at $10.5 million, which means the weekend multiplier was 2.73, not that far off of the original. While the opening weekend doesn't match that of The Expendables, it is close enough to know that Stallone and Lionsgate are going to have another successful picture on their hands. The first film cost $80 million to make and netted $274 million worldwide, with over $100 million of that coming from domestic cinemas, where the studio's cut is higher. This one cost $100 million to make, but will likely make up the cost difference by having a healthier overseas session. Given the season, the opening weekend-to-total gross will likely remain near 3.0 (the original was 2.95). Thus, The Expendables 2 will easily earn $75-$80 million stateside and another $250 million overseas. This is going to be a strong franchise in the long term.

With the original Expendables, Lionsgate paid about $20 million of the film's $80 million budget for distribution in North America and Great Britain, and also put up another $40 million to market it. Avi Lerner's Millennium and NuImage Films fronted the production budget's remaining $60 million. This time out, Lionsgate is investing $35 million as well as marketing costs, with Lerner's companies picking up the $65 million balance. At its core, The Expendables franchise is simply that of a B movie, but with the costs and profits at stake, it is much more than that. The press may hammer the fact that the sequel didn't out-gross the original; however, with the action stars involved, the original was like a sequel, with this picture behaving more like a third film in the series.

The Bourne Legacy drops hard this weekend, as it has seen a series of knocks over the last week. After having an estimated opening weekend of $40.3 million, that number got knocked down to $38.1 million on Monday, with Universal surprising no one with their ridiculous over-estimate last weekend. It had an okay Monday-to-Thursday, but earned only $5.3 million on its second Friday, not that much of an uptick from its $3 million Thursday. The Bourne Legacy completed its second weekend with a gross of $17.0 million, off a large 55% from its opening frame. This is not good news for Universal or the studio's planned continuation of the franchise that made Matt Damon a superstar. The first film in the series, The Bourne Identity, opened to a much smaller $27.1 million in 2002 and dropped 44% in its second weekend. That drop brought the gross down to $15.1 million, only a few million away from what Legacy earned this weekend. By next weekend, the original – from a decade ago - will be out-grossing the Jeremy Renner version. Not good.

The Bourne Legacy cost Universal $125 million to make, and likely another $100 million to market. With the drop this weekend, this Bourne is looking even worse than The Amazing Spider-Man, the other odd reboot release from summer 2012. Spider-Man opened on a Wednesday, so it didn't see the punishing drop that The Bourne Legacy did, falling 44%. However, it did fall 68% in its third weekend, when The Dark Knight Rises opened (and the Aurora shootings took place). The Bourne Legacy does appear to be headed for a $100 million domestic finish, but it's not going to be much more than that, which means Universal will have to rely heavily on foreign grosses to keep the franchise going. On the domestic side, The Bourne Legacy has earned $70 million.

Finishing third is ParaNorman, the latest film from Laika, the makers of Coraline. Out to 3,429 theaters (the highest count ever for Focus Features), ParaNorman did quite well this weekend, earning $14 million and garnering a venue average of $4,085. ParaNorman followed the Coraline trend perfectly. Coraline opened to $4.5 million over its first Friday, whereas ParaNorman earned about $100,000 more. Because Coraline was released in February, it had a strong multiplier at 3.6, as kids aren't as available to see movies on Friday as they are in August. ParaNorman's multiplier came in at 3.11, which leads to the slightly lower opening weekend than Coraline's $16.8 million. ParaNorman was 87% fresh at RottenTomatoes, compared to 90% fresh for Coraline. The biggest similarity that Focus will want to see is legs. Coraline was ridiculously leggy, with an opening-to-total multiplier of 4.46, staying in the top ten for seven weekends, but that may have been a product of the weaker box office season. Travis Knight, who owns Laika with his father, Nike's Phil Knight, said that the budget for Coraline was overstated at between $60 and $70 million, and that ParaNorman cost no more. Should the cost on this one be $60 million, Focus and Laika appear to have another hit on their hands.

Fourth is The Campaign, the Will Ferrell/Zach Galifianakis mashup that debuted last weekend to $26.6 million. As expected, The Campaign fell fairly hard, earning $13.4 million in its second weekend. That's drop of 51%, but let's remember that this isn't a $200 million blockbuster, it's a $55 million comedy, so the financial stakes are much lower. Given that The Campaign has already earned $51.7 million, Warner Bros. just might eke out a profit from this one.

Fourth is Sparkle, the new Motown movie starring the late Whitney Houston and American Idol winner Jordin Sparks. Sparkle, from Sony TriStar, had an okay opening, and likely better than it would been have had Houston not died shortly after production was completed. Sparkle took in $12 million from only 2,244 venues, giving it an okay venue average of $5,348. Made for only $14 million, this will be a big hit should it play for more than one weekend, but I doubt it will. People came out in the first frame to see Houston's last performance, but the 56% fresh rating and old-fashioned feel of the production may hold it back from being a big hit.

The Dark Knight Rises finished in sixth place as it took in another $11.1 million and fell 43%. Batman Part III crossed the $400 million mark on Friday, its 29th day (and the beginning of its fifth weekend). It becomes the fourth fastest film to reach $400 million, behind The Avengers (14 days), The Dark Knight (18 days), and Avatar (23 days). The total for the $250 million Warner Bros. epic has reached $409.9 million, with another $450 million coming from overseas revenues.

Seventh goes to the Odd Life of Timothy Green, our fourth opener in the top seven this weekend. From Disney, this fantasy opened on Wednesday to an only okay result, as it took in a small $2.3 million on opening day. It dropped to $2 million on Thursday, but perked back up to $3.4 million on Friday. It finished the Friday-to-Sunday portion of its debut at $10.9 million, and had a five-day tally of $15.2 million. Odd Life cost Disney and its partners $40 million to make, so again, with a lower budget, this smaller film just may work out for the studio. It has that Disney feel, and if it finds that right kind of family audience, it could match the production budget.

Eighth is Hope Springs, which actually had a decent hold despite dropping from fourth spot last weekend. The Meryl Streep/Tommy Lee Jones feature earned $9.1 million in its second weekend and dropped an okay 42%. Remember, this Sony production cost only $30 million to make, and has already earned $35 million.

Ninth is Diary of a Wimpy Kid: Dog Days. The best days are behind this franchise, as Dog Days earned only $3.9 million this weekend and declined 53%. It has a running total of $38.9 million against a budget of $22 million.

Our tenth place finisher is Total Recall, which took another hit as it fell 56% from last weekend to $3.5 million. It will be out of the top ten next weekend and has to be considered a disappointment for Sony, as its domestic total is $51.8 million. The saving grace, as is so often the case, will be the overseas revenues. The film was budgeted at around $125 million (plus a lot more for marketing costs).

Overall this weekend, the box office did quite well considering the motley crew of openers. A year ago, The Help moved from second place the weekend before to number one in its sophomore frame, but was surrounded by flops. The top 12 last year came in at only $106 million. This year, the top 12 earned a much better $128.2 million, but couldn't keep up with 2010, when the original Expendables opened, taking the top 12 to $132.1 million. Next weekend, you don't have to go to the movies. Openers include the sure-to-be-bad horror flick The Apparition, Hit & Run with Bradley Cooper and Dax Shepherd, and Premium Rush, which has Joseph Gordon-Levitt on a ten-speed.