Things I Learned From Movie X
Prometheus
By Edwin Davies
August 16, 2012
BoxOfficeProphets.com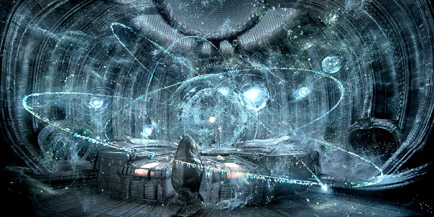 ---
When it was announced that Ridley Scott was returning to science fiction after a three decade absence from the genre that made his name, the world nearly drowned in the ensuing wave of cautious optimism. Sure, he'd not made a good film in at least a decade, and he hadn't made a genuinely great film since Blade Runner in 1982, and even then his best work in that period came from relentlessly tinkering with those early films and making them better like the Bizarro George Lucas that he is, but this was the man that delivered the one-two punch of Alien and the aforementioned Blade Runner, and that had to mean something. Even once it became apparent that the film was tangentially related to Alien, people didn't completely lose their shit over it. After all, it was merely taking place in the same universe as that masterpiece; it wasn't a prequel or anything like that, right?

Oh.

Even setting aside Prometheus's somewhat perplexing connection to Alien – all that interspecies breeding stuff gave me horrible flashbacks of trying to get the gold Chocobo in Final Fantasy VII, which is something no one should have to live through, let alone re-live – the resulting film was a flawed demonstration of everything good and bad about Ridley Scott as a director. Visually stunning, it may even be one of the most beautiful films of the last decade, and with the sort of rich, detailed world that is so sorely lacking in most modern science fiction, it was hampered by a script that struggled to balance its lofty themes and its genre roots. Essentially a bleak film about death and the nature of Man's relationship with God, it was populated by characters who, despite being incredibly intelligent scientists, acted like teenagers in a Friday the Thirteenth sequel. Actually, scratch that: they acted like teenagers in a Friday the Thirteenth knock-off. Characters so dense, their actions could only be explained by assuming that they suffered some truly traumatic brain damage after being woken from cryogenic sleep at the beginning of the film. Prometheus wound up seeming like either a very smart film that got dumbed down massively, or a very stupid film with pretensions. Much like the crew of the Prometheus, we may never know the answer to this most fundamental of questions.

Yet despite the STAGGERING flaws of the film, there are lessons to be drawn from Prometheus, lessons like…

Logan's Run is about to become a fantastic, terrifying reality

One of the most discussed aspects of the film – and when I say discussed I of course mean roundly mocked – was the decision to cast Guy Pearce as Peter Weyland, the dying billionaire who funds the ill-fated expedition to discover whether or not giant aliens named Engineers visited Earth and created Mankind. This was not merely because the role required that Pearce's razor sharp cheekbones be hidden beneath make-up that made him look like Emperor Palpatine's sickly cousin, but because casting a 44-year-old actor as an old man, especially someone with the name recognition of Guy Pearce, is pretty much guaranteed to distract people and take them out of the movie. Since the film came out it has been "confirmed" that scenes of a young Weyland were filmed, but that they were left on the cutting room floor, but that still doesn't excuse the incredibly poor job they did on the make-up for the character. Admittedly it was probably cheaper than hiring a real old man to play Weyland – it looks like they spent about $5 on it in total, and you're not going to get Terence Stamp in for less than $6 – but when you consider how amazing the rest of the film looks, any sub-standard effect is going to stick out like a badly rendered thumb.

However, I think that behind Pearce's inclusion lies a much more sinister agenda, one that will shock and appal you. I speak, of course, of a secret plot to kill all actors over 50. For years now these elderly bastards have been taking jobs from hungry actors who are denied the chance to play crotchety old men and feisty grandmothers solely because they're 25. It's discrimination, pure and simple. If we assume that Ridley Scott is lying about the existence of scenes of the young Weyland (and since he already lied about the relationship between Prometheus and Alien, not to mention the even more blatant relationship between Prometheus and Hannibal, we can probably assume he's lying about that too) then Pearce's casting must be considered the first shot in a generational war which will see the extermination of all elderly actors and actresses so that the young can take all the choice roles they have desired but been cruelly denied by these veteran Oxygen-junkies.

Imagine how beautiful the world will be when all old people in films are played by young actors in bad make-up. A gritty reboot of Grumpy Old Men starring Joseph Gordon-Levitt and Jonah Hill will be just a dream and a production meeting away. Paul Rudd will soon be able to slip into every role previously earmarked for Robert Duvall with the most minimum of fuss. And we are mere years away from an Amazing Spider-Man sequel in which Emma Stone plays both Gwen Stacy *and* Aunt May, to the barely disguised disgust of the world. We shall build a new Paradise in Hollywood, a world in even the old are young, and no one need see a real wrinkle or grey hair again.

The only reason I can think of why this has not yet come to pass is that everyone is afraid to make a move whilst Clint Eastwood is still alive. But mark my words, old people, your days are numbered. All hail the young flesh!

In the future, all films will be released two-minutes at a time, and each will have a trailer

As the year progressed and the release date for Prometheus loomed ever closer, the marketing people behind the film started to ratchet up the anticipation through an advertising campaign that could be mildly described as frustrating. The main reason for the frustration was that the film was advertised not merely through usual methods like posters and trailers, as well as a couple of cool little bits of extraneous material like a TED talk delivered by Peter Weyland (which remains the only evidence that Guy Pearce did anything relating to the film that did not require him to perform in Old Face) and an ad for the make of android played by Michael Fassbender, they also made the bizarre decision to at one point release a teaser promoting the upcoming release of a new trailer. Yes, they released a trailer for a trailer. Movie marketing is already crazy enough, with most trailers now functioning as unwanted summaries of entire films rather than previews, but this seemed to cross a line that most people didn't seem to realize existed in the first place.

But it also seems weirdly appropriate, since Prometheus itself at times feels less like a film than an extended trailer for itself. Characters act in ways which are massively contradictory to how either real people would act or how you would expect the characters themselves to act based on what has already been established about them, they make leaps in logic that make no sense given their experiences, and major events – such as the sequence in which Dr. Elisabeth Shaw (Noomi Rapace) uses a machine to perform an improvised C-section on herself, which is the best scene in the whole damn film – go by without being mentioned or followed up on.

This sort of stuff makes no sense if considered using even the most lenient of movie logic, but they make perfect sense using trailer logic. If we imagine that these leaps are just gaps where the other scenes will be when we see the final film, then they can be overlooked as a convenience allowing us to see just the good stuff without the connective tissue. You wouldn't complain about a trailer omitting scenes, so why complain when a "feature length trailer" like Prometheus does the same thing? Ridley Scott has already hinted that a director's cut is on the way, one which will supposedly feature the Young Peter Weyland footage (wink wink), and there is enough good to great stuff in the "trailer" that we all saw over the summer to suggest that the film itself will be something special when we see all those disparate scenes in context.

I mean, they'd have to, right? Because if Prometheus *wasn't* a theatrically released, feature-length trailer, then what was it? It certainly wasn't a finished film.