Weekend Forecast for August 10-12, 2012
By Reagen Sulewski
August 10, 2012
BoxOfficeProphets.com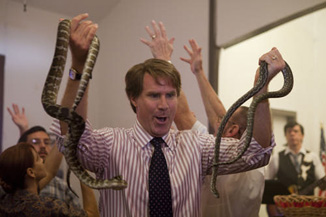 ---
Rarer than the remake, rarer than the reboot, much rarer than the sequel, is the spin-off movie. One of the more successful action franchises of the last decade attempts to live beyond the departure of its star as it leads off a surprisingly busy August weekend.

The Bourne series has been called "The American Bond" in some circles, and while it still has a long way to go to match the legacy of the British spy series, in box office terms the comparison isn't crazy. And now it shares at least one other characteristic – changing lead actors. Admittedly, Jeremy Renner isn't playing the same character as Matt Damon in the first three films, but the series still carries that character's name, and his absence drives the action – just like Poochy, if they'd listened to Homer.

Tony Gilroy, screenwriter for the first three films, takes over in the director's chair for this entry, which is based on the somewhat ingenious tagline "There Was Never Just One", setting up the possibility to continue it in perpetuity. We're still cleaning up the mess of the Treadstone Project, with Renner an asset left out in the field who's had some... modifications, and wants to avoid being liquidated as the CIA attempts to cover up its mistakes. It follows the same basic template as the other films, as we follow Renner from international location to international location with a love interest (Rachel Weisz) while he's being tracked by a weaselly higher-up (in this case Edward Norton) and an ambiguously allied truth-seeker (Joan Allen, again), with various other character actors holding pieces of the story (Stacy Keach, Scott Glenn).

The Bourne series reinvented filmed action to an extent in the 2000s, stripping away the Baysian excess down to brutal hand-to-hand fights and desperate, seat-of-the-pants chases both on foot and on wheels. We'll see if Gilroy is up to the task of filling Paul Greengrass' (and to an extent, Doug Liman's) shoes in that department, but at least we're not being handed off to a total naif to the series. Gilroy also has a Best Director nomination to his credit (for Michael Clayton), so there's reason to be optimistic there too.

But does Renner have the ability to be the Roger Moore to Damon's Sean Connery (just bear with me for a minute on this metaphor)? Hollywood has clearly been trying to make fetch happen, throwing Renner into a couple of giant franchises following his pair of Oscar nominations for The Hurt Locker and The Town. While he was sort of the "Professor and Mary Anne" of The Avengers (and one of the two main characters to not get his own build-up movie), his role in Mission:Impossible 4 was a little more significant and might lead to him being handed the franchise if Tom Cruise is done with it. I don't know if he wants to be known as the hand-me-down guy, but there are worse ways to make a living in Hollywood, I suppose. This makes evaluating him as a stand-alone lead actor fairly difficult, though, as it's impossible to separate his draw from that of The Avengers or Mission:Impossible. One thing for certain is that a vastly larger number of people are aware that there's such a thing as him now than there were a couple of years ago.

The heights of the Bourne franchise under Damon, which saw Ultimatum open to $69 million, are way out of reach. There's also going to have to be some trust built up with viewers. With Bond, people know the film can be handed off successfully; we're in wait and see mode with Bourne. The film looks solid, however, and a decent opening weekend of $36 million isn't out of the question here.

A bit of a wild card as far as a potential weekend winner is here in the form of The Campaign, which matches Will Ferrell up against Zach Galifianakis. Ferrell plays a multi-term congressman from North Carolina who has essentially been unopposed for several terms and gotten lazy and stupid for it. With his shadowy businessman puppet masters unhappy with his performance, they bring in another useful idiot to challenge him in the form of Galifianakis, a fussy and meek representative of a local tourism board. Hilarity ensues as the battle of the idiots takes place in front of horrified image consultants, campaign managers and the voting public.

Jay Roach directs the film, but it's got to be the Ferrell and Galiafiankis show for this film to work, although they're mostly playing slight variations on their Anchorman and Hangover characters respectively. It's a fine line for both these actors to walk, however, as letting their ids run free on movies has failed before and could easily fail again. Thankfully, it looks like the film might have something to say, satirizing the current state of politics and soundbite journalism – not that it's going for anything serious, mind you, but having a point is a good thing.

It's been about two years since Ferrell's had a movie in theaters that's been intended to be big (stunts like Casa de mi padre don't count – but the fact he made a movie in Spanish and got it released says something about his power). The Other Guys was an unconventional pairing for an action-comedy but still opened to $35 million, which seems to be about his typical level, although he's not immune to a flop with things like Semi-Pro. Galiafianakis is a bit more of a wildcard, since we can certainly credit some of the success of the Hangover series to him, but there's zero reason to believe he's got $80 million drawing power for any comedy now. Due Date is a clear example of that, though helping to open that film to $32 million when it was widely seen as mediocre is a feat in itself.

Reviews aren't positioning this as any kind of instant comedy classic, though neither did they for Anchorman and look where we are with that film now. Ferrell and Galifianakis' audiences are probably close to a perfect overlap, so putting both of them in the same film isn't a 1+1=2 situation, but it does likely ensure that the film reaches its potential. I'd look for about a $29 million opening weekend here.

The verdict is already partially in for Hope Springs, which opened on Wednesday to $2.2 million. Meryl Streep and Tommy Lee Jones (the pairing you've always wanted!) play a married couple stuck in a rut who undergo an intensive week-long therapy session (with Steve Carell!) to revitalize their marriage and I can't believe you're still reading this sentence. Anyway, it's a genteel and perhaps smartly constructed movie but seems the furthest thing from exciting. Streep and Jones are likely solid as always but movies aimed at older demographics like this and without any big hooks are not the kind of things that set the box office on fire. With that start, it's set for around $9 million on the weekend.

Speaking of setting things on fire, here comes Nitro Circus: The Movie. Based on the MTV series and a spin-off of sorts of Jackass, it's the big screen version of Travis Pastrana's crew of maniacs who attempt to injure themselves with increasingly outlandish stunts on dirt bikes, BASE jumps, extreme ski runs and the like. While the Jackass series proved extremely popular in theaters and in 3D even, Nitro Circus simply is not as well known, and the audience for these stunt films is pretty limited. Witness X-Games 3D, which admittedly was less about showmanship and deliberate risks to life and limb, but which opened to less than $1 million. This shouldn't do that poorly, but will likely have a limited impact on the box office with around $3 million this weekend.

Three weekends at the top is all she wrote for The Dark Knight Rises, though that's after close to $375 million. Much ink has been spilled about the ways in which it has and has not lived up to expectations or the marks set by its predecessor, but in raw terms we're still talking about a film that's going to approach $500 million domestic and break $1 billion worldwide. Would that all our disappointments performed that way. I'd look for around $20 million this weekend, which isn't all that far off from what The Dark Knight earned in the same spot.

The remake of Total Recall didn't inspire a lot in the way of justifying its existence, either in its content or in its lead actors, and this apathy was reflected in a $25 million opening. This is a pretty costly throw under the bar for an film budgeted north of $125 million, and virtually guarantees that it won't pass even the $100 million mark domestically. Whether this will inspire Hollywood to be a bit more circumspect in its choices regarding remakes remains to be seen... ha. No, of course it won't. Add $14 million here this weekend.

The third and likely final Wimpy Kid movie – if last weekend's opening serves as any kind of warning to quite while they're ahead – is next with around $8 million. While these films remain dirt cheap to make, it's difficult to get three movies out of these franchises, and harder still to get more than that before your audience moves on. It'll have some competition for the kid market from Ice Age: Continental Drift, which should be around $6 million.