Comics Weekly
By Pete Kilmer
August 8, 2012
BoxOfficeProphets.com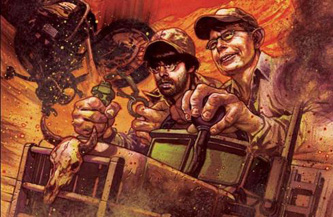 ---
Pete Kilmer has been in the comics retail industry for ten years as a member of Downtown Comics in Indianapolis. Downtown Comics is one of the Midwest's largest comic retailers with over four locations in Indianapolis. All opinions are his own, and they cannot be bought with free swag. Beer and a walk on role on Burn Notice to steal Fiona from Michael Weston and I'm a bought man.

Four out of five dentists say that comics are good for you! This week's new books include Creep #0, Daredevil Annual, Gambit #1, It Girl and the Atomics, Red Sonja: Atlantis Rises and Stephen King/Joe Hill's Road Rage (hardcover).

ADVENTURE TIME MARCELINE SCREAM QUEENS #2 15 COPY INCV
AMERICAN VAMPIRE LORD OF NIGHTMARES #3 (OF 5) (MR)
ARCHER & ARMSTRONG (NEW) #1 REG SUAYAN CVR
ARTIFACTS #20
ASTONISHING X-MEN TP VOL 08 CHILDREN OF BROOD
ATOMIC ROBO FLYING SHE DEVILS O/T PACIFIC #2 (OF 5)
ATOMIC ROBO REAL SCIENCE ADV #5
AVENGERS ASSEMBLE #6
BATGIRL #12
BATMAN AND ROBIN #12
BATMAN ARKHAM UNHINGED #5
BEFORE WATCHMEN OZYMANDIAS #2 (OF 6) (MR)
BLOODSTRIKE #29
BTVS SEASON 9 FREEFALL #12 NOTO CVR
CAPTAIN AMERICA #16
CAPTAIN AMERICA AND IRON MAN #635
CONAN THE BARBARIAN #7
CREATOR OWNED HEROES #3 (MR)
CREEP #0
DAKEN DARK WOLVERINE TP PRIDE COMES BEFORE FALL
DANCER #4
DAREDEVIL ANNUAL #1
DC UNIVERSE ONLINE LEGENDS TP VOL 03
DEADPOOL KILLS MARVEL UNIVERSE #2 (OF 4)
DEADWORLD WAR O/T DEAD #2 (OF 5)
DEATHSTROKE #12
DEATHSTROKE TP VOL 01 LEGACY
DEMON KNIGHTS #12
EXECUTIVE ASSISTANT ASSASSINS #2
FAIREST #6 (MR)
FANBOYS VS ZOMBIES #5
FANTASTIC FOUR #609
FLASH CHRONICLES TP VOL 03
FRANKENSTEIN AGENT OF SHADE #12

GAMBIT #1
GARTH ENNIS JENNIFER BLOOD TP VOL 02
GI JOE A REAL AMERICAN HERO #181
GI JOE V2 COBRA COMMAND TP VOL 03 AFTERMATH
GODZILLA HALF CENTURY WAR #1 (OF 5)
GRIFTER #12
HOAX HUNTERS #2
IDOLIZED #1 CVR A ADAMS
INCREDIBLE HULK #12
IT GIRL & THE ATOMICS #1
JIM BUTCHER DRESDEN FILES FOOL MOON #7 (RES)
KISS #3
LEGION LOST #12
MAGIC THE GATHERING SPELL THIEF #2
MARVEL UNIVERSE AVENGERS EARTHS HEROES #5
MASSIVE #3 LEON CVR
MEGA MAN #16
MIGHTY THOR #18 BURNS
MOUSE GUARD BLACK AXE #5 (OF 6)
NEW AVENGERS #29 AVX
NIGHT FORCE #6 (OF 7)
NINJAGO GN VOL 04 TOMB O/T FANGPYRE
PANTHA #3
PUNK ROCK JESUS #2 (OF 6) (MR)
RAVAGERS #4
RED SONJA ATLANTIS RISES #1
RESURRECTION MAN #12
RIGHT STATE HC (MR)
SCARLET SPIDER #8
SCARLET SPIDER PREM HC VOL 01 LIFE AFTER DEATH
SENSATIONSAL SPIDER-MAN #33.1
SPACE PUNISHER #2 (OF 4)
SPIDER-MAN NEXT CHAPTER TP VOL 03
SPIDER-MEN #4 (OF 5)
STAR WARS KNIGHT ERRANT ESCAPE #3 (OF 5)
STAR WARS LOST TRIBE O/T SITH SPIRAL #1 (OF 5)
STEPHEN KING JOE HILL ROAD RAGE HC
SUICIDE SQUAD #12
SUPERBOY #12
TAXES TEA PARTY & THOSE REVOLTING REBELS HC
TEENAGE MUTANT NINJA TURTLES ADVENTURES TP VOL 01
THUNDA #1
TMNT COLOR CLASSICS MICRO SERIES RAPHAEL ONE SHOT
TRANSFORMERS ROBOTS IN DISGUISE ONGOING #8
VAMPIRELLA #20
VAMPIRELLA ANNUAL #2
VENOM #22
VOLTRON YEAR ONE #4
WARRIORS OF MARS #4 (MR)
WOLVERINE #311
WORLDS FINEST TP
X-FACTOR TP VOL 14 SUPER UNNATURAL
X-MEN LEGACY #271

On Fridays we now post the complete list of new comics that actually ships for the week. Books that will actually be in store! So please head over to Downtown Comics and check out the Shipping This Week section!