Weekend Wrap-Up
'Recall' and 'Dog Days' Make for 'Wimpy' Weekend
By Tim Briody
August 5, 2012
BoxOfficeProphets.com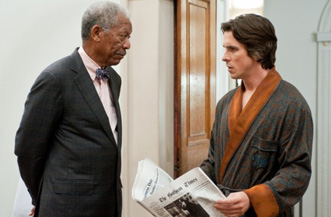 ---
After the beating the box office took last weekend, Hollywood looked to reverse its fortunes this weekend with a questionable remake and a somewhat reliable kid-lit franchise releasing out of its traditional time period. It was also hoping that The Dark Knight Rises would slow its decline that it saw after collapsing 60% from the third largest opening weekend of all time. What we got was one of the weaker summer frames we've seen in a good while.

The Dark Knight Rises is your top film for the third weekend, earning $36.4 million. That's a decline of 43.1% from last weekend, which is just fine after it dropped 60% from its opening weekend. After three weekends, it now stands at $354.6 million. While this is a fine performance and it's currently the third highest grosser of 2012, The Dark Knight had earned $393.7 million at the same point after a weekend of $42.6 million.

Is this performance bad? No, not at all. Unfortunately, it is forever linked to The Dark Knight's $533 million. While yes, there were other factors at work that The Dark Knight benefited from (mainly the franchise's most iconic villain and [bp:107_]Heath Ledger[/bp]'s performance), for The Dark Knight Rises to be this far off its pace is still rather surprising.

The Dark Knight spent four weekends at the top. Next week, The Dark Knight Rises gets its most serious challenge with [tm:4716_]The Bourne Legacy[/tm], albeit how successful that will be now that it is [bp:151_]Matt Damon[/bp]-less is unknown. The Dark Knight Rises appears to have righted the ship after a disastrous second weekend, and $450 million seems like an attainable goal now.

In second goes the first of two new releases this weekend, a remake of the 1990 Arnold Schwarzenegger sci-fi film Total Recall. Starring [bp:18_]Colin Farrell[/bp] and [bp:196_]Kate Beckinsale[/bp] (and directed by Mr. Kate Beckinsale, Len Wiseman), Total Recall earned $26 million. That doesn't sound too bad until you realize two things: it cost $120 million to make and back in June of 1990, Total Recall opened to $25.5 million. That's not a whole lot of inflation there. Remakes really need to give people a reason to show up, and there just isn't the star power or a good enough hook here. It was trying to position itself as a action alternative to The Dark Knight Rises, but audiences still went with Batman.

Sony is pretty much out of luck in hoping Total Recall will make its production budget back off of its domestic box office, and even $100 million is going to feel like a stretch without a fantastic hold next weekend.

Third goes to [tm:5345_]Diary of a Wimpy Kid: Dog Days[/tm], the third entry in the young adult book series, brought to the big screen by Fox. It earned $14.7 million, which is a significant hit from 2010's Diary of a Wimpy Kid $22.1 million and 2011's Rodrick Rules, which won its opening weekend with $23.7 million. Of course, the primary difference here is the previous two Wimpy Kid films opened in March as opposed to the summer, which hurts films that target younger audiences. When out of school, kids have more time to see movies than just the weekend. For instance, Dog Days had a 2.49 multiplier for the weekend, which is rather terrible considering Rodrick Rules had a 3.26 internal multiplier. While we'll have to watch the weekdays to see if it makes up any ground, it might have a hard time reaching the heights of the previous entries, $64 million for Diary of a Wimpy Kid and $52.6 million for Rodrick Rules.

While the book series runs seven books deep at this point (and Dog Days combines plots from the third and fourth books in the series), there's a chance this might be the end of the Wimpy Kid film series. Not because of the box office (it only cost $22 million to make so it'll be in the black after next weekend), but due to the cast (and target audience) getting older. The main character is supposed to be in middle school but the actors are now getting ready for high school. It wouldn't surprise me for there to be another Wimpy Kid entry next year, but we may be reaching diminishing returns.

Fours are wild as in fourth is [tm:5348_]Ice Age: Continental Drift[/tm], the fourth Ice Age film in its fourth weekend. It earned $8.4 million, bringing its tally to $131 million. Inexplicably, the Ice Age franchise is wildly popular overseas, and while this is going to be the lowest domestic earner of the four films (Ice Age at $176.3 million is the current low point), the worldwide grosses mean Fox has likely penciled in an Ice Age 5 for a couple years from now.

In fifth is [bp:122_]Ben Stiller[/bp]'s [tm:2253_]The Watch[/tm], down 51.1% from its opening to $6.3 million. Well, things could've been worse for the supposed comedy, directed by Akiva Schaffer of The Lonely Island fame. It's got $25.3 million after two weekends, well off of its reported $68 million cost. $40 million seems like the best case scenario here.

Breakout comedy [tm:5129_]Ted[/tm] reaches a milestone in its sixth weekend, crossing $200 million with a weekend of $5.4 million. Only costing $50 million, it's one of the year's biggest hits, and what writer/director Seth MacFarlane will unleash on the world next thanks to the success here, we can only imagine.

Step Up: Revolution drops 55% from last weekend to take seventh with $5.3 million. It's got $23 million after two weekends. It's yet to earn back its $33 million production budget, but it should get there, barely. Step Up 3D made a killing overseas, and Summit is hoping Revolution will do the same.

[tm:4672_]The Amazing Spider-Man[/tm] holds well in weekend five, down 36.7% to $4.3 million, crossing the $250 million barrier in the process. The reboot won't crack the $300 million mark, and perhaps the best it can do is $275 million, almost $100 million less than Spider-Man 2 took in (and way behind the $336 million of Spider-Man 3).

Pixar's [tm:4518_]Brave[/tm] is in ninth with $2.9 million, giving it $223 million in seven weekends. It's tied with WALL-E's earnings and is definitely one of the more successful Pixar releases, especially after the reputation tarnishing Cars 2. $230 million is a fine total, as Pixar enters somewhat uncharted territory next year with a prequel to Monsters, Inc.

[tm:5305_]Magic Mike[/tm] takes in its final few singles as it places tenth with $1.3 million in its sixth weekend. The [bp:1775_]Steven Soderbergh[/bp] hit, which also establishes Channing Tatum as an unlikely box office draw, has earned $110 million off a mere $7 million budget.

The top 12 films earned $113.6 million, way off from last year when the top 12 took in $158 million, powered by Rise of the Planet of the Apes opening to $54 million. Combine that with some disappointing performers (see both this weekend's and last weekend's openers) and some long time holdovers towards the bottom (last year seven films took in over $10 million, this year only three did), and you get a very soft box office weekend. The Bourne Legacy and the [bp:121_]Will Ferrell[/bp]/Zach Galifianakis comedy [tm:5342_]The Campaign[/tm] will look to reverse that trend next weekend.