Weekend Wrap-Up
Audience for The Dark Knight Fails To Rise
By John Hamann
July 29, 2012
BoxOfficeProphets.com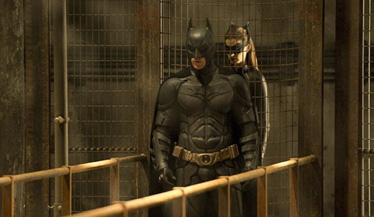 ---
After last weekend, one of the more tumultuous in box office history, studios and theaters are left picking up the pieces. Last weekend's shootings continue to haunt business at the box office, hurting The Dark Knight Rises most of all, but also causing a variety of impacts on the rest of the films in the top 12. The tragedy of last Friday isn't the only thing dragging down the box office. We are dealing with the opening of the Summer Olympics plus the release of two highly questionable openers in the form of The Watch and Step Up Revolution.

The release of The Dark Knight Rises was supposed to go much differently. This tentpole should have put a sail on our movie boat and we were going to float past the Olympics into what looked to be an okay August, with Total Recall, The Bourne Legacy and The Odd Life of Timothy Green populating the eighth month. Instead, because of one deranged nutjob, the performance of The Dark Knight Rises is in complete chaos and the box office overall is stumbling. The opening of The Dark Knight Rises failed to show the serious cracks in the audience base following the tragedy, as the new phenomenon of advanced ticket sales kept the opening weekend from completely falling apart.

Box office analysts could see the cracks as of last Saturday morning. The Friday gross for The Dark Knight Rises was estimated at $80-90 million, a number that proved to be wrong. The actual Friday revenue was $75.8 million (including $30.6 million in midnight grosses – really the only "true" number we will ever have for The Dark Knight Rises).

To look at the second weekend for The Dark Knight Rises, we need to understand the Friday number, which is really $45.2 million once the midnights are removed. The second film in the series, The Dark Knight, earned $18.5 million from its midnight screenings, and $67.2 million on its first day. Subtracting the $18.5 million gives a true Friday gross of $48.7 million, which means The Dark Knight earned more than The Dark Knight Rises on its first Friday. For a box office nerd, this is just plain wrong – more than a glitch in The Matrix or a wobbly top in Inception. It's madness.

The $160.9 million opening weekend hid the insanity, but Saturday and Sunday were down compared to the second film in the franchise. Other than that first bizarro Thursday/Friday, where The Dark Knight Rises beat The Dark Knight. I find ironic the fact that a movie franchise about facing our fears is showing us that we have a hell of a time living up to that notion. Don't believe the media that tells you that there is nothing wrong in movieland. Box office revenue is improving in the rest of the top ten, but if you're The Dark Knight Rises, these are dark times.

Getting back to the numbers, remember that last weekend, The Dark Knight Rises had a $45.2 million Friday once those midnights were removed. This Friday, The Dark Knight Rises grossed $18.1 million, giving it a drop of 60% once we factor out midnight sneaks. The number is a much more alarming 70% if we include them.

Before we get into comparison mode, let's think about what went on here. Most of last Friday's showings occurred just hours after the massacre. We woke up to the news of this idiot and the reports of the tragedy surrounded us like a fear blanket as the media hammered the story home all day. I cannot envision a lot of people who had not pre-purchased tickets jumping up and running out to see Batman.

For that reason, I expected Friday's drop to be minimized, as I hoped that more people would attend once a week's time had passed. Instead, the worst case scenario for The Dark Knight Rises is playing out in front of us. The second Friday for The Dark Knight came in at $23.2 million, leaving the third film's $18.1 million more than 20% below what the second film did. The Avengers earned $29.2 million over its second Friday, or $11 million more than The Dark Knight Rises. Even the Spider-Man – the 2002 version – grossed more in its second weekend, at $19.9 million, despite its opening frame being $46 million LESS than the final film in the Christopher Nolan Batman trilogy. The Dark Knight Rises has gone from a box office juggernaut to a film just trying to keep up with the big boys. The next question is how much the Friday number was impacted by the Olympics in London, as most people in North America watched the opening ceremonies in prime movie-going time. Would the Friday trend play out all weekend?

Over the weekend proper, The Dark Knight Rises is estimated to have earned $64 million, off 60% compared to last weekend. The estimated weekend multiplier (weekend box office divided by Friday box office) was 3.54. The previous film in the franchise had a second weekend multiplier of 3.24. A higher multiplier than 3.24 could indicate that audiences avoided the Friday night screenings of The Dark Knight Rises, and chose instead to see it on Saturday and Sunday. This would also lead to the conclusion that that daytime matinees might have been more popular than usual. Remember that The Dark Knight Rises is 87% fresh at Rotten Tomatoes, and the Cinemascore was an A. This is not a film that should be struggling.

Comparing second weekends, The Dark Knight earned $75.6 million, 18% more than the three-quel. The third largest opener of all-time now has the fifth biggest second weekend of all-time. The issue is whether it's big enough. The $64 million estimate from Warner Bros. for The Dark Knight Rises is much higher than its Monday-through-Friday performance would indicate. The studio's estimates project a huge 42% increase from Friday-to-Saturday and then only a 22% drop on Sunday. They project Sunday to be 12% higher than Friday, which is particularly ambitious during the Olympics. If the actual numbers do not come in at these levels, The Dark Knight Rises' second weekend should fall to seventh place on the all-time second weekend box office chart.

The Dark Knight Rises was not an unnecessary sequel, or a cash in. This movie is art by Christopher Nolan, and yet people are seeing it in much smaller numbers than The Dark Knight. Where is it going? BOP's David Mumpower showed me some scary math on The Dark Knight Rises on Saturday morning that demonstrates an alarming trend of decay. The Dark Knight Rises could feasibly struggle to struggle to beat a film like The Hunger Games (current gross $405.3 million). The Dark Knight earned $533 million. Should it perform like that, we will have the third biggest opener of all time fail to crack the top 10 biggest domestic earners list (The Lion King holds the #10 spot at $422.8 million). Currently, The Dark Knight Rises has pulled in $289.1 million against a $250 million budget. Its worldwide total is a much more impressive $537.2 million. I beg you people to get out there and enjoy this fantastic film. Let's show this joker who the real bat is. It is us. By overcoming our fear and seeing this movie, we will all become the superheroes we need to be.

Ice Age: Continental Drift is one of the bright spots at the box office as it finishes in second place. After a $20.4 million frame last weekend that carried a 56% drop, Ice Age 4 bounced back a bit from last weekend, earning $13.3 million and falling a much, much better 35%. The last film in this franchise, Dawn of the Dinosaurs, enjoyed only a 34% dip in its second frame, but that was because it opened on a Wednesday and had two big days before getting to the weekend proper, thus helping to prop up that second weekend hold. Ice Age 2: The Meltdown had a 50% decline in its second weekend, so you can see that these Ice Age films are frontloaded regardless. We shouldn't make too much of big percentage declines in their second weekends. Ice Age 3 previously had the best third weekend drop of the franchise at 36.4%, so this weekend's result is clearly good news for Fox. Ice Age 4 has a gross so far of $114.8 million, crossing the $100 million mark on this last Thursday, its 14th day of release.

I don't know if The Dark Knight Rises shooter kept people away from The Watch, or if it might have been the Olympics, or if audiences finally woke up to what a bad film looks like, but The Watch is a good old-fashioned car accident. Despite a cast that includes Ben Stiller, Vince Vaughn and Jonah Hill, The Watch stumbled badly this weekend. The comedy with a sci-fi twist almost got beaten by a dance film, earning only $13 million from 3,168 venues. Tracking was never looking for this one to break out, as audiences had seen this one coming even before the Colorado shootings. Tracking was estimating the opening between $14 and $16 million, so weekend total this low isn't really a surprise. The fact that 20th Century Fox put this up against the second weekend of The Dark Knight Rises was telling enough, as they knew they were scheduling a turd. The Watch (formerly known as The Neighborhood Watch prior to George Zimmerman) cost $70 million to make, and has zero chance of even matching that production budget stateside.

Ben Stiller isn't used to his films opening so poorly, even though he doesn't often make very good films. The last time Stiller had a wide release movie debut this low was in 2004, when he released Envy with Jack Black. That film started with only $6.2 million in early May of 2004. Since then, Stiller has been good for $25 million or much more over opening frames. For Vince Vaughn, the deal is the same. His last film, The Dilemma, opened to $17.8 million, his lowest since Old School in 2003, which opened to $17.5 million. This tells me that the 14% fresh rating for The Watch (12 positive reviews out of 72 possible) was spot on, and there is nothing to see here. Still, this is late July, and usually, one could make a film called Feces with Stiller and Vaughn and at least get to $20 million over opening weekend, so it leaves me wondering if The Dark Knight decay is spreading through the box office.

Finishing fourth is Step Up Revolution, the fourth film in the urban dance franchise, and the first where Summit Entertainment is driving the bus without the help from their friends at Disney. Step Up 3 opened to $15.8 million, Step Up 4 stepped back, earning only $11.8 million. These movies are fairly inexpensive to make, have strong opening weekends, and believe it or not, make a ludicrous amount of money overseas (the last, Step Up 3D earned over $100 million outside of the US). Likely costing in the $35 million area, Summit will make money, but it will probably have to wait until overseas grosses are counted.

Now in its fifth weekend, Universal's Ted lands in fifth place. After a nasty 55% decline last weekend, Ted got back to held extremely well over the current frame. Ted earned $7.4 million and dropped a slim 27%, putting it back on track for finishing above $200 million. Ted has earned $193.6 million against a budget of only $50 million.

After an almost 70% drop last weekend, The Amazing Spider-Man doesn't hold as well as Ted, and ends up finishing behind the talking teddy bear movie. The (not so) Amazing Spider-Man earned $6.8 million in its fourth weekend, falling 38%. Sony's $230 million reboot finally matched its production budget this weekend stateside, and will be thankful for the $400 million it has earned overseas, as that will be the only profit it sees. So far, the reboot has earned $242 million – at best okay for what once was the biggest superhero on the screen.

Pixar's Brave is seventh, and also has a good hold despite losing screens. Brave earned $4.2 million in its sixth weekend in theaters, and dropped 30% despite moving from 2,900 screens last weekend to 2,551 this weekend. While it won't finish as the biggest Pixar film ever, it will finish better than Ratatouille ($206.4 million) and WALL-E ($223.8 million). Brave has earned $217.3 million so far.

Eighth and ninth are the also rans, as Magic Mike finishes eight and Savages is ninth. Magic Mike completes a great run in the top ten with a $2.6 million weekend, and Savages continues to stumble with a $1.7 million frame. Magic Mike was off 40%, while the Oliver Stone entry fell 48%. The $7 million Warner Bros. pickup about male strippers has now earned a lofty $107.6 million; Savages, which cost Universal $45 million to make, has pulled in $44 million.

In tenth is Wes Anderson's summer success story. Moonrise Kingdom, the Focus Features comedy/drama, earned another $1.4 million on 853 screens, bringing its running total to $38.4 million. That's a top ten best decline of only 24%. It's Anderson's second best performing film, behind only The Royal Tenenbaums' $52.4 million. That number seems out of reach, but Moonrise Kingdom is at least going to be in the conversation.

Overall this weekend, things aren't great, but I guess that's to be expected. The top 12 films this weekend earned $128.5 million, which isn't great for a weekend in July where the film with the third biggest opening ever is enjoying in its second frame. A year ago, when sad sack Cowboys vs Aliens was on top, the top 12 brought in a much stronger $170.8 million. In 2010, when Inception had its second weekend on top, the box office took in $155 million. In 2009, it was $141.5 million. Will things get better next weekend? I wouldn't take that bet in a million years. The opening films will be the Total Recall remake and Diary of a Wimpy Kid: Dog Days, an aptly titled film for summer 2012.