Daily Box Office Analysis
By David Mumpower
July 27, 2012
BoxOfficeProphets.com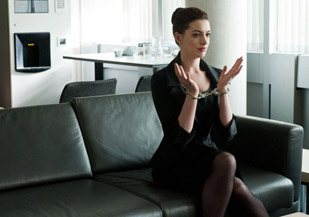 ---
What happens over the next three days will go a long way in determining the box office fate of The Dark Knight Rises. The latest Batman movie is all but certain to finish in first place yet again this weekend. The question is not its placement but rather how much The Dark Knight Rises earns.

There are few instances wherein the third largest debut of all time may be deemed a disappointment. Due to unforeseeable circumstances, The Dark Knight Rises suffered from box office deflation on opening weekend. This behavior has carried over into its weekday results as well. Yesterday, Christopher Nolan's final Batman movie fell another 4% to $13,202,371. Its first week total of $225,011,359 is a mixed bag.

Yes, I realize that a movie that earns $225 million in seven days is the stuff of myth and legend, all things being equal. The problem is that this Batman movie is not equal. This is the premiere franchise in the industry today due to the brilliance of Nolan. He has restored Batman to its previous box office heights from the Jack Nicholson era. What has happened here is not anyone's fault. This is an instance of one person's madness having far reaching repercussions. Of these, box office is a trivial concern.

Still, box office is what we discuss in this column. So, here is the pertinent data. The Dark Knight earned $238,615,211 in its first seven days including $16,464,405 on its first (complete) Thursday. Its successor is now $13.6 million behind that scorching pace. The record setting performance for a first week of box office is owned by The Avengers, which earned a dazzling $270,019,373. Avatar was "only" at $137,094,051 if you're wondering.

The key aspect to this discussion is that The Dark Knight Rises is flaming out much faster than the other titles up for discussion. With $13.2 million yesterday, we can reasonably project that the Friday box office will see a growth of 41% (what The Dark Knight managed) to 67% (a very high Thursday to Friday increase for a film of this scale). Assuming this is correct, The Dark Knight Rises will earn between $18.6 million and $22 million today.

Let's use those numbers as guidelines for what happens next. You will know tomorrow that if The Dark Knight Rises performs over $22 million, something special has happened. Presumably, this would indicate that last weekend's consumers who stayed away due to tragedy are coming back in droves now. If the number is under $18.6 million, Warner Bros. has a lot of problems with this movie, at least domestically.



Based upon the weekday numbers I have examined, there is nothing in the data that suggests audiences are fired up over The Dark Knight Rises. If anything, the current data pointedly suggests that a sub-$65 million weekend is in the offing. Assuming this is true, the movie will be in the $285-$290 million range after Sunday. Also, it will have absolutely no momentum as we go forward because another batch of negative headlines will provide further negative reinforcement for consumers.

Is the above unreasonable? Maybe. In fact, I hope so. What I state with confidence is that if there are no further surprises from here, The Dark Knight Rises will have a much lower final domestic gross than any of us would have listed as its absolute floor. Batman 7 earned $64.1 million Monday-through-Thursday. It is falling at a rate even worse than this model but let's say that it declines 50% week over week twice in a row. That's $32 million during the next batch of weekdays followed by $16 million the weekdays after that.

If The Dark Knight Rises does not regain positive buzz somehow, its $48 million of weekdays combined with two weekends of roughly $95 million in revenue places the movie around $368 million after 24 days. The Dark Knight was at $441.6 million after 24 days. This is how quickly The Dark Knight Rises is falling behind the pace of its predecessor. Over the last two weeks, I entailed the reasons why The Amazing Spider-Man was falling apart. Several of you felt I was crazy to argue that it would earn less than $275 million, which is all but a lock now. The Dark Knight Rises is currently on that same trajectory.

I would like to be wrong about this. I have seen a lot of people mention that they believe the movie recovers in its second weekend. I sincerely hope this is the case. I am not rooting against The Dark Knight Rises. To the contrary, I quite liked the movie and highly recommend it. I think it is better than The Dark Knight, which I found uneven. What I am detailing is the fact that there is nothing in its weekday numbers thus far that suggests this movie will recover. If anything, signs point toward a genuinely disappointing second weekend as well as a truncated domestic performance.

In order to avoid this fate, The Dark Knight Rises has to behave oddly. What I mean by this is that its second weekend needs to behave in a rare capacity for a title in release. I am not ruling this out because what happened last week was unprecedented. There absolutely exists the possibility that The Dark Knight Rises does the unexpected. My point is that we should not count on it. Perhaps consumers cannot separate this film from the tragedy that occurred at an exhibition of it. Based on the data thus far, this unfortunately appears to be the case.

Prove me wrong, North American movie-goers. I very much want to be wrong about this.

In something of a rarity, box office was universally up yesterday. Every other movie in the top ten was up from Wednesday. This should give everyone in the industry hope that consumers are comfortable going back to the theater again. The combined revenue for the top ten on Thursday was $22.7 million, up 2% from Wednesday's $22.3 million.

Let's hope people stop letting the actions of one nutjob stop them from enjoying trips to the movie theater. I'll be going twice. I hope that Beasts of the Southern Wild is as good as everyone has been telling me. And yes, I will be seeing The Dark Knight Rises again. I feel it is the least I can do after this week's box office analysis.