Weekend Wrap-Up
By Tim Briody
July 23, 2012
BoxOfficeProphets.com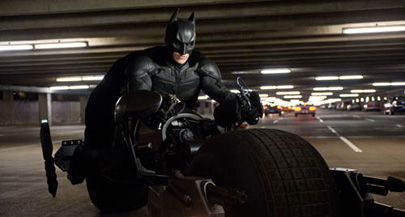 ---
Four days ago, the question was almost not would The Dark Knight Rises bring the opening weekend record back to the Batman franchise, but by how much. In the four years since The Dark Knight's $158.4 million set the standard, the record had been broken twice, both in the last year. Harry Potter and the Deathly Hallows Part 2 took the record with $169.1, million while The Avengers shattered that with $207.4 million in May, giving The Dark Knight Rises quite the bar to leap over.

With reports of sold out midnight showings across the nation, [bp:2559_]Christopher Nolan[/bp]'s third Batman film seemed a lock to challenge, if not beat, The Avengers, giving us a year with two $200 million opening weekends.

Then, a few hours later, none of that seemed to matter.

For those of us at Box Office Prophets and any other site out there that tracks, discusses and analyzes box office, this weekend put a lot of things in perspective. While every week we discuss movies that collectively earn hundreds of millions of dollars, nothing will ever be more valuable than the lives of the 12 people killed in that horrific and senseless shooting in Aurora, Colorado. Our thoughts and prayers remain with the wounded and the families of those who lost their loved ones.

To say the tragedy had an impact on the weekend is the understatement to end all understatments. We often state the importance of the movies as entertainment. They are one of the cheapest forms of escapism, a way to ignore what's going on elsewhere for a few hours for a reasonable cost. But when that safety valve is threatened by a disturbed individual, and with the story occupying the news all day Friday, it became clear that many people chose to simply stay home this weekend. The weekend's numbers validate this, as declines for the holdover films are all high across the board.

The Dark Knight Rises earned $160.8 million for the weekend, a performance that despite the expectations, we will not consider bad or disappointing given the circumstances. The daily breakdown is $75.7 million on Friday (with $30.6 million coming from midnight showings), $44.9 million on Saturday and $40.2 million on Sunday. When you remove the midnight showings from that, The Friday proper take is $45.1 million. For the weekend, that's a 2.88 weekend multiplier, which sounds outstanding considering the size of the film but you need to take into consideration the amount that the midnight shows contributed to that figure and aren't counted in that multiplier calculation. The Dark Knight Rises earned 40.1% of its Friday earnings at midnight. Compare The Avengers, whose Friday was $80.8 million and $18.7 million was credited to midnight box office, where only 23.1% of its Friday tally was taken in at midnight. Since this is a sequel to what was at the time the second most successful film ever, it's quite clear The Dark Knight Rises was on its way to the all-time weekend record before the shooting occupied the news all day on Friday, and causing many to elect to stay home.


Had the $30.6 million accounted for, say, 25% of The Dark Knight Rises' Friday, which is an entirely possible scenario, that would have meant a Friday of $122 million. While that's probably not realistic, initial estimates thrown out there before realizing how silly it was in the face of the shooting said The Dark Knight Rises would probably take in about $90 million. That's a good bit more than $75.7 million and potentially is box office that the film might never get back (or only see much later on in its run).

The Dark Knight Rises does still enter the record books as the bronze medal holder in largest single day and largest opening weekend, squeaking just ahead of The Dark Knight in the latter category. While it did benefit from IMAX showings, The Dark Knight Rises (like its predecessor) is a 2D only film and did not get any extra box office from the markup on a 3D ticket. In terms of IMAX, it is expected The Dark Knight Rises will play in those theaters longer the average IMAX release, thanks mostly to Nolan's preferring that format over 3D. What kind of box office benefit this will provide the movie over the next several weeks is not known, but it can only be positive.

Where exactly The Dark Knight Rises goes from here is uncertain. I would speculate that there are definitely moviegoers who are considerably more skittish over what happened and might not see The Dark Knight Rises in the theater and instead wait for the Blu-ray. Perhaps they will see the film later in its run instead. We're all guessing. The Dark Knight Rises was always going to be one of the biggest box office stories of the year, but now it's become one of the biggest box office stories of all time, but sadly, for the absolute worst possible reasons.

In second place is last weekend's champion, [tm:5348_]Ice Age: Continental Drift[/tm], with $20.4 million. That's down 56.2% from last weekend. That's a bigger jump than the 34% Dawn of the Dinosaurs saw in 2009, but that's going to be par for the course this weekend for obvious reasons. The fourth Ice Age entry stands at $88.8 million after ten days, meaning it should be over the $100 million mark by the time we reach the weekend. It's not likely to reach the same mark The Meltdown or Dawn of the Dinosaurs did ($195.3 and $196.5 million, respectively) but it's already got close to $400 million from overseas markets so I'm sure Fox is just fine with that.

[tm:4672_]The Amazing Spider-Man[/tm] gets hammered incredibly hard in its third weekend, mostly by The Dark Knight Rises but also by people choosing to stay home. With $10.8 million, the reboot collapses 68.5% from last weekend, which is an astounding figure. More so than The Dark Knight Rises, here is the largest effect the shooting had on the weekend box office. This decline wasn't even a case of losing a tremendous amount of screens to Batman, it was still ultra-wide in over 3,700 theaters. After three weekends, The Amazing Spider-Man has earned $228.6 million, and $275 million just became an absolute best case scenario.

Comedy hit [tm:5129_]Ted[/tm] is in fourth with $10 million, off 55% from last weekend, and has earned $180 million in four weekends. It's now just off the pace of The Hangover at this point ($183 million after four weekends) but that gap will becoming wider and its $277 million total is far out of reach. Ted looks to end up with $220 million, which should give Seth MacFarlane the ability to make whatever project he chooses to do next.

Disney/Pixar's [tm:4518_]Brave[/tm] earned $6 million, down 46%, which is the lowest decline among the top ten. Not even animated films were safe this weekend. It crossed the $200 million mark mid-week as it's taken in $208.8 million after five weekends of box office, and should end up with $230 when it's all done.

[tm:5305_]Magic Mike[/tm] crosses $100 million (that's a lot of singles) with another $4.3 million this weekend. While it dropped steeply following its great start, [bp:1775_]Steven Soderbergh[/bp]'s film has now taken in $101 million.

[bp:5592_]Oliver Stone[/bp]'s [tm:5191_]Savages[/tm] drops 64% which you'd probably expect from the film that most glorifies gunplay in wide release. Its $3.4 million for the weekend brings it to $40 million in three weekends. It's looking to finish with around $50 million, which is fine.

Tyler Perry's Madea's Witness Protection added $2.2 million to its total this weekend and has earned $60.2 million. It's far from the heights of Madea Goes to Jail ($90.5 million) but right in line with Big Happy Family ($53.3 million) and Family Reunion ($63.2 million).

Wes Anderson's [tm:5363_]Moonrise Kingdom[/tm] and [bp:1342_]Woody Allen[/bp]'s [tm:5307_]To Rome With Love[/tm] provide the indie cred to the top ten in ninth and tenth place with $1.8 and $1.4 million respectively. Moonrise Kingdom is Anderson's second most successful film ever, though it probably won't top The Royal Tenenbaums ($52 million) as it's earned $36 million after about two months in release. For Allen, To Rome With Love has earned $11.1 million after five weekends, and actually lost screens this weekend, which will prevent it from reaching the $23 million mark set by his more recently successful Vicky Cristina Barcelona and Match Point.