Weekend Forecast for July 20-22, 2012
By Reagen Sulewski
July 20, 2012
BoxOfficeProphets.com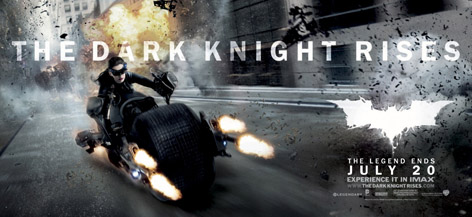 ---
When the 2012 summer schedule was set, two weekends in particular stuck out to be watched – the very first weekend of May, and this one. Little did we know that that would almost be the total story for the summer. Still, just months after a shockingly large opening weekend, another comic book movie could come along and match it.

The Dark Knight Rises is the third and last of Chris Nolan's (or at least he claims) Batman films, which started in 2005 with Batman Begins. The first two films did a magnificent job of rehabilitating the reputation of the character after the disastrous Schumacher Batmans, and The Dark Knight was likely indirectly responsible for getting the Academy to boost the Best Picture nominations to up to ten films. Not a bad legacy when you think about it. It also became the fourth Batman film to hold the opening weekend record, proving that you can restore a franchise to glory, and probably led to any number of reboots of other franchises (Hello, Spider-Man!).

Where The Dark Knight had that perfect storm set of circumstances surrounding its release, what with the death of Heath Ledger and his reinvention of the best known Batman villain, and the amazing marketing campaign for it, Rises is having to do things the old fashioned way. There are many more characters to get to know here, starting with the main villain, Bane (played by Tom Hardy), a muscled-up crime-boss with a strange facial apparatus (at least as shown in Rises), the more familiar Catwoman (played by Anne Hathaway) and a character played by Joseph Gordon-Levitt, who's been the speculation that he might be anyone in the DC universe up to and including Superman. I'm in radio silence about plot details so I'm no help here exactly, and I will hunt you down and hurt you if you make it otherwise.

What I do know in very broad strokes is that we're many years after The Dark Knight, with The Batman in semi-retirement thanks to a cleaned up Gotham, which is showing the strains of the effort to keep it that way. Into that steps Bane, who seems determined to shake things up. Hathaway also seems likewise inclined to subvert the system based on trailers, but also probably serves her traditional role as a challenging romantic interest for Christian Bale's Batman. Where The Dark Knight was a superhero film for the Extraordinary Rendition age, The Dark Knight Rises is a superhero film for Occupy Wall Street. If nothing else, Nolan succeeds at being extremely topical.

Perhaps more importantly, Nolan is offering closure of sorts, which could mean big things for audiences. If you look at franchises like Lord of the Rings or Harry Potter, their fixed end dates often contributed to big boosts in their opening weekends as they approached the finish line. Harry Potter in particular set an opening weekend record last year with almost $170 million. That's since been surpassed, but it remains the second best weekend of all time.


While The Dark Knight Rises can't count on 3D screens to help boost its box office like The Avengers, it does still have the IMAX money to look forward to. Over an hour of the film was shot in that format and should boost the returns from those screens, though they don't make up as big a portion as 3D screenings typically do for event films. At 4,404 venues, will it be enough to challenge the $207 million of Avengers?

My guess is that it won't, as those 3D prices were almost certainly the deciding factor in getting it that high and with the more dour nature of the Batman franchise, the casual viewer will be tougher to bring in than for the bright and shiny Avengers. If there's a chance to do it, it's because of the finality, though. With all this build up, I predict an opening weekend of $181 million.

We look way, way down for second place, which is likely to belong to Ice Age: Continental Drift. The animated film opened to $46.6 million last weekend, more or less on par for the franchise, though domestically it remains a bit of an afterthought. Almost $350 million has gone into its coffers overseas already, the third highest total of the year. Part of that dichotomy is due to it having opened three or four weeks ago in some territories, but the 1:3 (or greater) is likely to stick around. Give it $26 million domestically this weekend, but watch it work its way to close to $1 billion worldwide.

The Amazing Spider-Man had an okay second weekend, dropping 44% and crossing the $200 million milestone, but did we really think this film was going to be such an afterthought already? And how strange might it seem that a film headed for $275 million can be considered an afterthought? Oh well, with over half a billion in the bank worldwide already, the sequel plans can certainly go ahead, and perhaps we'll be a little more interested next time. Give it $19 million this weekend.

Ted continues to be the surprise story of the summer, dropping just 30% last weekend and going over $160 million. While a Hangover-like performance is probably out of the cards at this point (it'll fall behind that film's pace after this weekend), it's definitely cemented its place as the comedy of the summer. I look for around $16 million for it this weekend.

Having passed both the original Toy Story and Cars 2 in Pixar's stable of films last weekend, Brave is now targeting Ratatouille's $206 million for a potential pass this weekend. This of course has to be placed in context with it being in 3D and benefiting from many years of ticket inflation, but a win is a win, right? Add $7 million this weekend.

Rounding out the significant films this weekend are Savages and Magic Mike, which both look to land just over $5 million. In Magic Mike's case, that's enough to push it over $100 million, while Oliver Stone's return to R-rated violence will likely have to settle for a final total around half that.