TiVoPlex
By John Seal
July 23, 2012
BoxOfficeProphets.com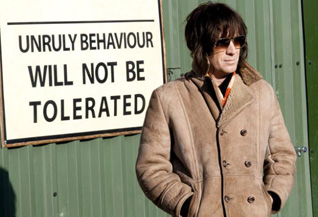 ---
From the obscure to the obscurest to the merely overlooked or underappreciated; they all have a home in the TiVoPlex! All times Pacific.

Tuesday 7/24/12

Midnight Sundance
The Secret of the Grain (2007 FRA): Ah, the humble peasant epic. No, I don't mean an epic film about humble peasants...I mean the film itself, which is usually abrim with peasants of varying temperaments, lazy fields of wheat wafting in the breeze, and sex with farm animals. No, I've never fully recovered from that scene in Tree of Wooden Clogs where the 12-year-old boy chokes - sorry, pokes - the chicken. As for Secret of the Grain, well, it's not actually a peasant epic at all, but an industrial working class one about an elderly shipyard worker (Habib Boufares) trying to keep on keeping on against increasingly long odds. At 151 minutes in length, you'll need to activate the Magic Fingers in your La-Z-Boy to make it all the way to the end of the film, which was a monster hit on the festival circuit and also cleaned up at the Cesars. In its original French, the title is La Graine et le Mulet. Git 'er done!

6:45 PM Turner Classic Movies
Berkeley Square (1933 USA): No nightingales singing in this Berkeley Square. In fact, nothing and no one sings in it - despite its title, this is not a musical, but a romantic fantasy starring Leslie Howard as Peter Standish, resident of a 150-year old house who is transported back in time 150 years one day to experience the thrills, chills, and patriotic fervor of the American Revolution. Based on a play by John Balderston, this is a talky piece of fluff that takes a while to take off, but offers an amusing and occasionally insightful look at early 20th century attitudes about life in "the good old days." Apparently this was H.P. Lovecraft's favorite movie, which is really, really weird.

Wednesday 7/25/12

6:00 AM Fox Movie Channel
Phone Call from a Stranger (1952 USA): Shelley Winters gets top billing in this excellent drama directed by Jean Negulesco. Shelley, still in her svelte period, plays Binky Gay, a passenger on a weather-delayed flight who meets fellow traveler David Trask (Gary Merrill) as they wait to take off. David is running away from home and flying under an assumed name (oh, for the days when that was possible!), but things take an unexpected turn when the plane crashes. Yep, that'll put a crimp in your escape plans! Co-starring Michael Rennie, Keenan Wynn, Bette Davis and Evelyn Varden, this is an unusual and very interesting feature with some terrific black and white cinematography courtesy Milton Krasner.

10:15 AM The Movie Channel
Burden of Dreams (1982 USA): Les Blank's salute to obsessive German filmmaker Werner Herzog returns to the small screen tonight. Shot whilst Herzog was producing Fitzcarraldo, the film highlights the on-set squabbles between Herzog and star Klaus Kinski and the over-the-top decisions made by the director, such as the infamous sequence wherein Amazonian tribesmen were hired to haul a fully assembled riverboat up a hillside. Featuring valuable footage of Jason Robards and Mick Jagger, both of whom left the production early, Burden of Dreams is fitting tribute to one of the greatest of all filmmakers, who has defied the odds by continuing to produce excellent work (Cave of Forgotten Dreams, Into the Abyss) to this very day. Also airs at 1:15 PM.

Thursday 7/26/12

Midnight Showtime 3
Mr. Nice (2010 GB): Drug dealer Howard Marks is almost a household name in Britain, where his relentless desire to bring dope to the masses surpasses only the CIA in intensity and determination. That might explain why this biopic, in which Rhys Ifans plays the puckish pusher, crashed and burned during its American theatrical run. In all honesty, how easy is it to market a sympathetic comedy about a drug pusher? Probably not very. Directed by Bernard Rose (Paperhouse), the film definitely portrays Marks in an empathetic light and will offend almost everyone south of the Mason-Dixon line. Metrosexuals, trustafarians, and other assorted malcontents will find it particularly righteous.

11:20 PM Sundance
Cortex (2008 FRA): You know, I could have sworn I wrote about this film on an earlier occasion, but I can't find the evidence to prove it. As this is a film about a man suffering from Alzheimer's, that somehow seems appropriate. The man in question is Charles Boyer (not portrayed by the late Charles Boyer, but by Micmac's Andre Dussollier), an ailing detective who gets his second wind amidst a series of mysterious deaths in his nursing home. It's an unusual set up for a thriller, and a good one. Now if only I could remember the name of that nice man who plays the main character in this film. And where did I leave the remote? Oh, hold on a minute - I did write about this film only three months ago!

Friday 7/27/12

3:00 AM Fox Movie Channel
That Wonderful Urge (1948 USA): No, not the one that makes you want to scratch your butt at the most inopportune moment - the one that makes you want to check out an obscure Tyrone Power rom com. This Fox production, a remake of the earlier Love Is News (1937), features Ty as a newspaper reporter who gets chummy with a rich but prickly heiress played by Gene Tierney. It's amusing enough and benefits from an appearance by the inimitable Chill Wills as a justice of the peace.

Saturday 7/28/12

1:00 AM Flix
The Sailor Who Fell From Grace With the Sea (1976 GB): I always loved this title more than I loved the movie itself. One of only three features directed by screenwriter Lewis John Carlino (I Never Promised You a Rose Garden, The Great Santini) and based on a Yukio Mishima novel, The SWFFGWTS stars Kris Kristofferson as Jim Cameron, a sailor engaging in a hot and spicy affair with landbound widower Anne Osborne (Sarah Miles) in a small Cornish town. At first, Anne's son Jonathan (Jonathan Kahn) admires his new father figure - but after spying on Jim and Anne during their bedroom trysting his impression of the seaman begins to change (I am trying hard not to resort to a crass "semen" joke here), resulting in a series of dangerous misadventures with the local ruffians. DVD Savant Glenn Erickson compares this to Frank Perry's Last Summer, but that almost damns the far superior Last Summer with faint praise. While The Sailor Who Fell From Grace with the Sea is lovely to look at (though only in widescreen), it's hard to take seriously.

9:00 AM Turner Classic Movies
The Green Hornet (1940 USA): There's panic in the zoo whilst disaster rides the rails in the concluding three chapters of our Saturday morning serial.

Monday 7/30/12

1:00 PM Turner Classic Movies
Jack the Giant Killer (1962 USA): Like Bert I. Gordon, Nathan Juran seemed to enjoy working on a grand scale. In addition to this fantasy, Juran also directed such features as Attack of the 50 Foot Woman and The 7th Voyage of Sinbad, as well as the television series World of Giants (which, sadly, I've never seen) and Land of the Giants. Jack the Giant Killer sees Juran reunited with Sinbad star Kerwin Mathews, cast here as the titular slayer of all things big and tall and suitor to the lovely princess Elaine (Judi Meredith). The film also features another Sinbad veteran, Torin Thatcher, once again devouring the scenery as a wicked magician, this time named Pendragon. The one thing the film lacks are the special effects of Ray Harryhausen, which knocks it down a notch. Sorry, Augie Lohman – I'm sure you were a great guy, but you're no Harryhausen. Nonetheless, Jack the Giant Killer remains good old-fashioned Saturday matinee fun.