Weekend Wrap-Up
Superhero Free Weekend Good News for Ice Age
By John Hamann
July 15, 2012
BoxOfficeProphets.com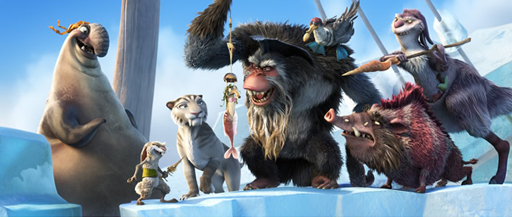 ---
Ice Age: Continental Drift is our lone opener at the box office this weekend and is aptly named, as this one debuts between continents named The Amazing Spider-Man and The Dark Knight Rises. This weekend is a scheduling Death Valley where any newly debuting film competes against the sophomore weekend for Spidey (once thought to be mighty), and what could be a $200 million opening next weekend for The Dark Knight Rises. Ice Age provides the perfect go-between - a movie targeted at a demographic younger than both Brave and Madagascar 3. This Death Valley weekend also gave older-aimed holdovers like The Amazing Spider-Man, Ted and Magic Mike solid opportunities to hold well.

Our number one film is no longer the The Amazing Spider-Man. After only a single weekend on top, Spider-Man drops to second, and one might think that something colossal must have opened this weekend. That monstrosity is Ice Age: Continental Drift, the fourth film in the 20th Century Fox franchise (Who took Spider-Man down? Ray Romano). Yes, our new number one film is Ice Age 4, Blue Sky Animation's follow up to Ice Age: Dawn of the Dinosaurs, which was released in 2009 over the Independence Day long weekend. That movie earned $41.7 million over the Friday-to-Sunday portion of the weekend, but had a five day gross of $66.7 million. While that total may look like it's on the low side, it's important to note that July 4th fell on a Saturday in 2009, crippling the three-day box office by as much as $7 million. The second film, Ice Age: The Meltdown, opened in March 2006 to what was at the time a staggering $66 million, the biggest opening ever for the month of March (The Hunger Games and Alice In Wonderland have now eviscerated that record). While the franchise has lost some power over the years, this is a franchise that has some clout left, and it put what clout it had left on display this weekend.

Ice Age: Continental Drift started slightly higher than expectations, as the Fox film earned a solid $46 million this weekend. It debuted at 3,881 venues, and had a strong venue average of $11,853. Both 20th Century Fox and tracking estimates were expecting a softer opening in the high $30 millions, which shows again how tough these Ice Age movies are to predict. When the Meltdown opened, tracking was also expecting a $40 million opening, leaving a lot of egg on faces when the three-day ended up at $66 million.

The main reason for these tracking errors is that kids are hard to nail down on tracking estimates (that's the age old excuse), but I think it's more than that. The Ice Age films use the character of Scrat extremely well in their marketing materials (they always have). Scrat and his antics draw a much wider demographic to the Ice Age franchise, with the actual plots of these films mainly appealing to the very young. I think the Ice Age franchise draws families, instead of just drawing kids. While the opening didn't reach the heights of Pixar's Brave ($66.3 million) or Madagascar 3 ($60.3 million), the franchise is more concerned about the overseas gross than the domestic, as the overall revenue percentage is higher overseas for the Ice Age franchise. This one has already earned about $300 million overseas, and the last Ice Age film, Dawn of the Dinosaurs, earned $700 million outside of North America, despite not reaching $200 million on the domestic front.

The Ice Age franchise is not only a big earner, it is also cost-effective. Brave cost Pixar $185 million, Toy Story 3 cost $200 million, Cars 2 cost $200 million, Madagascar 3 cost $145 million, and Monsters vs. Aliens cost $175 million (all of these are production budgets, prior to marketing). Ice Age: Continental Drift cost a comparatively smaller $100 million, $10 million more than Ice Age 3, which went on to earn almost $900 million worldwide, or ten times its production budget. The Ice Age brand also makes a ridiculous amount of money through licensing and product sales. Variety reported on Thursday that the Ice Age franchise had earned $2 billion in "home entertainment and consumer product sales" since the franchise started in 2002. That makes the three films prior to this one a source of $4 billion in revenue for Fox, with more to come from Continental Drift. Lucrative isn't the word.

Finishing second this weekend is The Amazing Spider-Man, which took in $35 million in its second frame, dropping a decent 44%%. With this percentage drop, some hope returns for the superhero film; however, it does look like the studio may have overestimated to get it past the $200 million mark. It will be very interesting to see how The Amazing Spider-Man performs next weekend versus another superhero. I am expecting an even bigger drop for Spider-Man next weekend, as The Dark Knight gobbles the big screens that Ice Age 4 didn't get this weekend. Is The Amazing Spider-Man going to be a $300 million film for Sony? Nope. It will be the first Spider-Man entry not to make it to $300 million, and will have to push to get to $250 million. So far, The Amazing Spider-Man has earned $200.9 million.

Back to good news in third this weekend, as Ted holds remarkably well for what is supposed to be a guy movie. Ted, the comedy that took everyone by surprise over its opening weekend, earned $22.1 million in its third frame and fell only 31%. That follows a 41% drop last weekend, when it faced off against The Amazing Spider-Man and earned $32.2 million. While Ted is a very strong earner, its legs can't match that of The Hangover, as that one fell 27% and 18% in its second and third weekends. The Hangover had earned $152 million after three weekends, while Ted has earned a very similar $159 million. Weekend four for The Hangover brought its biggest drop of its first ten weekends at 36.5%, so it will be interesting to see how Ted performs against The Dark Knight Rises. The $50 million-budgeted Ted has a realistic shot at $200 million.

Pixar's Brave is fourth this weekend as it loses screens and is forced to face off against Ice Age 4. Brave grossed $10.7 million in its fourth weekend and dropped 45%, keeping its three weekend trend of drops between 41% and 48%. Over three weekends, the average drop for Brave is about 44.5%, where the average drop for WALL-E, the Pixar summer release with the worst legs, was 45.7%. Brave is going to finish at the domestic box office with similar totals to that of Ratatouille ($206.4 million) and WALL-E ($223.8 million), as it has a current take so far of $195.6 million.

Finishing a surprising fifth is Magic Mike, as the male-stripper manages to finish at the same rank it did last weekend, and improve dramatically on last weekend's 60% plunge. This weekend, Magic Mike earned another $9 million, dropping a not very male stripper-like 42%. A $6 million gross would have been more likely for this one, but good word-of-mouth seems to be propelling Mike forward. Unbelievably, Magic Mike, a $7 million pickup for Warner Bros., has now grossed $91.9 million. It has a decent shot at making $100 million. No, really.

Sixth is Oliver Stone's Savages, which was forgotten about in its second weekend. Savages earned only $8.7 million, and dropped 45%. Made for $45 million, Savages is going to struggle to match its production budget on the domestic front. So far, it has earned a soft $31.5 million.

Seventh is Tyler Perry's Madea's Witness Protection Program. Last weekend, Madea fell 60%. This weekend, the comedy earns $5.6 million and falls another 45%. Good thing these are made cheap, as this Tyler Perry entry has earned $55.6 million.

Katy Perry: Part of Me finishes eighth. The movie mistake earned $3.7 million in its second frame and declined 48%. The only good news here is that it has passed its $12 million production budget, as it has a gross so far of $18.6 million.

Ninth is Moonrise Kingdom. Now in its eighth weekend of release, Moonrise Kingdom earned another $3.7 million and dropped 19%. Moonrise added another 40 sites this weekend to bring its venue count up to 924. It has a gross so far of $32.4 million against its $16 million budget.

Tenth goes to Madagascar 3, which also takes a hit from Ice Age 3 and a lower screen count. Europe's Most Wanted earned $3.5 million in its sixth weekend. It dropped 53%, and has a domestic gross so far of $203.7 million. Its worldwide take is approaching the $500 million mark.

Overall, the box office didn't have a change against last year. It didn't even have much of a chance against the number one film of last year, Harry Potter and the Deathly Hallows Part 2, which pulled in $169 million over its first three days plus previews. The top 12 films this weekend could only dig up $151.9 million, which is $100 million less than last year's $251.6 million, a 40% drop. It will make up the difference next weekend, as The Dark Knight rises will likely earn more than the top 12 did a year before during the same weekend, when the number was $181.3 million.