Comics Weekly
By Pete Kilmer
July 11, 2012
BoxOfficeProphets.com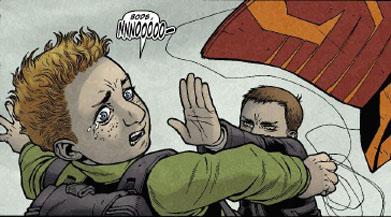 ---
Pete Kilmer has been in the comics retail industry for ten years as a member of Downtown Comics in Indianapolis. Downtown Comics is one of the Midwest's largest comic retailers with over four locations in Indianapolis. All opinions are his own, and they cannot be bought with free swag. Beer and a walk on role on Burn Notice to steal Fiona from Michael Weston and I'm a bought man.

This week's new comics include Walking Dead #100, Batman #11, Chew: Secret Agent Poyo, Crow #1, Eerie Comics, Frankenstein Agent of Shade, and Locke & Key: Clockworks (trade paperback, volume 5).

ADVENTURE TIME MARCELINE SCREAM QUEENS #1
AMERICAN VAMPIRE LORD OF NIGHTMARES #2 (OF 5) (MR)
ANT-MAN SEASON ONE PREM HC
ATOMIC ROBO REAL SCIENCE ADV #4
AVENGERS ASSEMBLE #5
AVENGING SPIDER-MAN #9
AVX VS #4 (OF 6)
BATGIRL #11
BATGIRL HC VOL 01 THE DARKEST REFLECTION
BATMAN #11
BATMAN AND ROBIN #11
BATMAN ARKHAM UNHINGED #4
BATMAN WORLD OF THE DARK KNIGHT HC
BATTLE BEASTS #1 (OF 4)
BEFORE WATCHMEN MINUTEMEN #2 (OF 6) (MR)
BLOODSHOT (ONGOING) #1
BTVS SEASON 9 FREEFALL #11
CALL OF WONDERLAND #2 (OF 3)
CAPTAIN AMERICA #14
CASANOVA TP VOL 03
CHARISMAGIC #6
CHARMED #22 (MR)
CHEW SECRET AGENT POYO #1 (MR)
CONAN THE BARBARIAN #6
CREEPY COMICS #9
CROSSED BADLANDS #9 (MR)
CROW #1
DANCER #3
DARK AVENGERS #177
DARKNESS ORIGINS TP VOL 04 (MR)
DEATHSTROKE #11
DEFENDERS #8
DEMON KNIGHTS #11
DEMON KNIGHTS TP VOL 01 SEVEN AGAINST THE DARK

DOCTOR WHO 100 PG SPECTACULAR
EERIE COMICS #1
ENDERS GAME FORMIC WARS SILENT STRIKE PREM HC
ENORMOUS ONE SHOT #1
ESSENTIAL WEB OF SPIDER-MAN TP VOL 02
FANTASTIC FOUR ANNUAL #33
FANTASTIC FOUR BY JONATHAN HICKMAN PREM HC VOL 05
FRANKENSTEIN AGENT OF SHADE #11
GAME OF THRONES #9 (MR)
GARTH ENNIS JENNIFER BLOOD #14 (MR)
GHOSTBUSTERS ONGOING TP VOL 02
GI JOE VOL 2 ONGOING #15
GREEN LANTERN THE ANIMATED SERIES #4
GRIFTER #11
GUERILLAS TP VOL 02
HARBINGER (ONGOING) #2
HEART TP (MR)
HELLBOY LIBRARY HC VOL 05 DARKNESS CALLS WILD HUNT (C: 0-1-2
HOAX HUNTERS #1
JLA TP VOL 02
JOURNEY INTO MYSTERY PREM HC TERRORISM MYTH
KEVIN SMITH BIONIC MAN #10
KIRBY GENESIS #8
LEGION LOST #11
LIFE WITH ARCHIE #21 KENNEDY CVR
LOCKE & KEY HC VOL 05 CLOCKWORKS
MARVEL UNIVERSE AVENGERS EARTHS HEROES #4
MASSIVE #2 LEON CVR
MEGA MAN #15
NEIL GAIMANS MIDNIGHT DAYS DLX ED HC
NEW AVENGERS #28 AVX
NEW MUTANTS #45
OCCULTIST TP VOL 01
ORCHID TP VOL 01
PANTHA #2
PETER PANZERFAUST #5 (MR)
PLANETOID #2
PUNK ROCK JESUS #1 (OF 6) (MR)
QUEEN SONJA #30
RAVAGERS #3
RED SONJA OMNIBUS TP VOL 03
RESURRECTION MAN #11
REVIVAL #1 CVR A FRISON
RICHARD STARKS PARKER THE SCORE
SAUCER COUNTRY #5 (MR)
SCARLET SPIDER #7
SHADE #10 (OF 12)
SMOKE AND MIRRORS #4 (OF 5)
SOULFIRE FAITH #1 CVR A RYAN
SPACE PUNISHER #1 (OF 4)
SPACE WARPED TP
SPACEMAN #7 (OF 9) (MR)
SPIDER-MEN #3 (OF 5)
SPONGEBOB COMICS #10
STAR TREK ONGOING TP VOL 02
STAR TREK TNG INTELLIGENCE GATHERING TP
STAR WARS KNIGHT ERRANT ESCAPE #2 (OF 5
STITCHED #6 (MR)
STRAIN #6 (OF 12) (MR)
SUICIDE SQUAD #11
SUNSET FIRST LOOK ONE SHOT (MR)
SUPERBOY #11
SWAMP THING #11
TAKIO #2
TEENAGE MUTANT NINJA TURTLES COLOR CLASSICS #3
TEENAGE MUTANT NINJA TURTLES ONGOING TP VOL 02
THE LONE RANGER SNAKE OF IRON #1
TMNT ONGOING HC VOL 01 DELUXE ED
TRANSFORMERS REGENERATION ONE #81
TRANSFORMERS REGENERATION ONE 100 PG SPECTACULAR
ULTIMATE COMICS X-MEN #14 DWF
UNCANNY X-FORCE #27
UNCHARTED TP
VENOM #20
WALKING DEAD #100
WILD CHILDREN ONE SHOT (MR)
WOLVERINE AND X-MEN #13 AVX
WOLVERINE AND X-MEN PREM HC ALPHA AND OMEGA
X-23 TP VOL 02 CHAOS THEORY
YOUNGBLOOD #72

On Fridays we now post the complete list of new comics that actually ships for the week. Books that will actually be in store! So please head over to Downtown Comics and check out the Shipping This Week section!