Weekend Wrap-Up
Spidey Transforms But Is No Transformers
By John Hamann
July 8, 2012
BoxOfficeProphets.com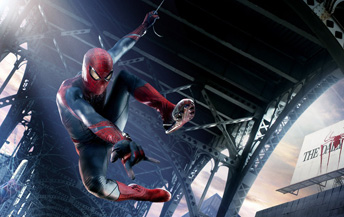 ---
What an interesting web the summer box office weaves this year, as another weekend brings lots to talk about at the box office. Sony's Spider-Man reboot opened this weekend with a new approach and star, and while the brand is transforming well on screen, the opening weekend failed to match that of Paramount's Transformers at the box office, which also opened on the Tuesday before the Independence Day long weekend back in 2007. Katy Perry and that Savage Oliver Stone also opened films this weekend, to interesting results, and Ted and Magic Mike went in different directions. Still, the story is Spidey and whether or not it was rebooted too early.

Following a Monday to Sunday box office total of $140 million, our obvious box office champion over the July 4th long weekend is Sony's The Amazing Spider-Man. Its box office totals will be heralded today in the press; however, the question to ask is how these totals hold up against similar films? Comparing the box office of reboot films like The Amazing Spider-Man and Batman Begins is ludicrous, as Warner Bros. had destroyed the Batman brand with Batman & Robin (Clooney/Schwarzenegger, 13% fresh), and was fighting to be simply relevant again – without the Ahnold jokes ("Let's kick some ice"). The much better comparison for The Amazing Spider-Man is 2007's Transformers, a film that was also an expensive fanboy Part One, and also because it opened on the Tuesday prior to Independence Day.

If you've read David Mumpower's excellent Daily Box Office Analysis, you know that The Amazing Spider-Man got off to a solid $35.9 million start on Tuesday (including Monday sneaks). You also know that Transformers earned $36.7 million by Tuesday, which similarly included Monday sneaks. Because of the midnight showings, it's hard to argue one way or the other about each film, so let's look at the actual July 4th, which was Wednesday. The Amazing Spider-Man took in only $23.3 million versus Transformers' $29.1 million, which means that Spider-Man was 20% back of Michael Bay's 2007 monstrosity. That's bad news, considering Transformers didn't roll out to 3D screens and higher ticket prices. Thursday's numbers weren't any better. The Amazing Spider-Man's third full day came in at $15.8 million, $3.4 million behind the $19.2 million that Transformers put up. Before the weekend proper began, Spidey lagged Transformers by nearly $10 million.

The race got closer on Friday night, but The Amazing Spider-Man still lagged. Transformers earned $22.7 million over its first Friday, where Spider-Man earned $20.7 million. There was no longer a chance for Spider-Man to catch the Michael Bay release, and the weekend wasn't half over. The three-day, Friday-to-Sunday estimate for The Amazing Spider-Man is $65 million, well back of Transformers' $70.5 million. The opening-to-Sunday totals also show a gap. In that time frame, the toy-based Paramount production had earned $155.4 million. Since opening, the Mark Webb version of Spider-Man has tallied $140 million. To all the people out there who are foaming at the mouth, saying that's a lot of money, I don't disagree. But after seeing three-day totals this year that have come in at $207.4 million (The Avengers) and $152.5 million (The Hunger Games), one has to wonder if Sony has left money on the table. The last Sam Raimi Spider-Man movie opened to an even higher $151 million, but that was only over three days instead of six. Spider-Man 3 earned $176 million after six days.

These box office totals say to me that Sony blew it with the reboot, which will only lead to pain in the years to come. Andrew Garfield, the new Tobey Maguire, is way too old to start playing Spider-Man now at 29, supposing the follow-ups come every three years. I see a Clooney or Kilmer type Batman movie coming in this incarnation of Spider-Man, so hopefully we will get something edgier (like the current Batman) in a few years. To be clear, The Amazing Spider-Man is not a bad film. It received an A Cinemascore, and a 72% fresh rating at Rotten Tomatoes. I just don't like the way the tea leaves look currently. Sony spent $215 million plus on this one, and I don't think they will find that it has the Tobey Maguire/Kirsten Dunst legs the last batch had.

Finishing second is last weekend's number one, Ted, with Mark Wahlberg, Mila Kunis and the voice of Seth MacFarlane. After an unexpectedly huge opening weekend of $54.4 million, some thought Ted might dine and dash from the box office with Spider-Man back on the scene, but that didn't happen. Ted found that sweet spot in the box office, opening big the weekend prior to a juicy long weekend, and enjoying the soft bounce that the Independence Day holiday might provide. Ted earned another $32.6 million and lost only 40% of its audience compared to last weekend. Cue the fireworks, folks. We've got us a big hit. The Hangover, the former biggest non-sequel R-rated comedy, did hold better at 27%, but opened smaller at $45 million, and had a very similar second weekend ($32.8 million). Ted is also a much bigger earner over its first 10 days – The Hangover had earned $104 .8 million, while Ted has already reached $120.2 million, after crossing the century mark on Saturday, its ninth day of release. The company behind Ted, Media Rights Capital, spent only $50 million making Ted, a film that could take in $200 million domestically before all is said and done.

Third spot goes to Pixar's Brave, which is lagging behind Up, but staying ahead of WALL-E. In its third weekend, Brave earned $20.2 million, giving the animated feature a drop compared to last weekend of 41%. As Brave is targeted more at girls, we can likely thank Katy Perry for the drop, despite the musician not having a breakout weekend. Brave has now earned $174.5 million against a budget of $185 million, and is just starting to roll out overseas. Brave won't reach Up's almost $300 million, but it should beat WALL-E's total of $224 million.

Fourth goes to Oliver Stone's Savages, a film that makes a good case about legalizing marijuana (no one that looks like Blake Lively should be kidnapped over pot). Savages earned $16.2 million since opening on Friday, and was out to only 2,628 venues, giving it an average of $6,150. For Oliver Stone, this is his third biggest opening ever, behind Wall Street 2 ($19 million) and World Trade Center ($18.7 million). Savages is a $45 million film and will likely play overseas as well, so it shouldn't hurt Universal too much.

Fifth is Magic Mike, Steven Soderbergh's male stripper movie. After a breakout weekend, Magic Mike never had a chance to hold like Ted did, given the subject matter and the target audience (soccer moms). Any hold above 70% was going to be a success here, so a gross of $15.6 million and a drop of 60% is certainly going to work for Warner Bros. Don't forget – Magic Mike was a $7 million pick up for the distributor, and has already grossed ten times that amount. Magic Mike has singles totalling $72.3 million.

Sixth is Tyler Perry's Madea Witness Protection. I shouldn't have to tell you that these films open big and fall hard, and this one fits the mould perfectly. Witness Protection earned $10.2 million and dropped 60% (shocked, shocked, I tell you). Give this version of the Madea cash machine $45.8 million so far, with not much more to come.

Seventh goes to Madagascar 3: Europe's Most Wanted. Now in its fifth weekend, the DreamWorks Animation release earned another $7.7 million and dropped 35% (pretty good considering it lost almost 1,000 venues compared to last weekend). Madagascar 3 has now earned $196 million stateside and over $250 million overseas, against a budget of $145 million.

Eighth place goes to Katy Perry: Part of Me one of these idiotic concert movies for teens. This one earned $7.2 million from Friday to Sunday, and $10.3 million since opening Thursday. This one cost only $12 million, and I love that it's flirting with disaster despite the low budget.

Moonrise Kingdom is ninth this weekend, as the Focus Features release continues to hold nicely and enjoy a perfectly executed platform release. Now out to 884 venues (30 more than last weekend), Moonrise earned another $4.6 million and fell only 6%. This $16 million release has now been in theaters for seven weekends, and shows little sign of slowing. The Wes Anderson picture has now earned $26.9 million.

In tenth is To Rome With Love, as Woody Allen tries to keep his roll going, which he started last year with Midnight In Paris. After a couple of weekends in limited release, To Rome expanded to 806 venues and earned $3.5 million, giving it a venue average of $4,345. The comedy has already earned $12 million overseas, and has a domestic cume so far of $5.3 million.

Leaving the top ten for the first time in 10 weekends is Marvel's The Avengers. The super superhero flick finished 12th with a gross of $2.2 million. It has now earned $611.1 million domestically.

Overall, comparing year to year box office over Independence Day weekends can give a poor reflection of what's actually happening. This year, the top 12 films earned $187.1 million from Friday-to-Sunday. A year ago, the same weekend was July 1-3, as the holiday landed on Monday. That year, with Transformers 3 on top, the box office took in $191.8 million. A year earlier, with the 4th falling on a Sunday, the top 12 found $180.5 million. The last time July 4th fell on a Tuesday was 2007, and the top 12 earned $165.4 million, with Transformers earning more than The Amazing Spider-Man did. Next weekend, the only opener is Ice Age: Continental Drift, as we await The Dark Knight Rises a weekend later.