Comics Weekly
By Pete Kilmer
July 4, 2012
BoxOfficeProphets.com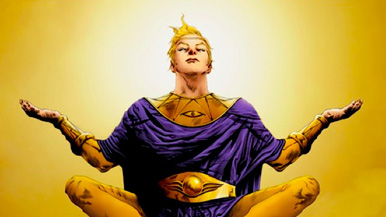 ---
Pete Kilmer has been in the comics retail industry for ten years as a member of Downtown Comics in Indianapolis. Downtown Comics is one of the Midwest's largest comic retailers with over four locations in Indianapolis. All opinions are his own, and they cannot be bought with free swag. Beer and a walk on role on Burn Notice to steal Fiona from Michael Weston and I'm a bought man.

Fourth of July comics include Avengers: West Coast Zodiac Attack (hardcover), Batman and Robin: Born to Kill Vol 1 (hardcover), Batman: Earth One (hardcover), Before Watchmen: Ozymandias, Cape 1969, Executive Assistant Assassins, Fables Vol 17 - Inherit the Wind (trade paperback), Halo: Fall of Reach Invasion (premium hardcover), Infernal Man-Thing, and Muppets #1.

ACTION COMICS #11
AGE OF APOCALYPSE #5
AMAZING SPIDER-MAN #689
ANIMAL MAN #11
ARTIFACTS #19
AVENGERS ASSEMBLE TP VOL 04
AVENGERS VS X-MEN #7 (OF 12) AVENGERS TEAM VAR AVX
AVENGERS WEST COAST ZODIAC ATTACK PREM HC
BATMAN & ROBIN HC VOL 01 BORN TO KILL
BATMAN EARTH ONE HC
BATMOBILE COMPLETE HISTORY HC
BATWING #11
BEFORE WATCHMEN OZYMANDIAS #1 (OF 6) (MR)
BOYS #68 (MR)
BTVS SEASON 9 TP FREEFALL
CAPE 1969 #1 (OF 4)
CASTLE WAITING VOL II #17
CLAYMORE TP VOL 20
CREATOR OWNED HEROES #2 CVR A (MR)
DANGER CLUB #3
DANGER GIRL DANGER SIZED TREASURY ED #2
DEADPOOL #57
DETECTIVE COMICS #11
DIAL H #3
DOCTOR WHO CLASSICS SERIES IV #6 (OF 6)
DOROTHY OF OZ PREQUEL #3 (OF 4)
DREADSTAR OMNIBUS TP
EARTH 2 #3
EPIC KILL #3
EXECUTIVE ASSISTANT ASSASSINS #1
FABLES TP VOL 17 INHERIT THE WIND (MR)
FAIREST #5 (MR)
FANBOYS VS ZOMBIES #4
FATHOM KIANI VOL 2 #3
FURY MAX #4 (MR)
GARFIELD #3
GI COMBAT #3
GI JOE A REAL AMERICAN HERO #180
GI JOE V2 COBRA COMMAND TP VOL 02
GREEN ARROW #11
GREEN HORNET #26
GREEN LANTERN EMERALD WARRIORS TP VOL 01

HACK SLASH #17
HALO FALL OF REACH INVASION PREM HC
HAUNT #24
HE MAN AND THE MASTERS OF THE UNIVERSE #1 (OF 6)
HELLRAISER #15 (MR)
HERO WORSHIP #1 (OF 6)
HULK #55
HULK HEART OF ATOM TP
INCORRUPTIBLE TP VOL 07
INFERNAL MAN-THING #1 (OF 3)
INVINCIBLE #93
INVINCIBLE IRON MAN #520
INVINCIBLE TP VOL 16 FAMILY TIES
IZOMBIE #27 (MR)
JUSTICE LEAGUE INTERNATIONAL #11
KIRBY GENESIS CAPTAIN VICTORY #6
KNIGHTS OF THE DINNER TABLE #188
LADY DEATH (ONGOING) #19 (MR)
MARVEL SUPER HEROES #2
MIKE NORTONS BATTLEPUG HC VOL 01
MIND MGMT #2
MORNING GLORIES #20 (MR)
MUPPETS #1 (OF 4)
NIGHT FORCE #5 (OF 7)
NINJETTES #5 (MR)
ORCHID #8 (MR)
PEANUTS TP VOL 01
POPEYE #3
POWER RANGERS SUPER SAMURAI GN VOL 01 MEMORY SHORT
PUNISHER #13
RAGEMOOR #4
RED HOOD AND THE OUTLAWS #10
RED LANTERNS #11
ROBERT JORDAN WHEEL OF TIME EYE O/T WORLD #27
ROCKETEER ADVENTURES 2 #4 (OF 4)
ROSARIO VAMPIRE SEASON II TP VOL 09
SHOWCASE PRESENTS SHOWCASE TP VOL 01
SMALLVILLE SEASON 11 #3
SPAWN #221 CVR A MCFARLANE
STORMWATCH #11
SUICIDE SQUAD TP VOL 01 KICKED IN THE TEETH
SUPER DINOSAUR TP VOL 02
SWEET TOOTH #35 (MR)
THE LONE RANGER #7
THIEF OF THIEVES #6
TRANSFORMERS ROBOTS IN DISGUISE ONGOING #7
ULTIMATE COMICS SPIDER-MAN #12
UNCANNY X-MEN #15 AVX
VAMPIRELLA RED ROOM #2
WARLORD OF MARS #19 (MR)
WOLVERINE #308
WOLVERINE #310
WONDER WOMAN THE TWELVE LABORS TP
WORLDS FINEST #3
X-FACTOR #239

On Fridays we now post the complete list of new comics that actually ships for the week. Books that will actually be in store! So please head over to Downtown Comics and check out the Shipping This Week section!