Weekend Wrap-Up
Insane Movie Line-Up Brings Big Box Office
By John Hamann
July 1, 2012
BoxOfficeProphets.com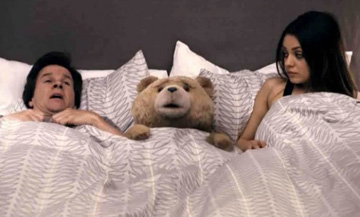 ---
Let me get this straight. It's the pre-July 4th weekend, and films opening this weekend include a male-stripper movie with Channing Tatum and Matthew McConaughey, an R-Rated comedy about a talking teddy bear; a Tyler Perry Madea movie, and, a weepy drama. What month is it again? In 2009, this was the weekend where Michael Bay stole allowances from a generation of kids with Transformers: Revenge of the Fallen, which took in $109 million. This weekend, the scheduled blockbuster, GI Joe, fled the weekend as Seth MacFarlane's Ted opened alongside Magic Mike, a movie that did a whole lot better than Striptease.

In one of the weirder weekends in recent box office memory, Universal's Ted won the weekend, outpacing the tracking estimate by $20 million or more, with second place going to the overperforming Magic Mike, Warner Bros' male-stripper movie from wunderkind director Steven Soderbergh. These are two R-Rated non-blockbusters that have a combined budget lower than that of That's My Boy. One could have made these two films four times over for the cost that went into The Avengers. And while they are not seeing an Avengers sized opening weekend, the cost-to-profit ratio is going to be much better.

This box office weekend is like The Island of Lost Toys. Usually, the blockbuster film would open the weekend prior to the July 4th frame, and sail through the long weekend much like Transformers: Revenge of the Fallen did. Revenge of the Fallen earned $293 million in its first 12 days, from June 24th to July 5th. This is one of the sweet spots of the yearly box office, and two raunch fests are going to dominate, although they will have to deal with The Amazing Spider-Man starting on July 3rd. For now they are jewels, but as of Tuesday, they are likely roadkill.

Seth MacFarlane's Ted is the number one film of the weekend, after starting with an eye-popping $2.7 million from Thursday midnight screenings. This one was not like Abraham Lincoln: Vampire Hunter, last weekend's film that started well at midnight, but faded severely over the weekend proper. Ted turned a positive midnight into a super-strong Friday, earning $17.6 million (recorded as $20.2 million, but less the $2.7 million from midnight screenings). Both numbers were higher than that of the first Hangover, which grossed $16.7 million on opening day, on its way to a $45 million weekend. At the time, The Hangover was the biggest R-Rated comedy opener, but not anymore.

Ted turned a solid Friday into a weekend gross of $54.1 million, one of the best ever for an R-rated comedy, and crowns MacFarlane as the new go to guy for comedy (sorry Todd Phillips). Ted was out to only 3,239 venues, and scored an average of $16,705. The studio predicted $26 million to $35 million for Ted. Box office analysts said $35 million to $40 million. BOP's own Reagen Sulewski said $27.6 million – so you can see how much this one has surprised. It's like everyone went nuts for the movies this weekend – makers, studios, exhibitors and most of all, patrons. I can't hammer the "Go Figure" button enough. It's that ludicrous.

It gets weirder, because these R-Rated raunch-fests are good movies as well, at least according to the critics. Ted, a film I thought would be beat to death just because Seth "Family Guy" MacFarlane was involved, actually finished on the fresh side, and has a lot of fans. Ted garnered 112 reviews, and of those, 77 were of the positive variety, leaving the Universal release with a fresh rating of 69%. The praise didn't just come from web reviewers with Stewie Griffin desktop wallpaper, NPR and Time Magazine also liked it. R-Rated talking bear movies don't earn $50 million. They need to crossover into different audience plots. Nonetheless, this one did it, with a whole bunch of style.

Seth MacFarlane can now write his own ticket for his next film. Why? Ted cost Universal only $50 million to make, and this one is going to earn at least three times that over its domestic run. Will Ted be embraced overseas? I don't see why not. Family Guy is a global phenomenon, and Mark Wahlberg's films do okay overseas. There is no reason why this isn't at least a $250 million worldwide picture, and good for Universal. They stepped out of the comfort zone and delivered a hit.

Speaking of hits, Magic Mike is second this weekend and is just that - a home run for director Steven Soderbergh. The men had Ted this weekend, while the women had Magic Mike, a somewhat true story about Channing Tatum's term as a male stripper. Magic Mike also had some big numbers from Thursday midnight shows, as it took in $2.1 million prior to opening, only $600,000 behind that of Ted. Friday numbers were also eerily close. After midnights were removed, they showed $17.6 million for Ted, and a jaw-dropping $17.3 million for Magic Mike (cue the sound of a record being scratched). Yes, the male-stripper movie earned 2.5 times what it cost Warner Bros. to pick this one up ($7 million) for distribution. Because of the strong content that would obviously pull viewers to seeing it at night, the weekend multiplier (weekend gross divided by Friday gross) is going to be lower than your usual R-Rated release - similar to what the Sex and the City films did. The multiplier came in at 2.1, quite a bit lower than Ted's 2.9.

The difference between Magic Mike and a movie like Striptease or Showgirls is film quality. It would seem that movies about women stripping for men get terrible reviews and earn poorly. Movies about men stripping for women (or gay men) are the complete opposite (The Full Monty anyone?). Showgirls was 12% fresh at Rotten Tomatoes, while Striptease was 11% fresh. Magic Mike on the other hand, is 80% fresh at RottenTomatoes, with critics much higher at an unbelievable 91% fresh. Soderbergh has obviously made a movie that goes beyond the thrill of the flesh, and into the cerebral thrill of the mind. Legs will be an interesting question, as if it continues to behave like Sex in the City, it will disappear quickly.

For Tatum, this is one his biggest openings of his career, and comes on the heels of 21 Jump Street ($36.3 million opening, $94.2 domestic finish, $150 million worldwide) and The Vow ($41.2 million opening, $123.5 million domestic finish, $187 million worldwide). Tatum, as much as I hate to say it, is going to be a big star. This one also stars Mathew McConaughey, someone who I've ripped on for years in this column for making bad movie choices (Fool's Gold, The Wedding Planner – don't get me started). I should now be nicer to him, as he's made two good films now, back to back – with Magic Mike and The Lincoln Lawyer before it. Good or bad choices, McConaughey has put himself in some movies with strong legs. The Lincoln Lawyer earned a opening-to-total multiplier of 4.4. Tropic Thunder had a 4.3, while earned Sahara 3.8. Obviously, a lot of fans out for his films. It will be interesting if he can help the legs of Magic Mike, and somehow turn it into a phenomenon.

We are not done yet with the big numbers, as Pixar's Brave enjoys its second weekend. The animated film with the red-headed princess was coming off a solid $66.3 million opening weekend, and with questions around story structure and lower-than-usual critical reviews, many were watching the second weekend of Brave. In the end, Brave did okay, earning $34 million and dropping 49%, slightly higher than Pixar's usual. Non-sequel Pixar films released in summer have had varied second weekend drops, with the biggest being WALL-E at 49% and Cars at 44%, and the lowest being Finding Nemo and Up, at 34% and 35% respectively. This weekend for Brave is on the higher side for Pixar, but is by no means devastating. The $185 million Brave will end up just fine, likely earning $250 million domestically. Brave is just getting started overseas, but has a strong domestic gross so far of $131.7 million.

Finishing fourth is Tyler Perry's Madea's Witness Protection, another in the long list of Madea movies. This is the first Madea released in summer, but the result wasn't much different. Perry's Madea films have had opening numbers ranging from $21.9 million for 2005's Diary of a Mad Black Woman to $41 million for Madea Goes to Jail. The average Madea film opening is about $28 million, but that rolls down to $25 million if we don't include Madea Goes to Jail. Madea's Witness Protection earned $26.4 million from 2,161 venues this weekend and had an average of $12,193. Witness Protection received the same abysmal notices that Perry always receives, but audiences keep flocking to see these movies, so Perry keeps putting them out. Perry will step out of his comfort zone in October, when he appears in Alex Cross for director Rob Cohen, in the role that Morgan Freeman made famous.

Fifth spot goes Madagascar 3: Europe's Most Wanted, which has wilted since Brave showed up. Now in its fourth weekend, Madagascar 3 earned another $11.8 million, but was down hard again this weekend, as it dropped 40%, not far off the 42% it dropped last weekend. Made for $145 million, Madagascar 3 has now pulled in $180 million domestically, and is well over $200 million from overseas grosses.

Sixth is Abraham Lincoln: Vampire Hunter, the book adaptation from Fox. After a so-so opening frame where the presidential vampire hunter took in $16.3 million, audiences got their revenge this week as the Fox film tumbled, earning only $6 million and dropping 63%. With a cost of $70 million, and a domestic gross of $29 million so far, Abe is going to have to look overseas for a prop up, or this will be costly mistake for Fox.

Prometheus moves down to seventh this weekend after a fourth place finish in the last frame. The Ridley Scott sci-fi took in another $4.9 million this weekend and dropped a hurtful 50%. The good news for Fox is that the film supposedly cost $135 million to make, and has earned $118.3 million domestically, with over $150 million from the overseas box office.

Moonrise Kingdom expands again this weekend, this time to 854 theatres, and hastily moves back up the chart. After an 11th place, $3.4 million gross last weekend, the expansion pays off for this frame. Moonrise Kingdom earned $4.9 million, bringing its gross up 44% compared to last weekend. Distributed by Focus Features, Moonrise cost only $16 million to make, and has a gross so far of $18.4 million.

Snow White and the Huntsman finishes in ninth place, dropping 46% to $4.4 million. The film has earned a solid $145.6 million so far, though it hasn't quite approached its budget of $170 million with those numbers just yet. Fortunately, it has excellent overseas revenue to add to the mix, as its foreign take tallies close to $190 million.

Finally in tenth is People Like Us, another new release that doesn't fit in the weekend prior to Independence Day. People Like Us is trying the counter-programming card, but with Magic Mike taking the female demo away, there wasn't much left. People Like Us opened to a soft $4.3 million from 2,055 venues. It got only middling reviews, and will be out of the top ten before you know it.

Overall, it was insanely busy at the cineplex this weekend, even though we had this oddball line up. The top 12 films this weekend earned $197.1 million, an almost 3% increase over last year's top 12 total of $198.1 million. This year's total is simply a staggering amount for a frame where no blockbusters opened. Next week – notice that I didn't say "next weekend" – we get The Amazing Spider-Man on Tuesday, Katy Perry on Thursday, and Oliver Stone's Savages on Friday. Check back next weekend to see how it all unfolds.