Daily Box Office Analysis
By David Mumpower
June 28, 2012
BoxOfficeProphets.com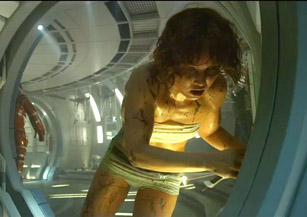 ---
As is ordinarily the case on Wednesday without new movie releases, box office was down across the board yesterday. This is because Tuesday is regularly the best movie day of the Monday-Thursday period. We should keep this in mind as we evaluate daily box office this summer because if we fail to do so, situations such as Wednesday's box office look horrible in a vacuum.

Brave was the number film in North America for the sixth consecutive day. Its box office total of $6,834,139 represents a 23% drop from Tuesday. I mentioned the natural comparison to Cars 2 in the previous column. That movie fell a similar 22% from its first Tuesday to Wednesday, which exemplifies that this is natural behavior, even for animated summer releases. We should read nothing into Brave's performance but instead focus on the fact that its running total is $91,032,679.

Brave will reach the $100 million plateau in its eighth day in theaters. This provides an opportunity to evaluate this performance relative to other recent Pixar releases. Toy Story 3 obviously reached this milestone on opening weekend. Cars 2 needed nine days, missing on its eighth day by roughly $1.1 million. Up, Finding Nemo, The Incredibles and WALL-E all matched Brave by breaking $100 million in eight days. Cars, Ratatouille and Monsters, Inc. all matched Cars 2 in reaching $100 million in nine days. As amazing as this is, EVERY Pixar release in the 2000s save for Toy Story 3 has hit the $100 million mark in either eight or nine days. To demonstrate what an outlier Toy Story 3 was, consider that it reached $200 million (!) in nine days.

The rest of the top ten was largely unchanged. Madagascar 3: Europe's Most Wanted extended its lead over Abraham Lincoln, Vampire Hunter by falling less (24% versus 27%). The DreamWorks Animation film managed $2,422,849 while Lincoln managed only $1,484,552. It is in danger of falling behind Prometheus, which (surprisingly) had the best hold in the top seven with 20% depreciation.

The intensely debated Ridley Scott feature earned another $1,112,457, giving it a grand total of $112,296,498. Several BOP writers were concerned that the debatable quality of the film would truncate its box office run. Prometheus has already surpassed the worst case scenario projections, and should wind up with a respectable $135 million domestic run in addition to the $150 million it has already earned overseas. Along these lines, I will be mentioning international revenue more in this forum than in previous years because we've reached a point where the discussion matters. The same concerns about actual profit from overseas revenue still exist, and we will address those over time as well.

In the most recent column, I touched upon the lackluster quality of the overall top ten. I will spend the rest of today's discussion explaining this. After Prometheus, the only remaining blockbusters in the top 10 are The Avengers, a saturated topic by now, and Snow White and the Huntsman. The Kristen Stewart/Thor movie is toward the end of its run, earning only $905,050 yesterday. With $140,310,220 in domestic revenue, it is an unqualified blockbuster hit. And The Avengers garnered another $838,655 yesterday to give it a running total of $601,215,735; it is now the second most popular domestic release of all time during initial theatrical run, surpassing Titanic's original total of $600.8 million.

Everything else in the top ten but The Avengers, Madagascar 3, Snow White and the Huntsman, Brave and (arguably) Prometheus is box office garbage. This is not an exaggeration. The failings of Abraham Lincoln, Vampire Hunter are readily apparent, while yesterday's fifth place release was That's My Boy. Adam Sandler's latest comedy earned $950,215 in its 13th day in theaters. For perspective, Sandler's last three films did not fall under $1 million in daily revenue until the 19th day on average. That's My Boy is effectively done at the box office already with a paltry $31,397,618, less than what Sandler's films ordinarily earn on opening weekend.

Seventh place belongs to Rock of Ages, which is mirroring That's My Boy. After opening on the same day, each film is now earning less than a million a day. Rock of Ages managed $868,350 yesterday, which gives it a running domestic total of $31,363,431. Barring something unforeseen, That's My Boy is likely to earn more before they are both out of theaters next month. Even worse, Rock of Ages has a slightly more expensive budget. The good news is that soundtrack sales will mitigate some of the damage here. Still, we are talking about movies that cost $145 million to produce that will barely earn back half of that cost domestically.

The other movies of note at the bottom of the top ten today are Men in Black 3 and, well, Moonrise Kingdom. The third sci-fi buddy cop film managed $744,476, giving it a grand total of $165,998,272. As difficult as this is to believe, Men in Black is going to fall short or, at best, effectively match Men in Black 2's $190 million. And this is with the extensive ticket price inflation created by 3D sales. Men in Black 3 has been soundly rejected by North American audiences. It is approaching $600 million worldwide, which justifies the budget expenditure, but it's an underachiever on this side of the Atlantic.

With regards to Moonrise Kingdom, I have only glowing things to say about its $460,213. This movie has the best hold in the top ten (8% depreciation) and it joins Brave as the only two movies with per-venue averages above $1,000. Moonrise Kingdom keeps humming along with a grand total of $13,064,307 in limited engagements thus far.

What this means for Seeking a Friend for the End of the World, however, is unmitigated disaster. In its sixth day in theaters, the Steve Carell comedy suffers the worst drop of any movie in the top 12 (30% depreciation). Also, it falls to 11th place. With a running total of $5,211,451, the people who made this movie definitely need a friend. And this probably is the end of their world, at least in Hollywood.

The top ten earned $16.6 million yesterday, a decline of 19% from Tuesday's $20.5 million. Once again, Brave's $6.8 million skews the picture here. Without it, the rest of the top ten earned less than $10 million combined.