Weekend Forecast for June 29-July 1, 2012
By Reagen Sulewski
June 29, 2012
BoxOfficeProphets.com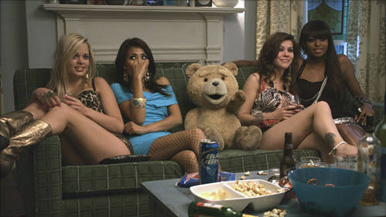 ---
This weekend brings us one of the odder collections of summer movies in some time, an eclectic mix of ideas that probably shouldn't work but might just in spite of their strangeness. Not just that, but against all odds, they make this one of the best reviewed slates of movies this summer.

The real wild card in the bunch is Magic Mike, which arguably appeals to the narrowest demographic of any of the four, but also has the greatest breakout potential. From 25,000 feet, it's a fairly straightforward looking romantic comedy starring Channing Tatum. As we swoop in, however, we see – wait, directed by Steven Soderbergh and wait, again – male strippers? Taking a cue from Tatum's actual first career, what this movie actually is closer to is a Boogie Nights-ish expose of the male stripper world, starring a beefcake-heavy cast including Alex Pettyfer, Matthew McConaughey and Matt Bomer and which kind of comes down to "Yay, porn!"

This is going to be one of the more exclusively female (and, okay, gay male) audiences since Sex and the City 2, possibly outdoing even those interminable Nicholas Sparks adaptations, which Tatum also knows a thing or two about. The Vow was one of the bigger surprises of the year so far, opening to $41 million, and making Tatum a legitimate box office draw. Cannily, his acting abilities never seem to be tested much, and until that becomes a problem, it's probably best for him to stick with his strengths of taking his shirt off and looking dully into middle-distance.

Soderbergh as director is kind of an interesting wrinkle to this film, although it probably doesn't make that much of a difference to the bottom line. He's spent the last few years flexing his muscles in basically every genre there is (expect a musical soon), although he's not completely unfamiliar with sex and movies, having started out with Sex, Lies and Videotape. His name adds a big of legitimacy to a film that isn't really looking for it.

Perhaps more important is that the film arrives at the peak of the revival of smut for women, as best seen by the inexplicable popularity of Fifty Shades of Grey, the book series that makes Twilight look respectable. But still, while it couldn't possibly have been timed this way, Magic Mike likely plays perfectly to women who've decided they can be a bit "naughty" in public, if we're dialing our definition of the word down a long ways. It also helps that the film's gotten a bit of publicity from accusations that Tatum stole moves from some of his former co-workers, which is apparently a thing. I look for this to come in with around $36 million this weekend.

Another oddball film is Ted, Seth McFarlane's feature film directorial debut. Possibly the high-concept film to end all high-concept films, it stars Mark Wahlberg as a grown man who, when he was a child, wished his teddy bear was alive. Well, it came true, and the bear, named Ted (voiced by McFarlane), grew up with him and is now a teddy… man, for lack of a better term.

The joke of the film is pretty much that - "what if a teddy bear could get drunk and fool around with trashy women?", although it's a decent one as one-joke based films go, or at least there's material there. It's also as likely as we are to get a Family Guy movie, which you may or may not consider a positive. Around this premise, they've constructed a fairly standard "layabout friend needs to be set loose and grow up" plot, as Wahlberg attempts to build a life with his girlfriend (played by Mila Kunis), but, you know, with puppets. And as anyone who remembers that one episode of Angel, puppets doing people things is hilarious. Especially fighting with people, which is the centerpiece of the trailer and reminds me a bit of the campaign for There's Something About Mary.

Wahlberg's comedy comparisons are hard to come by, with really just The Other Guys in recent years (and some small supporting roles), and if we go way back, the bizarre and underrated The Big Hit. Even some of his action and dramatic roles have some comedy in them, so he's not a stranger to the concept of making people laugh (sometimes even on purpose!). In the end, I think funny wins out here, and we should an opening weekend of about $27 million.

Possibly the most review-proof movie of the week is Tyler Perry's Madea's Witness Protection, which I'm sure could have gotten another apostrophe in there if they'd tried. This is now the seventh film in the Madea series and the 11th under the Tyler Perry empire's banner, and while there's an occasional sign that people are getting tired of him, we're likely not that lucky. His last film, 's Good Deeds, was the lowest opening film of his to date, but also was more of a straight drama and had none of his transvestite fat suit antics or broad comedy. For Witness Protection, he's added Eugene Levy and Denise Richards. That about sums it up right there, doesn't it?

The Madea movies have always been the most popular of Perry's films and I don't expect that fact to change this time, although I don't see a return to the heights of Goes to Jail. So, $24 million? Sure, why not.

People Like Us is the unusual film in this bunch for... not being unusual, with a straight forward dramatic plot and everything, and no bizarre loglines. Chris Pine plays a man who discovers at his father's funeral that dad had a parallel family, including a daughter (played by Elizabeth Banks) and grandson. Having left an inheritance to them, Pine is left to distribute it, but can't tell them who he is for some reason that I'm sure makes sense within the film's world view but probably serves to just keep the movie going longer than 20 minutes.

This leads to some cross-country road trip, and Pine's mother, played by Michelle Pfeiffer, enters into this somehow, along with his girlfriend (played by Olivia Wilde). So it's a good cast as these things go, but it also sounds utterly conventional and uncommercial, especially compared to the rest of the weekend. Maybe it should have aliens in it or something. Opening in around 2,000 venues, it should manage about $7 million this weekend.

These numbers mean that Brave has an excellent chance of remaining at the top of the box office for a second straight weekend. The "girl power in the Scottish Highlands" fantasy film from Pixar showed some nice resiliency for the company after the giant critical disappointment that was Cars 2. While it doesn't stand up very well inflation-wise, $66 million is still a great opening weekend for an animated film, and the word-of-mouth appears to be pretty strong on this. Look for it at the top of the charts again with around $42 million.

Madagascar 3 stood up nicely in the face of direct competition, dropping just 42% to about $20 million for second place, and putting it at around $160 million total. It's now pretty much a cinch to pass the $193 million of the first film in the series and should make it to as much as $225 million domestic. Add about $11 million this weekend.

Abraham Lincoln: Vampire Hunter may be number one in our hearts for title of the year, but it only managed third last weekend with $16 million. Perhaps we will have to wait for Stephen Spielberg for the definitive take on Lincoln's dalliances with the supernatural. In any case, this is a film that was betting almost purely on kitsch value for its box office, and I don't anticipate anyone having been on the fence about this. Look for a drop to around $7 million this weekend.