Comics Weekly
By Pete Kilmer
June 27, 2012
BoxOfficeProphets.com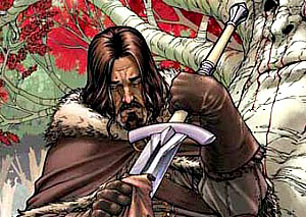 ---
Pete Kilmer has been in the comics retail industry for ten years as a member of Downtown Comics in Indianapolis. Downtown Comics is one of the Midwest's largest comic retailers with over four locations in Indianapolis. All opinions are his own, and they cannot be bought with free swag. Beer and a walk on role on Burn Notice to steal Fiona from Michael Weston and I'm a bought man.

New comic books this week include Before Watchmen: Nite Owl #1, Game of Thrones Vol. 1 (graphic novel), Hit-Girl #1, Hypernaturals #1, Morning Glories Vol. 3 (trade paperback), and X-Men Legacy: Back to School (hardcover).

ALL STAR WESTERN #10
AMAZING FANTASY 15 SPIDER-MAN
AMAZING SPIDER-MAN #688
AMERICAN VAMPIRE #28 (MR)
ANGEL & FAITH #11 STEVE MORRIS CVR
AQUAMAN #10
ARCHIE AMERICANA HC VOL 04 BEST OF THE 70S
ATOMIC ROBO FLYING SHE DEVILS O/T PACIFIC #1 (OF 5)
ATOMIC ROBO REAL SCIENCE ADV #3
BART SIMPSON COMICS #72
BATMAN ILLUSTRATED BY NEAL ADAMS TP VOL 01
BATMAN INCORPORATED #2
BATMAN THE DARK KNIGHT #10
BEFORE WATCHMEN NITE OWL #1 (OF 4) (MR)
BPRD HELL ON EARTH EXORCISM #1 (OF 2)
CAPTAIN AMERICA AND IRON MAN #633
CHRONICLES OF CONAN TP VOL 22 REAVERS BORDERLAND
CONAN THE BARBARIAN #5
CONAN TP VOL 11 ROAD OF KINGS
COURTNEY CRUMRIN ONGOING #3
DAVID MAZZUCCHELLI DAREDEVIL BORN AGAIN ARTIST ED HC (NET) (
DEFENDERS BY MATT FRACTION TP VOL 01
DOROTHY AND WIZARD IN OZ #8 (OF 8)
DUNGEONS & DRAGONS FORGOTTEN REALMS #2
EARTHLING SC (C: 0-1-1)
FATALE #6 (MR)
FATALE TP VOL 01 DEATH CHASES ME (MR)
FATIMA THE BLOOD SPINNERS #1 (OF 4)
FF #19
FF BY JONATHAN HICKMAN PREM HC
FLASH #10
FURY OF FIRESTORM THE NUCLEAR MEN #10
GAME OF THRONES GN VOL 01 (MR)
GEARS OF WAR #24
GI JOE ROOTS OF RETALIATION TP
GOON TP VOL 11 DEFORMED BODY & DEVIOUS MIND
GOTHAM CITY SIRENS TP VOL 03 STRANGE FRUIT
GREEN LANTERN NEW GUARDIANS #10
GUILD TP VOL 02
HELL YEAH #4
HIT-GIRL #1 (OF 5) (MR) (PP #1017)
HOUSE OF NIGHT HC
HYPERNATURALS #1 MAIN CVRS
I VAMPIRE #10
IDOLIZED #0 CVR B CLARK PHOTO
INCREDIBLE HULK #10
INFINITE CRISIS OMNIBUS HC
JOHN CARTER GODS OF MARS #4 (OF 5)

JUSTICE LEAGUE #10
JUSTICE LEAGUE DARK #10
KIRBY GENESIS SILVER STAR #6
LADY DEATH (ONGOING) #18 (MR)
LEGION OF SUPER HEROES TP VOL 01 HOSTILE WORLD
LOEG III CENTURY #3 2009 (MR)
LORD OF THE JUNGLE #5 (MR)
MAGDALENA TP VOL 02
MAGIC THE GATHERING SPELL THIEF #1
MANHATTAN PROJECTS #4
MARVEL UNIVERSE ULTIMATE SPIDER-MAN #3
MARVEL ZOMBIES DESTROY #4 (OF 5)
MIGHTY THOR #16
MIND THE GAP #2 CVR A
MORNING GLORIES TP VOL 03 P.E.
MYSTERY MEN TP
NEW DEADWARDIANS #4 (OF 8) (MR)
NICK FURY CLASSIC TP VOL 01 AGENT OF SHIELD
PREVIEWS #286 JULY 2012 (NET)
PROPHET #26
PUNISHER OFFICIAL INDEX TO MARVEL UNIVERSE GN TP
RESIDENT ALIEN #2
SAVAGE DRAGON #180
SAVAGE HAWKMAN #10
SCALPED #59 (MR)
SIMPSONS SUPER SPECTACULAR #15
SONIC UNIVERSE #41
SOULFIRE HOPE #1 CVR A RYAN
SPACEMAN #7 (OF 9) (MR)
SPELLBINDERS SIGNS AND WONDERS TP
SPIDER-MAN DEATH OF STACYS
SPIDER-MEN #2 (OF 5)
STAR TREK LEGION OF SUPER-HEROES HC DM EXCL ED
STAR TREK ONGOING #10
STAR TREK TNG DOCTOR WHO ASSIMILATION #2
STAR WARS BLOOD TIES BOBA FETT IS DEAD #3 (OF 4)
SUPERMAN #10
SUPERMAN FAMILY ADVENTURES #2
SUPREME #65 CVR A LARSEN
TALES O/T BEANWORLD HC VOL 03.5
TEEN TITANS #10
TEENAGE MUTANT NINJA TURTLES ONGOING #11
TRANSFORMERS MORE THAN MEETS EYE ONGOING #6
ULTIMATE COMICS ULTIMATES #12
USAGI YOJIMBO TP VOL 26 TRAITORS O/T EARTH
VOLTRON #6
VOODOO #10
WITCHBLADE #157
WOLVERINE AND X-MEN #12 AVX
WOLVERINE BEST THERE IS BROKEN QUARANTINE TP
X-MEN #31
X-MEN LEGACY #269 AVX
X-MEN LEGACY BACK TO SCHOOL PREM HC
X-MEN SCHISM TP

On Fridays we now post the complete list of new comics that actually ships for the week. Books that will actually be in store! So please head over to Downtown Comics and check out the Shipping This Week section!