Monday Morning Quarterback Part I
By BOP Staff
June 25, 2012
BoxOfficeProphets.com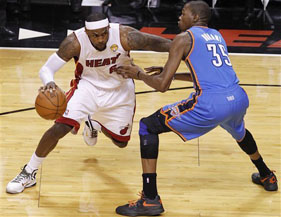 ---
Sadly, this is not a film about the first baseball player from Atlanta.

Kim Hollis: Brave, the last of the original concepts from Pixar's legendary original brainstorming session, became the fifth biggest Pixar debut with $66.3 million. What do you think of this result?

David Mumpower: Before we get too excited, I should point out that an argument could be made that Brave sold the fewest tickets since Ratatouille, the least popular Pixar movie of the 2000s. With ticket price inflation so dramatic in the IMAX/3D era, this debut is acceptable rather than exceptional. Keeping this in mind, I still consider the result in that Brave is a very difficult movie to market. It's the rare major studio release that focuses upon the mother/daughter dynamic, and the industry never knows what to do with those. The debut of Brave is 10% higher than Madagascar 3: Europe's Most Wanted, which speaks to the level of trust consumers have in the Pixar brand. We had posited that the lackluster quality of Cars 2 may hurt the brand, at least somewhat. This has not proven to be the case. Better yet, as we move forward with Pixar, boys have Cars while girls have Brave. The ancillary revenue stream from toys will not be the same, but the theme parks, hotels and whatnot can capitalize upon this dynamic.

Matthew Huntley: I agree with David's "acceptable rather than exceptional" comment, but I'm still surprised how well this movie opened, simply for the fact the details surrounding the plot are rather nebulous and the marketing for this movie didn't seem nearly as saturated as previous Disney/Pixar ventures, namely Cars 2. Perhaps Disney wanted to sell the movie and spread awareness through the Pixar name alone and chose to save a few bucks on TV spots, billboards, posters, etc. God knows the studio already spent enough on production - the reported budget for Brave is a whopping $185 million, which seems high, and the studio will need this to show strong legs and high international numbers to show a profit. Thankfully, all signs are pointing to yes, and, as David mentioned, the ancillary market should put this project in the black.

As a side note, I wanted to mention how "ordinary" the first half of this movie felt, as it seemed like just another story about a young girl facing persecution from tradition, patriarchy and social injustice. That much is revealed in the trailer, but once the second half gets underway, it really picks up and I sensed the Pixar wonder machine working its magic. I'm curious, but did anyone else have this same reaction? I wonder if this view will either help or hinder the film's overall box-office. When people say any movie "starts out slow, but eventually picks up," is the incentive to still see it in the theater or wait for the home market?

David Mumpower: Matthew, without posting any spoilers (some of the staff hasn't seen the movie yet), what I will say is that the tone shift is similar to WALL-E. That one is a silent film for the first half and then it fundamentally shifts into a fascinating tale of mankind's reliance on machines, a premise that is even stronger today than a few years ago. At the time, there was a lot of discussion about whether WALL-E "fell apart" once actual dialogue occurred. Brave has a similar tonal change. It switches from being a story about avoiding one's fate into an exploration of what a mother wants from her daughter and the reticence the daughter has in accepting this life plan. The methodology through which this is explored is undeniably novel and at times engaging but there is the strange mix of comedy inserted that feels unnatural to me. We commented last year on the "failure" of Kung Fu Panda 2, which is that it isn't very funny. To their credit, DreamWorks Animation demonstrates the storytelling confidence to stay true to this throughout the proceedings. Pixar does not. The usage of the triplets, the chambermaid and particularly the witch is less than what I expect from a Pixar production. I would have preferred less of them and more of the mother/daughter relationship growth. That felt tacked on and largely false to me.

Max Braden: Visually, I thought the trailer looked a lot like Tangled (from Disney Animation), which also depicted a medieval girl breaking out on her own. (Is the horse funny in Brave?) Tangled opened to $48 million at Thanksgiving a year and a half ago and went on to gross $200 million. Just based on that comparison I'd call Brave's opening a positive.

David Mumpower: Max, the one caveat I would add is that for Thanksgiving releases, the five-day total is more applicable since Wednesday and Thursday (the actual holiday) perform like weekend days as well. Tangled's five-day take of $68.7 million is in line with this number although even after box office inflation, Brave will come out slightly ahead once we add in its Monday/Tuesday take.

Jason Barney: The $66.3 million is a good opener for this summer movie season and Disney/Pixar have to be happy. I had read a couple of estimates pegging this in the mid to high 50s range, but I thought it would do better. So the opening is about in line with my own expectations. The concerns about kids not seeing this animated movie because of the main character being female were odd. Families have kids - cousins and friends going to the movies together is a great getaway. When it is family entertainment for the youngsters, I don't think the gender of the main character has anything to do with who sees a film. Brave should play well going into the July 4th weekend, and I would expect it is going to do really well against the openers next week. I brought my son to see it, and he liked it. My brothers brought their kids. This will be the movie of choice for families until Ice Age.

Bruce Hall: Cars 2 was the curtain being pulled back - even Pixar was capable of creating garbage! Reviews were almost immediately poor, word-of-mouth was poor, and even the people in the theater with me when I saw it felt it was poor. And yet that film enjoyed an opening similar to the one Brave just turned in. One big difference is that this time around, there was another option. Maybe you were one of the $20 million worth of families who are only now in a position to take four people to see Madagascar (stupid economy). If not, you might have looked at the trailers for Brave and seen the same things I did. This is a "princess film," so there's bound to be some variation on the pretty girl tough enough to be a guy who just wants to grow into her own woman kind of thing; the duty element. This is a difficult tightrope to walk, because such a film HAS to empower its female audience without driving away the boys. All things considered, I am compelled to give for Brave full credit for opening as well as it did; I believe it's Pixar's 13th straight number one opening. I need a pretty good magnifying glass to find much wrong with it.

Felix Quinonez Jr.: As it was pointed on the weekend wrap up this opening falls pretty much in line with most Pixar openings, which is a really good place for a movie to start. I'd have to call this a win especially after how badly Cars 2 was received. I thought since Pixar built so much of its reputation on putting out quality films that Cars 2 would have hurt its brand a bit more but I'm glad to see that wasn't the case. But I'm even more glad to see that this movie got good reviews. They might not have been great but it was definitely a step in the right direction.

Daron Aldridge: Since over the last 11 years, nine of 11 Pixar films have opened between $60 and $70 million, there shouldn't be much in the way of shock that Brave pulled in numbers right down the middle. In my opinion, the most concerning issue for Disney should be the aforementioned drastic uptick in ticket prices over the last decade hasn't translated into a comparable rise in dollars. Which David pointed out means that Brave is the lowest ticket seller since Remy's movie five years ago. Yet, they probably aren't too concerned since the merchandise and legs will likely bridge the gap easily. Matthew, while the reported $185 million budget seems over-the-top, it's actually pretty well in line with the cost of the last six Pixar films that ranged in budget from $170 to $200 million. So, box office-wise, Brave seems to be status quo for Disney-Pixar.

Kim Hollis: I think this is a fine result as well. I actually thought Brave might suffer a bit, for all of the reasons mentioned above. I do think it was a difficult film to market - unlike Madagascar 3, there is no Polka Dot Afro Circus to serve as a catch in Brave. There are some funny bits, but putting them in the trailer reveals too much. So, the film looked beautiful but I can see where some families might have struggled to find the wide-ranging appeal.