Weekend Wrap-Up
Pixar's Brave Right On Target at Summer Box Office
By John Hamann
June 24, 2012
BoxOfficeProphets.com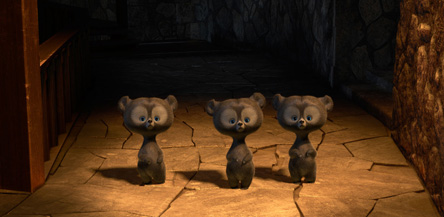 ---
After a depressing box office frame last weekend where two Adams (Sandler and Rock of Ages director Shankman) were embarrassed, Pixar and Disney are also looking to redeem themselves after the unfortunate Cars 2 was released last year. Cars 2 was nothing more than an attempt to sell billions worth of useless knickknacks to kids (and was a bad film to boot), and this weekend's big opener, Brave, is looking to right the Pixar ship. Brave takes the studio back to releasing original, attention-grabbing animation, with honest, upright stories that influence all ages (the anti-Cars). Also opening this weekend are the bizarre Abraham Lincoln: Vampire Hunter, and Steve Carrell's super small summer film, Seeking a Friend for the End of the World.

Our number one film of the weekend is of course Brave, Pixar's first return to original programming since Up in 2009. Two sequels later – one very good (2010's Toy Story 3) and one made by the devil (2011's Cars 2) – Pixar is back to creating original ideas combined with remarkable animation. With Brave, some complained that the female heroine might put boys off (for shame!), but it's a ridiculous argument, as kids flocked to see 78-year-old Carl Fredricksen in Up to the tune of $731 million worldwide. Up also earned an Oscar for best Animated Feature (and Original Score), and contains one of the sweetest and most remarkable scenes in the history of animation, as Carl remembers his life with his wife Ellie. Let me just thank Pixar one more time for not making Cars 3, and going back to what made them great, original, soulful programming.

Audiences were also thrilled Pixar returned to its roots. Pixar's sixth single-word title, Brave, earned an amazing $66.7 million this weekend, thanks to a gorgeous marketing campaign, 3D screens, and a hurting box office following last weekend's disasters. Brave opened at an ultra-wide 4,164 venues, and garnered a strong venue average of $16,028. Brave, with red-headed heroine Princess Merida, got started on Friday with a superlative gross of $24.5 million, slightly less than the Cars sequel ($25.7 million), but ahead of original ideas like Up ($21.5 million) and WALL-E ($23.2 million), the two films we will compare Brave to today.

Despite having a Friday that was lower than WALL-E, Up won the weekend battle, earning $68.1 million versus WALL-E's $63.1 million. Why did it come back to win? The release date affected the weekend multiplier (weekend gross divided by Friday gross). Up was released in May, when school is still fully in session, which meant that kids would be more likely to see a film on Saturday and Sunday, thus increasing the multiplier (Up had a multiplier of 3.17). WALL-E (and now Brave) are late June releases. Most schools are already out, giving kids more of an opportunity to see films on a Friday, thus lowering the multiplier. WALL-E had a summer weekend multiplier of 2.72 when it was released, which is exactly the same multiplier that Brave ended up with.

One difference between Brave and both WALL-E and Up is critics reviews. Pixar's former original ideas were completely embraced by critics, with only a handful giving a negative review. Brave, on the other hand, wasn't loved as much. It is 74% fresh at RottenTomatoes, but I could have guessed that the follow up to Cars 2 wasn't going to get the group hug.

Pixar is known for opening movies between $60 and $70 million. The run really started in 1999 with Toy Story 2. That one had a first weekend in limited release, but earned $22.8 million over the following Wednesday and Thursday before taking in $57.4 million over the weekend proper. The studio then had a run of films – Monsters, Inc., Finding Nemo, The Incredibles and Cars - that opened between $60.1 million (Cars) and $70.5 million (The Incredibles). The studio took a time out on Ratatouille (despite that one being one of their best), as it earned only $47 million over its opening weekend (but then had four consecutive sub-40% drops), but then went back to its pattern with WALL-E, Up, and Cars 2. Toy Story 3 is outside of the pattern, as that one truly dominated the box office with a $110 million opening. The point is that Pixar can change the characters, the tone and the release date and still get the same quality result, as that's what their films are.

Proving that families need new product, Madagascar 3: Europe's Most Wanted, managed to stay in the top two this weekend. After a strong opening weekend at $60 million and an okay second weekend drop of 43.5%, Madagascar 3 had to deal with Brave this weekend, and pulled in a more muted $20.2 million and dropped 41%. Made for $145 million, Madagascar 3 can now say that it has earned back that hefty production budget, and does appear to be still on target to earn $200 domestically, a figure the first two Madagascar films couldn't reach. Also, like the first two films, this one is doing good business overseas, where it has already earned over $200 million. The domestic figure for the DreamWorks Animation product is now $157.6 million.

Opening in third this weekend is the interesting experiment that is Abraham Lincoln: Vampire Hunter. After getting excited about $700,000 in midnight sales on Thursday night, 20th Century Fox was brought back to reality on Friday, when that day's gross came in at $6.3 million. From there, Fox was left with a $16.5 million weekend, below their $20 million target amount. Abraham Lincoln: Vampire Hunter had little going for it other than the title. It was directed by Timur Bekmambetov, whose last film, Wanted with Angeline Jolie, opened four years ago. The cast had very few familiar faces – Benjamin Walker plays Abe, and other than a few small parts here and there, this guy is basically an unknown. The only familiar face is Mary Elizabeth Winstead, who played opposite Michael Cera in Scott Pilgrim vs The World. This one cost $70 million to make, has no hope of making that back domestically, and I have to wonder how a film about Abe Lincoln killing vampires is going to work overseas. For producer Tim Burton, this is his second miss of the summer, as Dark Shadows earned only $75 million domestic against a $150 million budget.

After dropping 59% last weekend, Prometheus had another awkward weekend this frame, as it had its audience cut in half again. In its third frame, Prometheus earned $10 million, but was off another large 52% this weekend. The good news is that Ridley Scott's sorta-prequel crossed the $100 million mark on Friday, its 22nd day of release. Prometheus is said to have a budget of $130 million, which is the amount it has earned overseas, so everything is going to work out fine for this one. Give Prometheus a gross of $108.5 million at the domestic box office so far, and it should top out with about $140 million.

Snow White and the Huntsman manages a fifth place finish, as it gets ahead of both Rock of Ages and That's My Boy, which have been flushed. Snow White earned $8 million in its fourth weekend and dropped 40% compared to the previous frame. The $170 million Universal fairy tale epic has now turned in $137.1 million in domestic receipts, and has earned a similar amount overseas.

Sixth is Rock of Ages, which had a rocky start last weekend with a soft $14.4 million debut. This weekend things aren't looking up all that much, as Rock of Ages earned only $8 million in its second frame. It was off 45% compared to last weekend, and is going to end as an ugly entry for New Line and Warner Bros. Rock of Ages cost $75 million to make, and will be lucky to get to $45 million. Its current domestic total is $28.8 million.

Seventh is That's My Boy, Adam Sandler's latest disaster. After a disappointing opening last weekend, things didn't improve for the Waterboy this weekend. That's My Boy earned only $7.9 million in its second frame and dropped 41%. Sandler's last, Jack and Jill, fell 53% in its second weekend, so Sandler is definitely going to need a movie image overhaul. That's My Boy has now taken in only $28.2 million against a $70 million budget.

Despite three new films coming on the scene, Marvel's The Avengers shows no sign of stopping. Last weekend, The Avengers took in $8.9 million, This weekend, the film earned $7 million, giving the mighty Avengers a drop of only 21%. The Avengers should cross the $600 million plateau no later than weekend, and will become only the third film to do so. Give The Avengers $598.3 million so far.

Men in Black 3 falls to ninth, earning $5.6 million in its fifth weekend. The Will Smith/Tommy Lee Jones film was off 44% from its $10 million gross last weekend. It is wildly popular overseas, but domestically hasn't been much. Give it $163.3 million so far stateside and $400 million from other shores, all against a $225 million budget.

Its a close race for tenth between two Focus Features releases this weekend, both looking for that just-a-little-wider-than-art house kind of release pattern. New release Seeking a Friend for the End of the World manages to take the tenth spot, but earns only $3.8 million along the way. Out to only 1,625 venues, Seeking a Friend had a venue average of $2,361. The other Focus release is Moonrise Kingdom, Wes Anderson's tale of young love. Moonrise expanded to 395 theatres this weekend, and earned $3.4 million. It improved on last weekend's take by 52%, and now has a running total of $11.6 million. Moonrise cost $16 million to make, where Seeking a Friend cost only $10 million.

Overall this weekend, things are certainly a lot better than last weekend, and are a little lower than a year ago. Last year, Cars 2 was on top (and Walmart was selling every imaginable tie-in), and led the top 12 at the box office to $170.1 million. This weekend, with Brave dominating, the top 12 found $158.1 million. Next weekend is a bit of a mish-mash. Out for release next weekend are Magic Mike, the male-stripper flick from Steven Soderbergh, the drama People Like Us, which has some strong early reviews, Ted from Family Guy guy Seth MacFarlane, and finally Tyler Perry's Madea's Witness Protection, a movie with too many apostrophes. Check back next weekend to see what sticks.