Weekend Forecast for June 22-24, 2012
By Reagen Sulewski
June 22, 2012
BoxOfficeProphets.com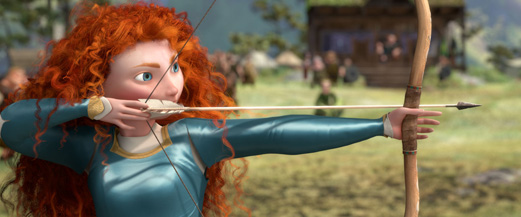 ---
So last weekend. That sure happened. Now let's never speak of it again. Replacing last weekend's parade of mediocrity with one of Hollywood's most consistent purveyors of entertainment is a good start. The rest of the weekend's fare? Ehhhhh. We'll see.

A few years ago, it would have been no contest at all to name the most consistent production company in Hollywood, thanks to Pixar's run of excellence. Then came Cars, and to a larger point Cars 2, which saw the company for the first time go for the straight up commercial route, leveraging the movie quality against the (rough guess here) beeelions in merchandise they were able to move. If you have any children in your vicinity, you know this to be true, as anything with a Lightning McQueen or Mater image on it is viewed with a disturbing possessiveness. But okay, maybe they're allowed one hit to their credibility (and in the final box office figures, it took a significant hit), with a return to integrity right after. Which brings us to their 2012 film, Brave.

Originally titled The Bear and The Bow, this is a bit of a departure for them in that it doesn't anthropomorphize anything in particular to get the plot going. In fact, Pixar has been pretty stingy with the details, although we do know that it takes place in medieval Scotland and centers around a young princess (voiced by Kelly Macdonald) who is determined not to be simply handed off in marriage. Taking control of her own destiny, she's sent on a quest to lift a curse that's been placed on her kingdom. It's the most magical and fairy-tale like that Pixar has gotten to date, and would seem to reflect a lot of the influence that Studio Ghibli has had on a lot of its key people.

It's a bit of a calculated gamble, as the female protagonist and the fantasy setting would eliminate a little bit of their demographic – namely young boys, as well as parents of very young children, who might get scared off by the PG rating. They've gone PG before to great effect with The Incredibles and gone heady in their concepts before, with Up and WALL-E, so the idea behind Brave certainly isn't a box office killer. What's more likely to hurt them is the small build-up of ill-will from Cars 2. As we saw with Adam Sandler, making a bad movie definitely hurts your next one. I expect people are more willing to forgive that as a one-time blip and look at the solid reviews for Brave and give it a chance. Those reviews aren't quite as strong as they have been for past Pixar films, but "good enough" should help keep it afloat. Accounting for a little slide-back, we should see an opening weekend of about $59 million.

A film premise that's inspired more double and triple takes than anything since Snakes on a Plane arrives in theaters this weekend in the form of Abraham Lincoln: Vampire Hunter. Points for imagination, right? Anyway, this film takes a rather ...unique view of history by positing that Lincoln's great battle was not about keeping the Union together and ending slavery, but rather that he was defending it against a vampire invasion. I look forward to George Washington Vs. Martian Invaders and James K. Polk Combats The Mermen.

One of the first films constructed entirely out of kitsch, AL:VH (as all the cool kids will be calling it) turns into an over-the-top action film as a film with its title must simply be. Directed by Timur Bekmambetov of Wanted and Night Watch fame, and produced by Tim Burton, it's prioritizing style over substance almost to completion, including being filmed in 3D because of course it is. Starring Benjamin Walker (who you might vaguely remember from some things but wouldn't recognize here) as Lincoln and Rufus Sewell as the vampire leader, it's clearly not banking on its cast to move tickets. It truly is just the title, and either you're thinking "that's awesome" or "that's the stupidest thing I've ever heard", and there's precious little middle ground. That's probably good for around $15 million this weekend.

Lastly, receiving only a modest release in about 1,600 venues, is Seeking a Friend For the End of the World, which seems to posit the question "what if Bruce Willis failed in Armageddon?" With the end of the world imminent due to an asteroid impact, Steve Carell's character starts contemplating his life and his romantic relationships that went awry, and sets out on a road trip with his neighbor (Keira Knightley) to find out what went wrong. No time like when there's no time, right? Along the way, they continue to connect with various other people celebrating the end of the human race in their own particular ways, from hedonism to sadness to pure bull-headed bureaucratic persistence.

One could be bitter that this rips off almost wholesale the premise of the brilliant 1998 Canadian movie Last Night, or I could just advocate for you to find it by whatever means necessary. While you're looking for that, this might be a decent substitute, albeit one that's kind of schmaltzed up. Carell has a fitting sad-sack look about him to carry the melancholic nature of this plot, and Knightley is a solid choice for the more positive antidote to that. Carell's built up a pretty solid streak of opening weekends, albeit with some animated family films in that mix, but this is still a film that puts its unhappy ending right in the title of the film, and it's hard to picture a film that's a guaranteed downer as a real audience grabber. Hence the smaller release schedule, I guess. Look for around $6 million here.

One animated film gives way to another at the top of the charts, and Madagascar 3 drops to at least second if not lower this weekend after two weeks at the top. It's already ahead of the pace posted by the two previous films in this franchise, albeit only marginally so. This may be the first of the trio to break the $200 million domestic mark, although it wouldn't be by much if it does. With the solid and consistent numbers this franchise continues to put up, Madagascar 4 can only be a green-light away. It'll add around $19 million to its total this weekend.

The audience verdict on Prometheus was harsh, as it dropped almost 60% in its second weekend, something that may put Ridley Scott's proposed sequels in danger. Although it's one of the more talked about films of the summer, it's not totally for positive reasons, and the film is likely to struggle to reach the $150 million mark. I'd look for about $10 million this weekend.

Big drops also seem like they're in store for last week's new films, Rock of Ages and That's My Boy, both of which flopped despite their big name stars on the marquee. Tom Cruise bears only part of the blame for the karaoke fest that is Rock of Ages, while it's hard to blame anyone but Adam Sandler for That's My Boy (I'd wager that Andy Samberg is right now wearing a fake mustache and talking in a funny accent, both to disguise himself and to figure out his character for his next movie). Rock of Ages should fare a little better for having actually tried to be good, while Sandler's idiot man-child ship may have finally sailed, or at least left port for a while. Look for $8 million for Rock of Ages, and around $6 million for That's My Boy.

Snow White and the Huntsman recovered nicely from a huge second weekend drop and is headed for around $150 million as a final total, which would be truly excellent if it hadn't cost $175 million to make. Still, as a live-action fairy-tale action movie, that's a solid showing. Give it $8 million this weekend.

After a couple weeks of steep drops, Men in Black 3 got a respite and earned $10 million last weekend, to push it over the $150 million milestone. Even with that, $200 million is likely out of reach. It, along with The Avengers, should show up at around $6 million this weekend. The two films couldn't have much different box office stories, though, as the latter super hero film is just a week and a half away from becoming the third film to hit $600 million.