Comics Weekly
By Pete Kilmer
June 20, 2012
BoxOfficeProphets.com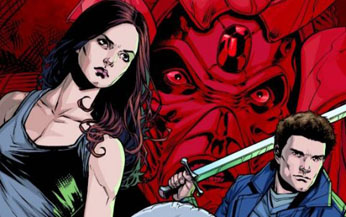 ---
Pete Kilmer has been in the comics retail industry for ten years as a member of Downtown Comics in Indianapolis. Downtown Comics is one of the Midwest's largest comic retailers with over four locations in Indianapolis. All opinions are his own, and they cannot be bought with free swag. Beer and a walk on role on Burn Notice to steal Fiona from Michael Weston and I'm a bought man.

New books today include Amazing Spider-Man Movie Prelude (trade paperback), Angel & Faith: Live Through This Vol. 1 (trade paperback), Before Watchmen: Comedian #1, Dark Tower Gunslinger: Man in Black #1, Unwritten #38 and The Walking Dead #99.

ADVENTURE TIME #5
ALABASTER WOLVES #3 (OF 5)
ALPHA FLIGHT COMPLETE SERIES BY PAK AND LENTE TP (RES)
AMAZING SPIDER-MAN MOVIE PRELUDE TP
ANGEL & FAITH TP VOL 01 LIVE THROUGH THIS
ASTONISHING X-MEN #51
AVENGERS ACADEMY #32 AVX
AVENGERS VS X-MEN #6 (OF 12)
AVENGING SPIDER-MAN #8 ENDS
BALTIMORE DR LESKOVARS REMEDY #1 (OF 2)
BATMAN BEYOND UNLIMITED #5
BATMAN VS THE BLACK GLOVE DLX ED HC (RES)
BATTLE SCARS TP
BATWOMAN #10
BATWOMAN #10 VAR ED
BEFORE WATCHMEN COMEDIAN #1 (OF 6) (MR)
BIRDS OF PREY #10
BLUE BEETLE #10
BPRD HELL ON EARTH DEVILS ENGINE #2 (OF 3)
CAPTAIN ATOM #10
CASANOVA AVARITIA #4 (OF 4) (MR)
CATWOMAN #10
CHALLENGERS OF THE UNKNOWN OMNIBUS BY KIRBY HC
CHEW #27 2ND HELPING ED (MR)
CROSSED BADLANDS #8 (MR)
DAREDEVIL #14
DARK AVENGERS #176
DARK HORSE PRESENTS #13 NOTO CVR
DARK KNIGHT RISES BANE BUST
DARK TOWER GUNSLINGER MAN IN BLACK #1 (OF 5)
DARKNESS #104 (MR)
DC UNIVERSE PRESENTS #10
DEJAH THORIS & WHITE APES OF MARS #3 (MR)
DOMINIQUE LAVEAU VOODOO CHILD #4 (MR)
ELEPHANTMEN #40 (MR)
FABLES #118 (MR)
FEAR ITSELF FEARLESS PREM HC
FIRST WAVE TP
FRANKENSTEIN AGENT OF SHADE TP VOL 01 WAR MONSTERS
GHOSTBUSTERS ONGOING #10
GI JOE A REAL AMERICAN TREASURY ED

GLORY #27
GODZILLA LEGENDS TP
GODZILLA ONGOING #2
GREEN HORNET TP VOL 04 RED HAND
GREEN LANTERN CORPS #10
GRIM LEAPER #2 (OF 4) (MR)
HELLBLAZER #292 (MR)
HELLBLAZER TP VOL 03 THE FEAR MACHINE NEW ED (MR)
HIGHER EARTH #2 MAIN CVRS
HULK #54
INCREDIBLE HULK BY JASON AARON HC VOL 01
INVINCIBLE IRON MAN #519
INVINCIBLE IRON MAN PREM HC VOL 09 DEMON
JOURNEY INTO MYSTERY #640
JUNGLE GIRL OMNIBUS TP
KUNG FU PANDA #6 (OF 6)
LAST PHANTOM TP VOL 02 JUNGLE RULES
LEGION OF SUPER HEROES #10
MAD MAGAZINE #516
MAGIC THE GATHERING TP VOL 01
MARS ATTACKS #1
MARS ATTACKS CLASSICS TP VOL 01
MARVEL UNIVERSE AVENGERS EARTHS HEROES #3
MEMORIAL #6 (OF 6)
MERCILESS RISE OF MING #2
NEAR DEATH #9
NEW AVENGERS #27 AVX
NEW MUTANTS #44
NEXT MEN AFTERMATH #44
NIGHTWING #10
PLANET OF THE APES #15
PUNISHER #12
RAGEMOOR #4
REBEL BLOOD #4 (OF 4) (MR)
RED HOOD AND THE OUTLAWS #10
RED SONJA TP VOL 10 MACHINES OF EMPIRE
REED GUNTHER #10
RICHIE RICH #5
RICHIE RICH #6
ROBERT JORDAN EYE OF THE WORLD HC VOL 02
SAGA #4 (MR)
SECRET AVENGERS #28 AVX
SECRET HISTORY OF DB COOPER #4
SHADOW #3
SIMPSONS COMICS #191
SNAKE EYES & STORM SHADOW #14
SONIC THE HEDGEHOG ARCHIVES TP VOL 18
SPAWN ORIGINS TP VOL 15
SPIDER-MAN SPIDER HUNT TP
SPIDER-MAN TROUBLE ON HORIZON PREM HC
STAR WARS DARTH VADER GHOST PRISON #2 (OF 5)
STAR WARS DAWN O/T JEDI #5 FORCE STORM
STATIC SHOCK TP VOL 01 SUPERCHARGED
SUPERGIRL #10
TMNT MICRO SERIES #5 SPLINTER
TRUE BLOOD ONGOING #2
TRUMAN VIRUS GN (MR)
TWELVE PREM VOL 02
UNCANNY X-MEN #14 AVX
UNWRITTEN #38 (MR)
VAMPIRELLA VS DRACULA #5
VENOM #19
VOLTRON FORCE GN VOL 02
WALKING DEAD #99 (MR)
WINTER SOLDIER #7
WOLVERINE #308
WOLVERINE BACK IN JAPAN PREM HC
WONDER WOMAN #10
WONDER WOMAN #10 VAR ED
-FACTOR #238
X-MAN MAN WHO FELL TO EARTH TP
X-MEN X-CLUB TP
YOUNG JUSTICE #17

On Fridays we now post the complete list of new comics that actually ships for the week. Books that will actually be in store! So please head over to Downtown Comics and check out the Shipping This Week section!