Weekend Wrap-Up
Cruise, Sandler Flop at Weekend Box Office
By John Hamann
June 17, 2012
BoxOfficeProphets.com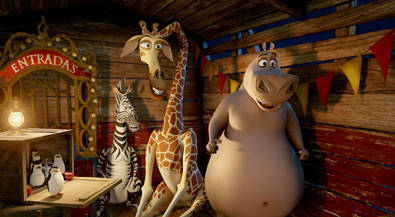 ---
Rock of Ages, the much-talked about '80s musical from Hairspray director Adam Shankman opened this weekend at the box office, along with That's My Boy, an R-rated Adam Sandler throwback. Along with the further expansion of Wes Anderson's Moonrise Kingdom, and second weekends for the power-combo of Madagascar 3 and Prometheus, we have one of those weird and wacky weekends at the box office, where we have flops, drops, good holds, bad holds, and seemingly as always, The Avengers and The Best Exotic Marigold Hotel.

Our number one film of the weekend is neither of our openers. Instead, it's a repeat from last weekend in Madagascar 3: Europe's Most Wanted. Despite the title catering to the overseas audience (where it makes the highest percentage of its revenue), Madagascar 3 is also a hit at home, as it opened to $60 million last weekend ($3 million less than its 2008 predecessor), and rang up another $25 million from Monday to Thursday. It was looking to beat Madagascar 2's second weekend drop of 45%, or even the original's post-Memorial Day Weekend drop of 41%. This weekend, after a first Friday-to-second Friday drop of about 51%, Madagascar 3 was able to battle back thanks to the junior audience (and maybe Father's Day) to earn $35.5 million and a drop of only 41%.

This is the perfect scenario for DreamWorks Animation and Paramount. Four years after the second movie in the franchise was released, the third film is either matching the success of the second film, or even surpassing it. According to critics, these films have gotten better since the first was released. The original Madagascar earned a RottenTomatoes reading of only 55%, followed by a 64% fresh sequel. Now, the third film sits at 74% fresh. Europe's Most Wanted also had a A Cinemascore, so audiences have found something they like.

Madagascar 3: Europe's Most Wanted is also promising on the expense side of the ledger. The second film in the series, Escape 2 Africa, cost DreamWorks Animation $150 million to make, before going on to earn $180 million domestically and $424 million overseas. The third film beat the usual trend of costs for successive sequels rising, as this one cost $145 million - $5 million less than the previous entry. Currently, Madagascar 3 is already a couple of million ahead of Madagascar 2, but the second film in the series didn't have to face off with a Pixar entry in its third weekend (it had Disney's Bolt to worry about, and that dog had no bite), where Madagascar 3 will face Brave next weekend. Madagascar 2 had an opening-to-domestic total multiplier of 2.85, and the third film should improve on that. So far, Madagascar 3 has earned $120.5 million for DreamWorks Animation and Paramount – and the domestic total should represent only 30-40% of total revenue for this one. This is going to quietly be one of the big hits of the summer season.

Our second place film is again neither of our openers, which portends bad things for the new films this weekend. The big one-two punch from last weekend remains intact, as Prometheus finishes as the bridesmaid for the second straight weekend. After opening to $51.1 million last weekend (an awesome haul for an R-Rated sci-fi flick), Prometheus was a mere mortal in its second frame, earning only $20.2 million, dropping a large 60%. This shouldn't be too much of a surprise for the Ridley Scott semi-prequel, as Alien fans were foaming at the mouth for Prometheus, and the film was not quite on target for what they were expecting. I have had a couple of people try and explain how they felt about Prometheus – both gave it a 7 out of 10 – but both were disappointed about how the film related to the Alien mythology. An early budget estimate had Prometheus costing between $120 and $130 million, with some going higher at $150 million (an "official" budget figure was not released, but this looks like a $200 million film). Given the opening and the second weekend drop, Prometheus looks like it will finish as a $130-$140 million film, but will earn another $150 million overseas (at least), which will make this 20th Century Fox release a success.

Finally in third we get one of our openers, Rock of Ages, the musical that doesn't have the fun nostalgia look that Hairspray did in 2007 when it opened to $27.5 million. Despite starring Tom Cruise, Rock of Ages could not pique North American interests, and it stumbled to a $15.1 million opening. Out to a very wide 3,470 locations, Rock of Ages had a sad-sack venue average of $4,340. With a budget of $75 million, and an opening like this, Rock of Ages and New Line (now a division of Warner Bros.), are in serious trouble. The reviews for Rock of Ages don't support a long run through summer, and even with some decent holds, it will struggle to earn $40 million.

Rock of Ages is directed by Adam Shankman, whose only good film was Hairspray back in 2007. Shankman is one of my most hated directors, as this guy served up gems like The Wedding Planner, Bringing Down the House, Cheaper by the Dozen 2, Premonition, and The Last Song – just to name a few. Studios love this guy, as he has a tendency to turn crap into gold (Bringing Down the House earned $133 million – I dare you to rent it). Could that theory apply to a film like Rock of Ages? I don't think so – no one wants to relive the music of the '80s yet. I was a teenager in that decade, and have no urge to hear Catherine Zeta Jones belt out Hit Me With Your Best Shot – ever. Surprisingly, Tom Cruise won't wear this turd. If there is positive word coming out of this film, it's for Cruise as Stacee Jaxx, but Almost Famous this one isn't.

Snow White and the Huntsmen is fourth, as the Chris Hemsworth/Charlize Theron flick tries to pick itself up after a 59% drop last weekend. In its third frame, Snow White earned $13.8 million, which improves the drop to 40% and will make the folks at Universal feel a little more comfortable this weekend. The $170 million release will not earn that amount back domestically; however, international audiences should pick up the slack and make this one a winner. Currently, Snow White and the Huntsman has earned $122.6 million domestically, and is approaching $100 million in overseas grosses.

Fifth goes to That's My Boy, as Adam Sandler tries to leave the PG-13 Sandler behind and embrace the crass R-Rated version. Obviously, the experiment failed, as Sandler has his lowest opening weekend rank since the 2007 Sandler drama, Reign Over Me, which opened in eighth spot at $7.5 million. With That's My Boy, Sandler can only find $13 million in opening weekend dollars, his lowest live-action, above the title opening since Bulletproof in 1996, which opened to $6 million. The difference between films like Reign Over Me and Bulletproof is budget. For example, Reign Over Me cost $20 million to make, where That's My Boy cost Sony $70 million to make. Sandler is a force overseas, which will save Sony from suffering a HUGE loss, but it's time for the used-to-be-funny Sandler to stop, fire his agent, and review his acting choices. That's My Boy comes on the heels of Jack and Jill, the low point of the actor's career, and I will hope some kind of quality – even Happy Gilmore quality – can come back to his movies.

Sixth goes to Men in Black 3. After drops of 49% and 51% since opening to $54.6 million, MIB3 manages a better hold this weekend, likely due to the lack of solid choices from new films. This weekend, the Will Smith/Tommy Lee Jones sci-fi comedy took in $10 million and dropped a much better 28% compared to last weekend. MIB3 has already earned a half-billion worldwide, with the domestic side coming in at $152.7 million so far.

Seventh is Marvel's The Avengers, now in its seventh weekend. The Avengers had its first weekend total below $10 million, with the gross coming in at $8.8 million. It fell 21% compared to last weekend as it continues to shed screens. The $220 million super-feature has now earned $586.7 million domestically, and is over $1.4 billion from worldwide audiences.

The Best Exotic Marigold Hotel continues its North American vacation in the top ten this weekend – its sixth as a top ten film. This weekend, Marigold Hotel earned another $2.2 million, and dropped 33% compared to where it was last weekend. The UK import has now earned $35.1 million stateside, and more than $82 million overseas.

Now out to 178 locations, Wes Anderson's Moonrise Kingdom moves up a rank in the top ten this weekend, as the art house rambler continues to pick up screens and revenue. After a $1.55 million gross from only 96 locations last weekend, Moonrise Kingdom pulled in $2.2 million from 178 locations this weekend. It had a venue average of $12,254. Despite being out to only a handful of screens for most of its run, Moonrise Kingdom has already earned $6.8 million, and will hopefully be a staple in this column for many weekends to come.

Finally, our tenth place movie is What to Expect When You're Expecting, the chick flick miss from Lionsgate. The ensemble comedy earned $1.3 million and fell 52% from the previous frame. Its cumulative domestic total is $38.8 million, which isn't great, but also not low enough to qualify as an out and out disaster for the studio.

Overall this weekend, this is the worst top 12 weekend since the last frame in April, and has a summer total usually reserved for weekends in late August. The top 12 films this weekend brought in only $124.5 million, where last year – despite Green Lantern being the big film of the weekend – earned $147.2 million. Next weekend brings some much more interesting films. Openers include Brave, the new Pixar film, Abraham Lincoln: Vampire Hunter, and Seeking a Friend for the End of the World. These flicks should make for an interesting weekend in the next frame.