Friday Box Office Analysis
By Tim Briody
June 16, 2012
BoxOfficeProphets.com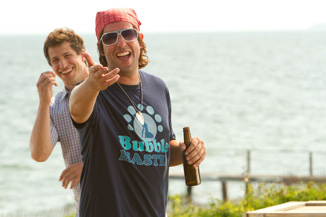 ---
[tm:4808_]Rock of Ages[/tm]

Broadway musical adaptation and '80s throwback Rock of Ages starts with $5.3 million Friday, good for third place. It's hard to figure out who the audience is here. Younger viewers weren't born yet when these songs were released, and while maybe it'll play better with their parents, giving it a boost on Saturday, I don't think that's going to be a signifigant bump. The presence of [bp:145_]Tom Cruise[/bp], if it still means anything, didn't help here at all. The mistake might have been trying to get people to pay for what's essentially an all hair-metal '80s episode of Glee. Nobody remembers that they tried a Glee concert film last summer and it was met with an opening weekend of $5.9 million and earned a total of $11.8 million. Last October's Footloose update, while not ostensibly a musical, plays along the same nostalgia lines and opened with $5.4 million and a $15.5 million weekend. That's probably a decent comparison for where Rock of Ages should land for the weekend, so look for it to end up with a weekend of $15.9 million.

[tm:5310_]That's My Boy[/tm]

[bp:1130_]Adam Sandler[/bp] returns after the disastrous Jack & Jill with That's My Boy and earned $4.5 million on Friday. Jack & Jill's first Friday was $9.8 million (on its way to a $25 million weekend), so a 54% decline may show that a large portion of Sandler's audience may finally be done with his schtick. This is going to be the lowest opening weekend of any Adam Sandler comedy since Happy Gilmore opened to $10.1 million all the way back in 1996. Give That's My Boy a weekend of $12.6 million.

[tm:4654_]Madagascar 3[/tm]: Europe's Most Wanted

The animated sequel gets a second weekend on top and does it very easily, despite losing 50% from last Friday to $10.3 million. Madagascar 2's second weekend in November 2008 also saw a Friday-to-Friday decline of 50%, but it managed a rather ridiculous 4.2 multiplier. That feat is much less likely to be reproduced in June as opposed to November but it is still in line for a good weekend. The DreamWorks entry looks to have a weekend of $36.5 million.

Prometheus

Meriting special mention is the second Friday of Prometheus, which falls 73% from last Friday to $5.7 million. Yet despite that incredible drop, it's still in second place after Rock of Ages and That's My Boy underwhelm. Its weekend multiplier was 2.37 as word-of-mouth set in. It's got some passionate fans but the overwhelming response to Prometheus seemed to be "ummmm, what?" A disappointing second weekend of $16.4 million should be in store.