TiVoPlex
By John Seal
June 18, 2012
BoxOfficeProphets.com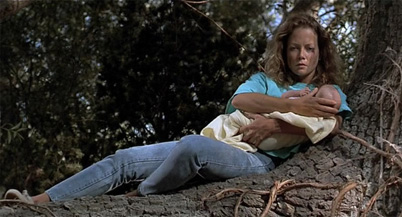 ---
From the obscure to the obscurest to the merely overlooked or underappreciated; they all have a home in the TiVoPlex! All times Pacific.

Tuesday 6/19/12

2:00 AM Turner Classic Movies
The King of Marvin Gardens (1972 USA): Jack Nicholson and Bruce Dern are brothers who make an unwise investment decision in this solid but not quite as good as it could have been Bob Rafelson-helmed drama. Jack plays David Staebler, a late night radio host who gets pulled into brother Jason's (Dern) orbit when his Atlantic City sibling offers him a chance of a lifetime: a can't miss investment opportunity in a Hawaiian resort. Of course, the truth is not quite as rosy as Jason suggests, and his involvement with a crooked money man (Scatman Crothers!) and charges of auto theft further complicate the deal. Co-starring Ellen Burstyn as Jason's love interest, The King of Marvin Gardens has always left me a little disappointed, but it's airing in widescreen this morning and is definitely worth a look.

1:30 PM Turner Classic Movies
Amazons of Rome (1963 ITA-FRA): It's not often that pepla show up on TCM, so it's time to break out the swords, sandals, and devoured Christians and celebrate accordingly! Released in Italy with the slightly more salacious title Le vergini di Roma, the film depicts the Etruscan threat looming beyond Rome's borders in the year 486 B.C. Wicked chieftain Porcenna (Jean Chevrier) is eager to conquer The Eternal City, but first he must get past its defenses, which consist of a joint Greek-French (?!?) army commanded by Drusco (Louis Jourdan) and the deadly lady warriors of Clelia (Sylvia Syms). Sadly but predictably airing this afternoon in pan and scan, Amazons of Rome also features an early performance by French screen legend Michel Piccoli.

Wednesday 6/20/12

2:30 AM Encore Suspense
Frozen (1998 USA): This is really confusing. There are a ton of movies called Frozen, but if you try and find this one on IMDb you'll be out of luck. You will, however, find it listed as Sometimes They Come Back Again...for More, with Frozen listed as an "also known as" title and the word "undefined" after it in parentheses. Undefined? Try this definition on for size: this is truly one of the worst films I've ever seen - and if you don't believe me, just check out a few of its IMDb reviews. Starring Faith Ford and Max Perlich and set on an Arctic research station where some sort of Lovecraftian evil unconvincingly dwells, the film has no thrills, no acting, and not enough t&a to compensate for its other shortcomings. Bottom line: I was hoping this was going to be a screening of the great 1997 Chinese tragedy Frozen. I define that as "disappointment."

Thursday 6/21/12

1:00 AM Sundance
Quiet Chaos (2008 ITA): A successful businessman must contend with the unexpected death of his wife in this excellent Italian drama. Directed by Antonello Grimaldi, Quiet Chaos stars Nanni Moretti (We Have a Pope) as Pietro, who returns home after saving the lives of two drowning women only to discover that wifey has popped her clogs while he was sunning himself at the beach. Numb to his loss, Pietro decides to take extra special care of ten-year old daughter Claudia (the curiously named Blu Yoshimi, presumably not doing battle with any pink robots) to the exclusion of all else - at least until he can finally begin the grieving process, which seems a most elusive goal. The winner of the Silver Plaque at the Chicago International Film Festival, Quiet Chaos is superbly acted across the board, with especial kudos to Hippolyte Girardot (Sleeping Sickness) as Pietro's pal Jean-Claude.

3:40 PM More Max
Terminator 2: Judgment Day (1991 USA): This is the sort of film that's been a cable or satellite staple for so long that I never even think about it - then one day, whilst channel surfing, discover its now airing in its original aspect ratio. This, of course, is a big deal for some of us, and the film itself was pretty good to begin with, at least by the standards of the genre. You know what happens - Arnold Schwarzenegger and Lil' Eddie Furlong take motorbike rides together whilst blowing stuff up - but now you can see it the way nature and God intended it to be seen.

Friday 6/22/12

12:05 AM HBO Signature
The Guardian (1990 USA): Betcha never heard of this William Friedkin film. Produced at a time when his career had just about hit bottom - the man was making a series of deeply unoriginal TV movies-of-the-week ripping off The A-Team, for gosh sakes - The Guardian is a thriller about a baby-sitter with a difference: she's a Wiccan priestess! Not only that, Camilla (Jenny Seagrove) has access to a super-secret Druid tree where she stashes the infants she kidnaps, presumably saving them up for a rainy day or perhaps an occasional sacrifice if no goats are handy. Camilla's latest victims are new-to-LA power couple Phil and Kate (Dwier Brown and Carey Lowell), who entrust their child to the care of the witchy woman despite her preternatural beauty and penchant for tree fornication. In sum, The Guardian is not one of Friedkin's career highlights, but is loopy enough to earn a recommendation.

3:00 AM Sundance
Flame and Citron (2008 DEN-GER): Despite a title that undersells the film (and frankly makes it sound like a romantic comedy), this is a truly outstanding World War II drama about the Danish Resistance. Mads Mikkelsen is code name Citron, an assassin spending the late days of the occupation knocking off Nazi collaborators with his hit squad partner Flame (Thure Lindhardt) and suffering the karmic consequences of his murderous, if possibly righteous, actions. Meanwhile, the hellhounds of the S.S. are on their trail and getting closer every day - especially after the pair knock of a German officer. Tense, believable, and based on a true story, this is genuinely thrilling stuff that will appeal to anyone who enjoyed Jean-Pierre Melville's Army of Shadows.

Saturday 6/23/12

7:00 AM Fox Movie Channel
Twelve Hours to Kill (1960 USA): Here in the TiVoPlex, we can never get too much Edward L. Cahn. Here's a brief (but probably incomplete) list of the Cahn films I've recommended over the years: Main Street After Dark, Destination Murder, Creature With the Atom Brain, Girls In Prison, Shake Rattle & Rock!, Zombies of Mora Tau, Invasion of the Saucer Men, Jet Attack, It! The Terror From Beyond Space, Invisible Invaders, and now...Twelve Hours to Kill! In this Cahn epic, a young Greek immigrant (Nico Minardos) witnesses a killing, after which he's sent by the police to a secure pre-trial location. But there's a bent copper on the force willing to reveal the hideout to the guilty party! Ever so slightly above average (at least as far as Cahn films go), Twelve Hours to Kill features a fairly interesting cast, including Barbara Eden, Gavin MacLeod, and Ted Knight (and no, it wasn't a pilot for a TV sitcom).

9:00 AM Turner Classic Movies
Dick Tracy (1937 USA): The serial concludes with its final three chapters, in which our hero escapes a Fire Trap and is re-united with his estranged brother.

7:00 PM Cinemax
The Debt (2010 USA): Fans of '60s Cold War thrillers will be pleased with this recent feature about Mossad agents and the trouble they got into back in the day. The film tells a story of Nazi hunting in Germany circa 1965, then flashes forward to The Present Day, where retired Israeli spy Rachel Singer (goy Helen Mirren) discovers that the mission she undertook with fellow Israeli spooks Stefan (goy Tom Wilkinson) and David (goy Ciaran Hinds) may not have gone quite as swimmingly as first imagined. It's an old-fashioned spy flick from Shakespeare In Love main man John Madden, though more stolid Ipcress File than flashy Goldfinger.

Sunday 6/24/12

1:30 AM Showtime Extreme
Rest Stop (2006 USA): We're back in Frozen territory, people. Until 2005, not a single film entitled Rest Stop had ever been produced in the entire hundred years-plus history of cinema. Since 2005, we've had five of the damn things. So which one is this? Looks like it's Rest Stop #2, a straight-to-video nail-biter about a young couple who encounter a serial killer and live (so to speak) to regret it. This is one of those movies that reminds you that you should never drive through Texas in the summer, but if you do, pee in a bottle and keep it in the car until you get to Houston.

Monday 6/25/12

12:30 PM Showtime 2
Smoke Signals (1998 USA-CAN): A wry comedy-drama of contemporary Indian life based on a book by Sherman Alexie, Smoke Signals features Evan Adams as Thomas Builds-the-Fire, a homely, bespectacled type who inveigles himself into a road trip with perfunctory pal Victor Joseph (Adam Beach). Victor's on his way to Phoenix to pick up the ashes of his estranged father, and grudgingly accepts his traveling companion in exchange for a free bus ticket. What follows is the most entertaining big screen bus journey since Midnight Cowboy, and the film benefits further from fine supporting turns by Gary Farmer and Tantoo Cardinal.