Comics Weekly
By Pete Kilmer
June 13, 2012
BoxOfficeProphets.com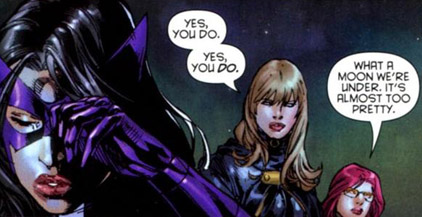 ---
Pete Kilmer has been in the comics retail industry for ten years as a member of Downtown Comics in Indianapolis. Downtown Comics is one of the Midwest's largest comic retailers with over four locations in Indianapolis. All opinions are his own, and they cannot be bought with free swag. Beer and a walk on role on Burn Notice to steal Fiona from Michael Weston and I'm a bought man.

This week's new comics include American Vampire: Lord of Nightmares #1, Before Watchmen: Silk Spectre, Birds of Prey: End Run (trade paperback), DC Comics Superman Adventures, Kiss #1, Massive #1, Spider-Men #1, and Untold Tales of Punisher Max.

ALPHA GIRL #3 (MR)
AMAZING SPIDER-MAN #687
AMAZING SPIDER-MAN MOVIE #2
AMERICAN VAMPIRE LORD OF NIGHTMARES #1 (OF 5) (MR)
AVENGERS #27 AVX
AVENGERS ASSEMBLE #4
AVENGERS VS X-MEN #5 (OF 12)
AVENGING SPIDER-MAN PREM HC FRIENDS BEAT UP YOUR FRIENDS
AVX VS #3 (OF 6)
BATGIRL #10
BATMAN #10
BATMAN AND ROBIN #10
BATMAN ARKHAM UNHINGED #3
BATTLE SCARS TP
BATWOMAN HC VOL 01 HYDROLOGY
BEFORE WATCHMEN SILK SPECTRE #1 (OF 4) (MR)
BIRDS OF PREY TP VOL 01 END RUN
BOYS #67 (MR)
BOYS TP VOL 11
BTVS SEASON 9 FREEFALL #10
CAPTAIN AMERICA #13
CAPTAIN AMERICA #13
CAPTAIN AMERICA AND HAWKEYE #632
CARNAGE USA HC
COBRA ONGOING #14
CONAN THE BARBARIAN #5
DANCER #2
DAREDEVIL BY MARK WAID PREM HC VOL 02
DARK TOWER GUNSLINGER WAY STATION PREM HC
DC COMICS PRESENTS SUPERMAN ADVENTURES #1
DEADPOOL #56
DEATHSTROKE #10
DEMON KNIGHTS #10
DICKS COLOR ED #5
DR WHO MAGAZINE #447
DUNGEONS & DRAGONS CLASSICS TP VOL 03
ELRIC THE BALANCE LOST TP VOL 02
ESSENTIAL SPIDER-MAN TP VOL 11
FANTASTIC FOUR #607
FATHOM VOL 4 #6
FLASH GORDON ZEITGEIST #5
FRANKENSTEIN AGENT OF SHADE #10

GREEN LANTERN #10
GREEN LANTERN THE ANIMATED SERIES #3
GREEN WAKE TP VOL 02 LOST CHILDREN (MR)
GRIFTER #10
GRIMM FAIRY TALES #74 A CVR SEJIC (MR)
GRIMM FAIRY TALES ANNUAL 2012 A CVR CHEN (MR)
HALO FALL OF REACH INVASION #4 (OF 4)
INCORRUPTIBLE #30
INCREDIBLE HULK #9
INVINCIBLE #92
JUSTICE TP
KEVIN KELLER #3
KIRBY GENESIS CAPTAIN VICTORY #5
KISS #1
KNIGHTS OF THE DINNER TABLE #187
LADY DEATH ORIGINS CURSED #3 (OF 3) (MR)
LEGION LOST #10
MARVEL ZOMBIES DESTROY #3 (OF 5)
MASSIVE #1
MEGA MAN #14
MIGHTY THOR #15
MIND THE GAP #2
MISTER TERRIFIC TP VOL 01 MIND GAMES
MU AVENGERS SPIDER-MAN AND AVENGERS DIGEST TP
MYSTERIOUS WAYS TP
NIGHT OF 1000 WOLVES #2 (OF 3)
PANTHA #1
PLANETOID #1
PRINCE VALIANT HC VOL 05 1945-1946 (C: 0-1-2)
RAVAGERS #2
RED SONJA WITCHBLADE #4
RESURRECTION MAN #10
RICHIE RICH #5
SAUCER COUNTRY #4 (MR)
SCARLET SPIDER #6
SEVEN SOLDIERS OF VICTORY TP VOL 02 (OF 2)
SHADE #9 (OF 12)
SIXTH GUN #23
SKULLKICKERS #15
SPIDER-MAN PERCEPTIONS PREM HC DM VAR ED 95
SPIDER-MAN SPIDER HUNT TP
SPIDER-MEN #1 (OF 5)
SPONGEBOB COMICS #9
STAR WARS CLONE WARS MAGAZINE #12
STAR WARS KNIGHT ERRANT ESCAPE #1 (OF 5)
STEED AND MRS PEEL #6 (OF 6)
STITCHED #5 (MR)
STRAIN #5 (OF 12) (MR)
SUICIDE SQUAD #10
SUPERBOY #10
TEENAGE MUTANT NINJA TURTLES COLOR CLASSICS #2
TEENAGE MUTANT NINJA TURTLES MICRO SERIES TP VOL 01
THE LONE RANGER #6
THE SPIDER #2
TINY TITANS GROWING UP TINY TP
TRANSFORMERS MORE THAN MEETS THE EYE TP VOL 01
TRANSFORMERS ROBOTS IN DISGUISE ONGOING #6
ULT COMICS SPIDER-MAN BY BENDIS PREM HC VOL 02
ULTIMATE COMICS X-MEN #13
ULTIMATE SPIDER-MAN OMNIBUS HC VOL 01
UNCANNY X-FORCE #26
UNTOLD TALES OF PUNISHER MAX #1 (OF 5)
VALEN OUTCAST #7 MAIN CVRS
VAMPIRELLA #18
VOLTRON YEAR ONE #3
WAR GODDESS #8 (MR)
WARLORD OF MARS #18 (MR)
WARRIORS OF MARS #3 (MR)
X-MEN #30
X-MEN LEGACY #268 AVX
ZORRO RIDES AGAIN #10 (OF 12)

On Fridays we now post the complete list of new comics that actually ships for the week. Books that will actually be in store! So please head over to Downtown Comics and check out the Shipping This Week section!