Weekend Wrap-Up
Zoo Aliens Dominate Box Office: Film at 11
By David Mumpower and Kim Hollis
June 10, 2012
BoxOfficeProphets.com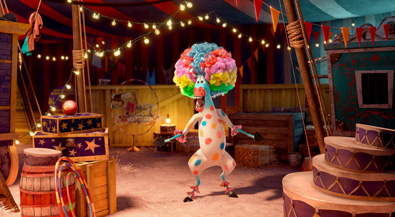 ---
It's the rare weekend that features two potential box office blockbusters. In the end, both films opened great, with consumers choosing zoo animals over aliens.

Madagascar 3: Europe's Most Wanted wins an epic box office weekend with $60.4 million. This marks the second $60+ million opener for the franchise, falling just short of its immediate predecessor Madagascar: Escape 2 Africa's $63.1 million in November of 2008. Given that the previous film was an early November release, Madagascar 3 is well positioned to exceed the $180 million domestic take of Madagascar 2, as well as effectively passing its worldwide total of $599 million.

Why was Madagascar the film of choice this weekend? It's simple, really. Kids like zoo animals. Talking zoo animals are even better. Talking zoo animals at the circus? Well, is there a more commercial premise in existence? Not yet, but we're sure the producers of this franchise are scheming about it as we type this (note: we suggest a theme park with roller coasters for Madagascar 4. Please send us our check and give us our "story by" credit now).

Of course, that's the surface level evaluation. The popularity of Madagascar exists beyond toy-ready characters animated with vibrant color. Since their very first film, Antz, debuted in October of 1998, DreamWorks Animation has been building brand awareness for their unique CGI style and family-friendly stories. While there have been missteps along the way (remember Sinbad: Legend of the Seven Seas?), Madagascar is the film that will take DreamWorks Animation's global earnings over $10 billion after 24 releases. Any company that is earning $420 million a project (not counting lucrative toy sales) is doing a lot right.

While DreamWorks' last three releases, Megamind, Kung Fu Panda and Puss in Boots, were less popular domestically than the previous five (Kung Fu Panda, Madagascar: Escape 2 Africa, Monsters vs. Aliens, How to Train Your Dragon and Shrek Forever After), they're back in their wheelhouse with Madagascar 3. Critics may complain that the stories are less compelling than Pixar's, but Madagascar 3 does have a 76% fresh rating at Rotten Tomatoes. This time around, at least, it seems that DreamWorks has made a movie that is appealing to all kinds of viewers.

Second place goes to Prometheus, Ridley Scott's storied return to science fiction after a 30-year absence. Since the surprise announcement of the auteur's return to the Alien universe, movie lovers have anxiously anticipated Prometheus's opening weekend. Hype alone drove the film to a $50 million opening weekend. While critics were largely pleased with the film (74% fresh at Rotten Tomatoes, including 73% of Top Critics), Prometheus's B Cinemascore reflects a slight feeling of disappointment from people who were ready to champion it.

What happened next is a great example of how confused people become when perennial liars tell the truth. Fox execs had been running away from the idea that Prometheus is a true prequel to Scott's 1979 masterwork, Alien. Rather than re-imagining Alien, Scott instead created a contemplative film reflective of a 74-year-old man considering his place in the universe. Prometheus is a movie that asks big questions and then demonstrates why there are no satisfactory answers. This theme is too challenging for a movie that is intended to be a summer blockbuster.

Perhaps the best recent analog for Prometheus is Steven Spielberg's A.I. Artificial Intelligence, a June release 11 years ago. Much like Prometheus, that movie was a science fiction movie from a director who did some previous popular work in the genre. It even had a robot named David as a central character, only in A.I. it was played by a boy (Haley Joel Osment) rather than a man (Michael Fassbender). A.I. did not earn back its budget domestically, it had a C+ Cinemascore, and it had an eerily similar score at Rotten Tomatoes to Prometheus (73% fresh). It is also not fondly remembered. Prometheus has opened better and will presumably hold up slightly better in the long run than A.I., but it's fair to say that philosophical science fiction rarely succeeds in the summer (with Inception being a notable recent exception).

As you can infer, Prometheus has received decidedly mixed word-of-mouth. It's a film that will stir movie debate and is also a project that Ridley Scott has indicated springboards into two other sequels, assuming he chooses to follow through. With a production budget of $125 million and a global take that already matches that number, Scott should have the opportunity to answer the questions posed in Prometheus if so inclined. Then again, it's also possible that Fox decides that the breathtaking visuals lured audiences once, but further exploration of the pre-Alien universe may not be lucrative.

After a scintillating $56.2 million start last weekend, Snow White and the Huntsman winds up in third place with $23 million, a 59% decline. The movie is on the cusp of the $100 million barrier, as it has $98.5 million after ten days of box office. With this decline, it appears as though Snow White and the Huntsman will not have an extended stay in theaters. Even so, the $170 million production has already matched that number worldwide. With this movie and Prometheus, Charlize Theron is having a very good June.

Fourth place goes to Men in Black 3, which continues its freefall out of theaters. It lost 456 play dates and its box office total of $13.5 million is a 52% decline from last weekend's number. With a current total of $135.5 million, it's going to wind up north of $150 million, but not by much. It appears all but certain to fall short of Men in Black 2's $190 million, which means that this will be the least successful Men in Black project without even adjusting for ticket price inflation. Overseas revenue will have to carry the day, but the good news is that the film is sitting around a half billion in worldwide revenue.

The Avengers, the story of 2012 to date, continues its pattern of holdover appeal. The Joss Whedon-directed film earned $10.8 million this weekend, a decline of 47% from the last frame. This is its sixth $10+ million weekend and almost certainly the last one. The domestic take of The Avengers is $571.9 million and the film is all but certain to become the third to turn $600 million domestically. It is already the third film to earn $1.4 billion worldwide. It's safe to describe The Avengers as a hit.

Sixth and seventh go to the little film that could and the big film that couldn't. The Best Exotic Marigold Hotel fell a modest 28% to $3.2 million this weekend. The Fox Searchlight release has earned $31 million domestically and an additional $80 million abroad, making it one of the most lucrative 2012 releases. Don't doubt for a moment that Dame Judi Dench isn't a box office draw. On the other end of the spectrum is What to Expect When You're Expecting, which loses 820 exhibitions this week. That makes its 39% drop fairly impressive, all things considered. Still, a $2.7 million weekend gives it a running total of $35.7 million, which is a fraction of what this film was anticipated to earn.

The bottom of the top ten includes a disaster, a moderate achievement in redemption and an indie film that has already shattered box office records. Battleship, the box office punch line of the year – assuming you've already forgotten John Carter – fell 55% to $2.3 million. It is effectively finished at the domestic box office, with a current total of $59.8 million. As a reminder, its production budget was $209 million. Do not be fooled for a second that the $200 million in international revenue is enough to make this profitable. It needs to double that amount to even enter the conversation. The Dictator, our biannual reminder that Sacha Baron Cohen is equal parts funny and annoying, fell 54% to $2.2 million. With a domestic total of $55.2 million and another $60 million overseas, the $65 million production is a good enough result for Paramount Pictures.

Finally, after a record-setting $130,749 per location average on opening weekend and another spectacular $54,805 average in 16 locations last weekend, Moonrise Kingdom performs an even more impressive feat this week by earning a spot in the top ten while release exhibited in only 96 theaters. The total of $1.6 million reflects a per location average of $16,444. With a running total of $3.7 million, Moonrise Kingdom is still something of a box office mystery, but its popularity thus far is impressive nonetheless.

Overall, the top 12 films at the box office earned a whopping $172 million, a 30% increase and $40 million more than the same weekend in 2011. Next weekend brings us Rock of Ages and That's My Boy, a rock musical featuring Tom Cruise (no, really) and a terrible-looking Adam Sandler comedy.