Weekend Forecast for June 8-10, 2012
By Reagen Sulewski
June 8, 2012
BoxOfficeProphets.com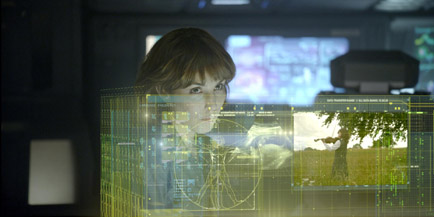 ---
Who knew it would take Charlize Theron to get summer going again? For the second straight weekend, the leggy South African is at the forefront of a film about to take over the box office charts. Not just that, but with two likely blockbusters coming out, it's feeling like a proper summer movie weekend for the first time since The Avengers.

When the first information started leaking out about Ridley Scott's newest project Prometheus, the space setting and the look of the images had everyone wondering whether this was something to do with the Alien series, which is where Scott first made his name. After a while of playing coy, Fox finally came out and said, "No! No no no no. Well, yes," and revealed the project as an Alien prequel. At that point the viral marketing campaign went into overdrive, and we got things like a TED Talk from the founder of Weyland Industries, which if you're a giant nerd *raising hand* is funny and clever.

So on to the movie, then. Theron stars with Michael Fassbender, Noomi Rapace, Idris Elba and Guy Pearce (among others) as an interstellar exploration crew investigating a series of runes they believe have been left by an ancient civilization as a welcoming mat. Suffice to say they're not, and if you tell me anything more about this before I see it, I will straight up *cut* you. I'm talking to you, 20th Century Fox, who seems intent on releasing just about every crucial moment from the movie out into the wild before it ever hits theaters. While it's tempting to consider that a sign of insecurity, it's also a tactic that works to sell films – get as many of those amazing looking moments out there in the hopes that each one of them will convince a slightly different group of people to buy a ticket, or else think that if there's that many moments to show, there's that many more that they're holding back. Either way, it's a move that's projecting strength.

It's hard to gauge the popularity of the Alien franchise today, since both of the last two movies in it were both critical and commercial flops, and Aliens was all the way back in 1986. We might as well talk about what a Jaws 5 might bring in (don't get any ideas, people). At this point, enough time has passed that we can basically ignore Alien 3 and Resurrection and take the series' strong reputation just from the first two films, especially given the return of Ridley Scott.

While Scott isn't a guaranteed hit-maker (and doesn't always try to), he definitely can bring the blockbuster sensibility when he wants to. The film in his repertoire that this seems most like on the surface (I mean, other than Alien) is Hannibal, where he took over a recast Silence of the Lambs franchise. The film itself wasn't all that great, but Scott was able to make people care about a sequel to a ten-year old film that featured only a couple of familiar actors from the original. The belief is that he can breathe new life back into that relatively rare genre combo of horror/sci-fi, and judging by the good but not spectacular reviews, he's done just that. And while this doesn't show well on TV, the 3D trailer is a truly spectacular use of the technology, and may just drive more box office that way. I'm putting this in the middle tier of potential summer hits, and I look for a starting box office of $67 million.

Moving from the prequel to the sequel, we have Madagascar 3: Europe's Most Wanted which brings back Ben Stiller, David Schwimmer, Chris Rock, Jada Pinkett Smith et. al for voice work, as they continue to try to get back to their familiar New York City zoo environment. This leads through a European circus tour, and hilarity ensues, apparently.

The Madagascar series is a strange one, as I don't think I've ever heard anyone express any kind of passion for the main characters or plots, which tend towards the generic. On the other hand, the real breakout stars of it are the diabolical penguins, who tend to steal every scene they're in. Can sidekicks carry a franchise? Well, Scrat is the reason we've had three, soon to be four Ice Age movies, so probably.

The previous two films opened to $47 and $63 million respectively, and coming in a little under $200 million domestic and $600 million worldwide both times, so there's no big mystery as to why we're getting a third outing. And parents will dutifully tote their little tots to this film that has a safe and respected brand. Is it good? Doesn't really matter does it? For its debut, I'd expect around $58 million.

Snow White and the Huntsman outpaced a lot of expectations by opening to $56 million last weekend, with its fantasy/action take on the classic fairy tale. Whether it's down to Chris Hemsworth, Kristen Stewart, Charlize Theron, some combo of all of them or just a set of great trailers with interesting visuals, it's a moderate success and could lengthen the 15 minutes of Kristen Stewart. I'd expect every screenwriter worth his salt to be working on some CGI-heavy version of a public domain fairy tale – possibly something to do with Goldilocks. Most audiences were decidedly "meh" on the film, and I think we'll see a second weekend of about $30 million.

As expected, the second weekend business for Men in Black 3 evaporated, as it dropped almost 50% to $28 million. That still brought the film's total to around $111 million, and with a little luck, it could possibly match the $190 million of Men in Black 2 (which dropped more, more quickly, but had some bonus July 4th business that helped it along). It's been a long time since Will Smith ruled the summer, and Men in Black 3 isn't going to change that back. Give it $15 million more for this weekend.

On the other end of the scale, The Avengers has now officially passed The Dark Knight for third place on the all-time list, currently sitting at around $560 million total, and $1.3 billion internationally, also good for third all-time. Already the owner of the fastest trip to each of the first five "hundred million" milestones, it will probably fall short on the sixth, unless it can manage a miracle of legs in these next two weekends. Thanks to Titanic's re-release earlier this year, second place is probably out of reach both domestically and internationally, but in any case, we've seen an incredible run that will dwarf the rest of the stories from the summer. Give it $13 million this weekend.