Weekend Wrap-Up
Snow White Avenges Battleship Loss for Universal
By John Hamann
June 3, 2012
BoxOfficeProphets.com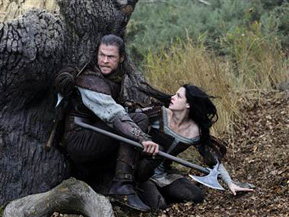 ---
It's the post-Memorial Day Weekend at the box office, and this frame's expensive and over-cooked release is Snow White and the Huntsmen, Universal's re-telling of the old school Grimm Brothers Fairy Tale. This one is not a bedtime fairy tale aimed at the truly young. It is a violent, sensual, tale aimed at older moviegoers. Would the more serious tone affect ticket sales? Would Chris Hemsworth and Kristen Stewart bring the Avengers/Twilight fans out? Universal had a lot at stake with this $170 million production, as their other expensive early-summer release, the $209 million Battleship, was already sunk, and the studio is running out of entries for summer 2012.

Our number one movie of the weekend is Snow White and the Huntsman, the new Universal release starring Kristen Stewart, Charlize Theron, and The Avengers' Chris Hemsworth. After only questionable results from Relativity's Mirror Mirror (the Julia Roberts release failed to earn $65 million domestically against an $85 million budget) and less than solid tracking for Snow White heading into the weekend, Universal executives must have been doing some serious hand-wringing as their $170 million production approached release. Spending $170 million on a film like this is insane in my mind, but Universal never backed down, investing big money in the marketing campaign and choosing a saturation-style release. Their bravado seems to have worked. Snow White and the Huntsman pulled in $56.2 million this weekend from 3,773 venues, giving the Universal product a venue average of $14,910. Considering that tracking was looking for what would have been a devastating opening at or around $30 million, the mood will be good on Monday morning in the Universal front office, as this one is no Battleship.

Snow White and the Huntsman opened at midnight Thursday in a handful of theatres, and was able to take in $1.4 million – slightly under Men in Black 3's $1.6 million, but it was out to a much lower number of midnight theatres. It turned that midnight success into a $18.9 million Friday ($20.3 million was reported on Friday, but $1.4 million came from Thursday midnights), a much better than expected Friday figure. That means that Snow White and the Huntsman had a weekend multiplier - weekend gross (without Thursday midnights) divided by Friday gross - of 2.98. That multiplier indicates that the film played well on the weekend as well as Friday.

Snow White received only a B Cinemascore, the same mark that Universal's Battleship received. Remember that Cinemascores are not the best indication of quality for a movie. The firm polls audiences on Friday night, and in this case, since the Kristen Stewart fan club come out for opening night, scores got skewed. On opening night, respondents lean more toward an actor than the film (Mike Myers' The Love Guru got a B minus. No, really, it did). Reviews were mixed at best. "All critics" at RottenTomatoes gave the film a 45% rotten rating with 77 rotten and 64 to the good. However the "top critics" gave the film a 62% fresh rating, with 24 reviews to the good, and 15 to the bad. Predicting legs on this is going to be murky-mirror work at best, but with Prometheus coming next weekend (pant-pant), I have a feeling it's going to get creamed by the "other" Charlize Theron flick in the next frame.

So we know now that Snow White and the Huntsman over-performed slightly over weekend, but its future success is in doubt. Why? While the release date certainly helped Snow White, casting Kristen Stewart and Chris Hemsworth likely made the weekend bigger than expected. While in my mind Charlize Theron makes a much better Snow White, Kristen Stewart does bring the Twilight crew despite the "I just put the crack pipe away" look. Had I put my hard earned cash down for this one, I would be cheering for Theron's villain; however, millions of teen girls likely feel the opposite. As much I would rather forget, we need to remember that the Twilight franchise has earned over a billion at the domestic box office alone, and does have the huge, seemingly insatiable fan following. Stewart has never drawn her fans into her other movies – but at the same time, shr hasn't strayed into blockbusters, choosing to stick with more arthouse fare (Adventureland, The Runaways). Chris Hemsworth is a star on the rise, and this opening weekend only pads his resume. The star of Thor, co-star of The Avengers, and James Kirk's dad in that explosive opening scene of the Star Trek reboot is developing a huge following, and that following will only grow in November when Red Dawn comes out.

While the casting made for a strong opening frame, the director and writers will kill the legs. Had Universal found a better name than Rupert Sanders – who only had commercials to his credit before this $170 million production – the film may have earned a quality cred with audiences. Unfortunately for Universal, this is not the case. In the end, Snow White and the Huntsman might be a $150 million film stateside, but will need to earn at least that overseas for this one to be profitable. In North America, next weekend brings the R-rated Prometheus and the animated Madagascar 3, neither of which face directly into the Snow White competitive demographic. These two high-profile films will, however, take over 7,700 venues, meaning Snow White will have to work hard just to get noticed, and it would appear that Universal spent the marketing wad on the opening. For Universal, I see the entire Snow White and the Huntsman process as just another film in the Universal library, with not much of a profit or a loss.

Speaking of losses, Men in Black 3 managed to stay ahead of Marvel's The Avengers, at least for another weekend. After a three-day holiday weekend take of $54.6 million, and a four-day of $69.3 million, that's about where the good news is going to end for MIB3. In its second weekend, Men in Black 3 earned $29.3 million, off 46% from the previous frame. With revenue down this weekend, there is a further concern that Sony spent more on this one than they are letting on. Some have the MIB3 budget at $220 or $225 million; however, industry rumour has this one at $290 million or higher, which means it's going to have to work harder at home and abroad to realize a profit for Sony.

The holiday helped, as MIB3 was able to cross the $100 million mark on Saturday, its eighth day. That's the same amount of time it took Men in Black 2 to do the same amount in 2002, and that one went on to earn $190 million stateside and $250 million overseas. MIB2 fell a similar 53% in weekend two, so there is reason to believe that MIB3 could be following that trend (my early estimate is $170 million in domestic sales). So far, MIB3 has earned $112.3 million stateside, and over $150 million from overseas theatres. Like Snow White and the Huntsman, MIB3 is simply going to be a very expensive push.

Those unstoppable Avengers are third this weekend, as the Marvel and Disney release continues to take down records. It's hard to believe but this is already the fifth weekend for Marvel's The Avengers, and it is still packing some punch at the domestic box office. This weekend, The Avengers earned another $20.3 million and dropped 45% compared to the holiday-inflated Memorial Day weekend. It cruised past The Dark Knight's formerly third place domestic tally of $533 million on Friday, leaving it behind only the Cameron Twins, Avatar and Titanic, two films that just aren't all that. The Avengers stays on target for a domestic finish right around the $600 million mark – a good hold next weekend should cement its ascent. Currently, The Avengers has a domestic haul of $552.7 million.

Battleship places fourth this weekend – but was fifth on Friday, laughably behind What to Expect When You're Expecting, a film it beat by $4 million last weekend. Over the weekend proper, Battleship got ahead, but it earned only $4.8 million as it tried to rid itself of the oppressive stench of failure. Battleship fell 56% compared to last weekend, after falling 57% over the long weekend. I'm sure at this point Universal would like Battleship to simply disappear, but I get the opportunity to hammer on it for a few more weekends. Battleship has now earned $55.1 million domestically, and should be happy with a domestic finish around $65 million. It has, however, earned $220 million overseas, so the hit won't be too bad on this $210 million (or more) clunker.

Fifth is The Dictator, another film that had a lot going for it, but misfired. The Sacha Baron Cohen flick earned $4.7 million, which means it was off 49% compared to its $9.7 million take last weekend. The $65 million Paramount release has now earned $50.8 million, and will be lucky to reach its reported budget amount.

Sixth is The Best Exotic Marigold Hotel, this summer's small film that's going to hang around. Marigold Hotel earned another $4.6 million this weekend, but dropped 28% due to holiday-inflated frame last weekend and the fact that it has recently gone wide to 1,294 venues. It has earned only $25.5 million stateside, but has a worldwide gross of over $100 million.

What To Expect When You're Expecting is seventh, as it earned $4.4 million. It was off 38% compared to last weekend, and has a gross so far of $30.7 million.

Eighth goes to Dark Shadows, another epic fail from summer 2012. The Johnny Depp flick earned only $3.9 million in its fourth weekend, and dropped 49% compared to the previous frame. Dark Shadows won't earn half of its $150 million budget back stateside, but it has grossed $100 million on foreign shores, which will mitigate the impact for Warner Bros.

The Chernobyl Diaries is ninth and no one cares. It earned $4 million in its second frame and fell 62%. It has a gross now of only $14.4 million.

Finishing tenth this weekend is For Greater Glory, a drama set around the events of the Cristero War that took place in Mexico in the mid- to late-1920s. It features such performers as Andy Garcia, Eva Longoria, Bruce Greenwood and even Peter O'Toole. Out to 757 venues, it earned $1.8 million, good enough to push it just slightly ahead of The Hunger Games.

Overall this weekend, the box office couldn't keep up with where things were last year. The top 12 films at the box office took in $135.6 million, well off the $153.7 million the top 12 took in last year, when X-Men: First Class was on top. Next weekend should snap things back to attention, though, as Prometheus and Madagascar 3 get started.