Friday Box Office Analysis
By David Mumpower
June 2, 2012
BoxOfficeProphets.com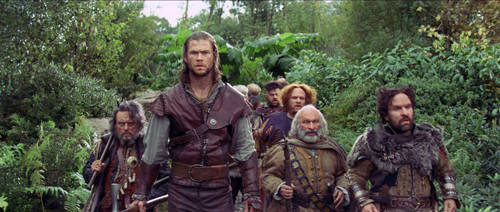 ---
Thor and Bella Swan squared off against...whatever signature character you think belongs to Charlize Theron (unless you mean Aeon Flux. That would be wrong), and the result was a stellar $20.3 million opening Friday. This Friday performance puts the Universal release on track to become the second biggest opener of the summer thus far, as well as the fourth biggest opener of the year - well ahead of The Vow but far behind The Lorax, The Hunger Games and The Avengers. While Universal had hedged their bets about the potential of Snow White and the Huntsman in the wake of Battleship's unmitigated domestic box office failure, audiences lapped up this gothic retelling of the fairy tale from the Brothers Grimm.

It's easy to understand why Universal aimed for lowered expectations, with their early tracking projecting a weekend in the $30 million range. As mentioned, Battleship has already given them a black eye, while the similarly-themed Mirror Mirror, anchored by Hollywood icon Julia Roberts, earned only $18.1 million in three days. Why, then, did Snow White and the Huntsman surpass that number within 24 hours of release?

There are a couple of key reasons for the superior performance of Snow White and the Huntsman. The most obvious is that Chris Hemsworth and Kristen Stewart are two stars who have both appeared in some of the biggest grossing movies of the past few years. Hemsworth, of course, is still attaining box office glory with The Avengers, which blew past The Dark Knight yesterday to become the third biggest domestic performer of all time. All Hemsworth was required to do to portray the Huntsman was drop his hammer and pick up an axe and he was already in character.

The female lead is similarly clever casting. At the tender age of 22, Kristen Stewart already possesses three (!) $280+ million box office hits on her resume. To put this into perspective, consider that the aforementioned Julia Roberts has never had a $200+ million blockbuster. And with a heavy background in gothic tales already as the lead in Twilight, Stewart too is singing to the choir with this role. The combination of Hemsworth and Stewart is a textbook example of rising stars joined together in the perfect movie at the perfect time, similar to Keanu Reeves and Sandra Bullock in 1994's Speed.

In addition, we have known since the explosive debut of Alice in Wonderland that gothic re-imaginings of classic fairy tales are all the rage. The most recent television season reinforced this as ABC's Once Upon a Time and NBC's Grimm averaged 11.71 million and 6.35 million weekly viewers, respectively. While Mirror Mirror's $18.1 million was perceived as a disappointment at the time, the reality is that Julia Roberts' box office drawing power is in decline (see: Larry Crowne last summer). Also, the trailers for that movie were so awful as to border on self-parody. If a lousy looking gothic re-telling with a less popular lead actress was capable of that much, it stands to reason a superior project with better trailers and the perfect stars of the moment would do exponentially better. This is exactly what transpired, which is why a $55 million debut is likely for Snow White and the Huntsman.

Last weekend's openers receive grim news this weekend. Men in Black 3 fell 53% from Friday-to-Friday. Its $8.3 million gives the generally unwanted sequel an eight-day total of $91.3 million. Lost in the largess of this year's box office triumphs is that 2012 is the year of welcome sequels. The news was much worse for Chernobyl Diaries. After a disappointing $9.3 million Memorial Day weekend take, the movie fell off the table to $1.0 million yesterday. The 72% decline means that it will be almost entirely out of theaters in another seven days. With a running total of $12.4 million, Chernobyl Diaries will be a loss for Warner Bros.

Finally, we incidentally mentioned The Avengers earlier. Its Friday take of $5.7 million was still good enough for third place in its 29th day of release. Down only 41% Friday-to-Friday, The Avengers has earned $538.2 million and looks likely to become the third member of the exclusive $600 million box office club. It also surpassed Harry Potter and the Deathly Hallows Part 2 for third place in terms of global box office earnings. Everything about this movie is superlative.