Weekend Forecast for June 1-3, 2012
By Reagen Sulewski
June 1, 2012
BoxOfficeProphets.com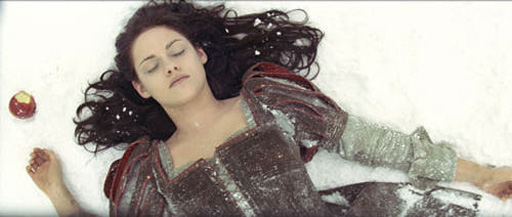 ---
The blazing start to summer with The Avengers' record breaking box office had some thinking we might be for a summer movie season for the ages. Except it's now four weeks in, and we're still waiting for our second real hit, and I'm not sure this week looks a lot better in that way.

In another of Hollywood's great "dueling concepts" moments, this week sees the second film this year based on the Snow White story, this time called Snow White and the Huntsman, following this spring's Mirror Mirror. Where that film took a bizarre comic tone, this film plays it deadly serious, with battle set pieces and dark and foreboding scenes of witchcraft and death, something more akin to Braveheart or Lord of the Rings than "whistle while you work."

Kristen Stewart stars as the title damsel, opposite the evil queen Ravenna, played by Charlize Theron. Placed in context of "who is fairest of them all", as the story famously goes, this can only inspire comments of "Oh, come on! Squinty McStonerface vs a living Greek Goddess?", but this is the cast we're left with. Chris Hemsworth, recently of Avengers, plays the Huntsman sent to dispatch Stewart, but who eventually becomes her defender against giant warriors made of birds. I'm sure this all made sense in the pitch.

A gothic action movie version of a fairy tale is actually kind of a good idea, in the right hands. Unfortunately we have no idea if these are the right hands or not. The director, one Rupert Sanders, appears to have dropped out of thin air this year, with no other creative credits to his name. The first listed writer likewise only has one short film to his name, though two of the other writers can claim The Blind Side and Drive, among other titles, on their resumes. Whatever skills or flaws this group has or doesn't, the film certainly looks stylish and dynamic, which is why people would be interested in it in the first place. It's left to be seen how much life that disintegration effect has that features so prominently in all the advertising.

Producers are undoubtedly hoping that Hemsworth and Stewart's teen fans follow them over to this new fantasy. Hemsworth is mostly untested as a lead outside of his role as Thor, while Stewart has struggled outside the Twilight series. It might be argued that she's mostly been in roles in smaller movies, but the same problem has dogged Robert Pattinson and Taylor Lautner. It seems that Twilight fans, depressingly, want only Twilight and don't care about the actors so much. As far as Theron, she's been a very inconsistent star over the years, and has been only infrequently in theaters in the last few. Young Adult from last fall was a quiet return to theaters after mostly being away since 2008's Hancock, so right now she's a wild card (though she follows this up in quick succession next week).

All these question marks likely preclude this from being a big breakout, although the studio is probably hoping for a Clash of the Titans type hit. Wrath of the Titans might be more likely. Opening at 3,700 venues, it should see an opening weekend of about $42 million.

A smaller, focused release also hits theaters this weekend with For Greater Glory. This appears to be a religiously targeted movie about a small conflict in Mexico in the 1920s between the government and Roman Catholics. It boasts a fairly impressive cast of Hispanic and Latin actors, including Andy Garcia, Eva Longoria, Nestor Carbonell and Catalina Moreno, as well as Peter O'Toole, Bruce Greenwood and Bruce McGill. It's the directorial debut of the visual effects supervisor for the Narnia films, though I doubt there's too many talking lions in this one (or maybe there are – I'm not as up on my Mexican history as I should be). While some of these hyper-focused films have had solid opening weekends in the past – I'm thinking particularly of last year's Courageous here – that's usually with the help of some major studio help. The distributor of this film is the same one that released the Sarah Palin documentary, and we all know how that turned out. This isn't going to be as divisive a movie, but I'm not expecting fireworks, and maybe around $3 million on 700 and change venues.

So apparently, no matter what decade a Men in Black movie is released in, it'll earn about $55 million opening weekend. With the rumored $300 million price tag and the big promotional press from Will Smith and company, it's hard to view this as anything but a disappointment and a warning to all other potential unneccesary-sequeltarians. Considering how inessential this film really was, I can't see there being a large amount of second-chancers for this, and it should fade away quickly. A second weekend of $27 million seems about right here.

The Avengers will pass The Dark Knight's $533 million total possibly by Thursday, or at the very latest on Friday afternoon. This, in 28 or 29 days what it took Batman over 200 to do (admittedly, it was the bulk of the way there after about 60). Next target: Titanic, though its old total of $600 million is much more realistic than the re-release figure of $658 million and counting. While Avengers' legs haven't been uncommonly good, they're fairly solid for a blockbuster superhero movie and this weekend will be an interesting one as far as reaching those milestones. I see around $20 million for this frame.

The remaining May films are a fairly sorry lot, with most about to fall below $5 million this weekend or the next. Battleship is looking like an epic disaster that won't cross $75 million domestic. The Dictator won't either, but also didn't cost $200 million. Chernobyl Diaries is … well, a cheap horror film, so anything it earns now is pure profit, but I don't expect it to crack $20 million. Dark Shadows was the TV adaptation nobody wanted and will limp home to around $85 million. What To Expect When You're Expecting effectively killed off that Men Are From Mars movie we all knew was coming and should maybe hit $50 million.

The lone bright spot is the expanding The Best Exotic Marigold Hotel, which has steadily increased its box office each week. That probably ends this weekend as it hits a bit of ceiling in terms of new venues, but the film about British ex-expatriates in India has clearly made a connection with audiences and could run for many, many weeks this summer.