Weekend Wrap-Up
MIB3 Bumps Avengers, But Cools Box Office
By John Hamann
May 27, 2012
BoxOfficeProphets.com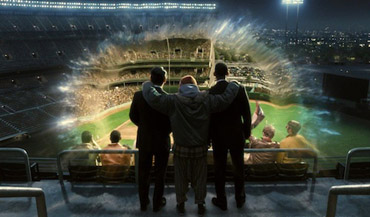 ---
The Memorial Day weekend is just that at the box office this weekend, as Marvel's The Avengers – the much-hyped, well loved, box office super-hit, is forced to make way for Men In Black 3, a film that most of our movie collective could really give a rat's ass about. The day had to happen for The Avengers, and it came on its 22nd day of release after taking in more than $485 million in North America alone – it fell to number two. That leaves us with the shrug that is MIB3 – so we wait until Prometheus opens in two weeks, or we might have something if Snow White and the Huntsman is as good as Charlize Theron looks in the trailer.

Our number one film of the weekend is Men In Black 3, which failed to rise to the heights it needed to, but didn't out-and-out collapse the way Battleship did last weekend (and did again this weekend). Over the three-day portion of the Memorial Day Weekend frame (Friday-to-Sunday, and including midnights) Men in Black 3 could only muster $55 million, not all that far away from what the first two films opened to over July 4th weekends in 1997 and 2002, respectively. The first Men in Black took in $51.1 million from 3,020 venues in 1997 (and $84 million over five days); MIB2 took in $52.1 million from 3,557 venues in 2002 (and $87 million over five days).

Over four days, MIB3 will take in about $70 million, but there is no way it will be $80 million plus after five days of release. Not only is it not going to match its predecessors, bu let's remember that MIB3 opened at 4,248 venues, or 1,228 more than the original Men in Black, and 691 more than the sequel. This one was also released in 3D, so likely at least 50% of the tickets sold for the three-quel had the 15% 3D/IMAX premium added. Is MIB3 an epic fail? No, that's Battleship and Dark Shadows. Is it a disappointment? Yes, it certainly is.

One thing that Men in Black 3 was looking for was the family audience. After a Friday number of $18 million (reduced to $16.4 million due to $1.6 million in midnight Thursday sales), The Hollywood Reporter said that 57% of the audience was over 25 (uh-oh). Sony, the studio that put up the $230 million to finance this one (Avengers cost $10 million less to make), was hoping younger audiences would show up on Saturday and Sunday. Did they? Once we take the $1.6 million out of the Friday-to-Sunday total, the weekend becomes $543.4 million. When we divide the $16.4 million adjusted Friday total into the adjusted weekend total, we get a weekend multiplier of 3.25. That means that kids did show up for the PG-13 release, and could be an indication of legs going forward. The Memorial Day weekend has a tendency to skew the normal multiplier due to the long weekend, and the school-set being more available for showings on Sunday night. Over a normal weekend, a sequel like MIB3 would have a multiplier more in the 2.6-2.7 range, which would have given it a Friday-to-Sunday in the mid-$40 millions.

This opening weekend means that Men in Black 3 has zero chance of matching its $230 million (or more) production budget stateside, and will have to rely heavily on foreign grosses to keep Sony from facing a heavy loss. The much discussed John Carter was like that, having earned only $72.2 million at North American box office against a $250 million Disney budget. It earned over $209 million overseas for a combined $282 million. That may seem like a lot, but remember that studios only keep a portion of revenue from ticket sales; therefore, Disney faced a big loss on that one. Battleship is in a similar scenario – it has earned over $227 million overseas and will likely earn $65 million stateside. However, with a $209 million budget, it will still see a huge loss.

With Men in Black 3, the stateside box office is going to top out below $200 million (MIB2 earned $190 million with a bigger five-day opening), but the overseas gross will likely beat the North American take by as much as 25%. So, using easy math numbers, if MIB3 takes in $200 million (and that's a serious if), the overseas could be as much as $300 million for a $500 million worldwide gross. So far, its worldwide gross is already at $202 million, so chances are that the studio is going to be fine with the performance of MIB3. Still, they'll be a lot happier once ancillary revenues from home video come in.

Finishing second is the dominant film for the last 24 days – Marvel's The Avengers, the new owner of too many records to count. It took down another record this weekend – fastest film to $500 million – as it took in another $37 million from 3,918 venues. It was off a puny 34% compared to the previous frame, despite losing 331 venues to MIB3. It has a total now of $513.8 million, making it the fourth biggest domestic release of all time, behind only The Dark Knight ($533 million), Titanic ($600.8 million) and Avatar ($760.5 million). As mentioned, it beat all of these films to the $500 million mark, accomplishing the feat in only 23 days (it crossed that plateau on Saturday). The former record holder was Avatar, which did it in 32 days (it vaulted past $600 million only 15 days later). The Avengers is running out of records to break – it will take over The Dark Knight's #3 spot by the end of next weekend, but will have to work hard to make it to $600 million.

Battleship finishes third this weekend, but that's where the good news ends for the expensive, $209 million Universal release. After opening in North America last weekend to only $25.5 million, Battleship gets hammered again, despite a long follow-up weekend. Over a weekend where films should generally see good holds, Battleship fell a ludicrous 58% to $44.3 million, and is now headed toward unmitigated disaster land. Considering it opened the frame prior to the Memorial Day long weekend, Battleship was set up for what should be one of those nirvana box office scenarios: It should have opened large the weekend prior to the long weekend, and then sailed through weekend two with a serious cumulative gross. In the case of Battleship, we get the complete opposite, and a two-for-two failure rate.

Don't let people tell you that The Avengers caused Battleship's woes. That's complete bull. Widely popular movies, even in their third weekends, are on a serious decline in terms of overall revenue. There was room for Battleship to open, and it failed.The market was also open for Battleship to have a solid follow-up Memorial Day Frame, and it failed. This is a film the public does not want to see, which has nothing to do with The Avengers. If anything, having the soon to be second biggest film of all time showcase your marketing material should help, and it didn't help Battleship. It now has a domestic gross of only $44.3 million.

Fourth place goes to The Dictator, which has a better decline than Battleship in weekend two, but still nothing to brag about. The Sacha Baron Cohen flick earned $10.8 million in weekend two of release, and dropped 45% compared to last weekend's take. A film like The Dictator can be very divisive, and lead to bigger-than-normal second weekend drops. Despite a drop above 50% in weekend two, The Dictator is still in financial trouble. The Paramount release cost at least $65 million and has a gross so far of $41.5 million.

Fifth spot goes to the Chernobyl Diaries, the new horror flick from Paranormal Activity creator Oren Peli. I'm not quite understanding why a Memorial Weekend release date was chosen for this one, the last wide-release May horror flick was 28 Weeks Later, a disappointing sequel that earned only $9.8 million over its first three days in 2007. Chernobyl Diaries did a bit worse, earning $9.6 million from 2,433 venues. It had a venue average of $3,288. None of the Paranormal Activity magic seemed to be on display here, and audiences turned away. While no budget data is available, it is an Oren Peli release with no stars, so likely was made for less than $20 million. It's doubtful that Warner Bros. gets hurt too much by this one.

Dark Shadows takes sixth place, as the Tim Burton/Johnny Depp film earned $7.5 million over three-days. It fell 40% compared to last weekend, and has a running total of $63 million. Remember, this one cost $150 million to make and will need more than the $80 million it has earned overseas so far.

What To Expect When You're Expecting is getting propped up a bit by the holiday. The star-stained comedy about parenting (woo!) earned $7.2 million in its second weekend and dropped 32%. The Lionsgate release has now earned $22.2 million against a $40 million budget.

The Best Exotic Marigold Hotel continues to play with the big boys this weekend, as it expands to wide-release at 1,233 venues. The Fox Searchlight release earned $6.4 million and had a venue average of $5,150. It increased its take over last weekend by 97%, and is becoming a small domestic hit in North America. Overseas, it has already taken in more than $75 million. Give it $16.6 million so far in North America.

The Hunger Games is ninth this weekend – even after ten weekends of release. The book turned blockbuster earned another $2.2 million and dropped a tiny 25% compared to last weekend. The Hunger Games has now amassed $395.2 million stateside, and almost $250 million overseas.

In tenth this weekend is Think Like a Man, the Screen Gems success based on a how-to book. Think Like a Man earned another $1.4 million, down 47% from its previous frame. Thus far, the comedy has earned a fantastic $88.3 million.

Overall this weekend, the box office didn't have a chance against the ridiculously large debut of last year's Memorial Day Weekend champ, The Hangover Part II. It earned $86 million over Friday-to-Sunday, and helped the box office to a $216.2 million top 12. This year, the box office sputters, with a top 12 of $146.9 million. Next weekend, Universal brings Snow White and The Huntsmen, a film that looks like it might be really good, but on the other hand...