Weekend Forecast for May 25-27, 2012
By Reagen Sulewski
May 25, 2012
BoxOfficeProphets.com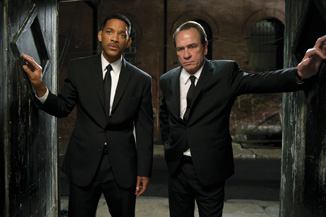 ---
After two weeks of what could charitably be called disappointing box office for new films, here's Memorial Day Weekend, which should finally bring the film that will dethrone The Avengers. Even if that does happen, it's more out of a sense of inevitability rather than the new champ being something we're all excited about. June can't get here fast enough.

Once upon a time, Will Smith was the unquestioned ruler of the summer season, although this period was shorter than everyone remembers. We also know it was quite a while ago, since it also overlapped with the period when Jeff Goldblum was considered a big box office draw. But with Independence Day and Men in Black, Smith launched from being "the Fresh Prince guy" to a legitimate movie star. That success bred a little bit of arrogance, and led to things like Wild Wild West and Men in Black II – awful, unfunny, unpleasant films that sent him scurrying a little. After regrouping with some dramatic roles, one that earned him an Oscar nomination, and a couple of moody action films (I Am Legend and Hancock), he's actually been absent from the big screen for almost four years, from the release of Seven Pounds until now, with Men in Black III.

The "ten years later" sequel is usually a bit of a desperation move for someone in the cast, and in this case it looks like more of one for Barry Sonnenfeld than anyone else. Although he's worked consistently in TV over the last decade, Men in Black II was sort of the final straw for him as a big budget director (he had a bit of a hiccup with RV, which one imagines was already in the works before the MIB II flop). This third film once again undoes all the closure of all the rest of the series by having Smith's Agent J travel back in time to stop a plot to kill Agent K (Tommy Lee Jones in the present, Josh Brolin in a seemingly dead-on impersonation back in the 1960s), which would be a prelude to an alien takeover of Earth somehow.

The usual gooey special effects and slightly warped sense of humor that is this series' trademark seems to be back in full force, but it remains to be seen if those jokes hit this time, or merely seem repetitive and forced, like in the second outing. Perhaps there's been enough time for separation for those same jokes to feel fresh again. The exercise feels a bit hollow, though, and there's almost no question that this isn't a sequel anyone was particularly clamoring for.

So this likely comes down to how much we still like Will Smith. That's a difficult thing to gauge right now, given his four year hiatus. I think there's some lessons to be taken from the fourth Die Hard movie, which came 12 years after the previous entry, and managed a respectable $48 million over five days (compared to mid 20s for the second and third films). Smith is a bit more vital of a action star than Bruce Willis, and the hook for Men in Black III is a little better than for Die Hard 4, so it's fair to expect this film to capture a decent portion of the original Men in Black audience. Thanks to inflation, that should lead to a little bit of an increase in opening weekend, but not a substantial one. This should mean about $58 million over three days, and $72 million over the four-day weekend.

Memorial Day Weekend is kind of a strange time for a horror film, though it's not totally without precedent – 2009 saw the release of Drag Me to Hell in this spot. This year we get Chernobyl Diaries, from the Paranormal Activity people. Kind of a mixture of Hostel and Wrong Turn, it follows a group of six American tourists who decide to go on an "extreme" tour of the abandoned town of Pripyat, center of the Chernobyl nuclear disaster. After a day of exploring, they find out that they're not alone, and perhaps not everything left Pripyat when the evacuation orders were given. From there it would seem to turn into your standard "young people getting stalked by hillbilly killers" movie, just with the hook of radiation and a European setting.

Starring pretty much no one you've ever heard of, it's relying mostly on the location for its appeal, as there's almost nothing you haven't seen in any number of other films. This is going to be a definite test of the Oren Peli name and how successful he might be in breaking out of the Paranormal Franchise. That's something that's proven difficult for other horror "auteurs" - just ask James Wan about Dead Silence. In general, horror audiences aren't that willing to follow them into different types of movies, and they want only what they want. That said, horror kind of has a floor that it won't fall through, and the setting and setup should be good for around $10 million over three days and $12 million over four.

Which brings us back to the early juggernaut of summer, The Avengers, which after three weeks at the top of the box office, will probably cede that position. As a consolation prize, it'll hit the $500 million milestone, probably on Saturday, a full nine days faster than any film has done so before. The Dark Knight's $533 million is a triviality to be passed at this point, with the bigger prize of passing Titanic now in the realm of possibility. That'll be a difficult task, as natural projections would have it top out anywhere between $575 and $625 million, and thanks to Titanic's re-release, it stands at a difficult to reach $658 million domestically.

Internationally, it's a similar story, with the $1.2ish billion it already has placing it fourth all-time, and Harry Potter: The Last One sitting at around $1.3 billion. The $2.1 billion of Titanic worldwide is probably unreachable by The Avengers in this run, but $1.5, $1.6 billion? Not out of the question.

A lot is going to depend on how well it performs when it loses those pricey 3D screens, and whether it can start holding onto its business now that it's not the big dog of the weekend, and other tentpole pictures will distract potential repeat customers. For this weekend, I'd look for $36 million over three days, and $44 million over four.

Following this, we have the Hall of Misfiring Blockbusters, starting with Battleship. Although it's going to lean heavily on its strong international box office to spin the results (were they not aware it's based on a game? That might be the only explanation), the domestic start of $25 million is going to hurt tremendously. Word-of-mouth has not been particularly kind, and while few are saying it's out and out terrible, I think a lot of the first weekend business was from the morbidly curious. I think a three-day total of $13 million is in store here.

Sacha Baron Cohen's The Dictator opened to $17 million, or $24 million over five days, which is a significant step back from his days with Bruno and Borat. On the other hand, it's not that bad a performance for an actor who is probably more actively hated than the vast majority of people who could headline a film. In spite of ourselves, Cohen is making us laugh. While comedies are often the exact kind of film that finds out of nowhere legs, I don't think The Dictator is that film, especially since Cohen's act isn't really a surprise at this point. "It's better than you'd think" will have to do as an endorsement, along with $10 million for three days.

Definitely not getting that endorsement was Dark Shadows, which followed a disappointing opening weekend with a drop off a cliff. The Johnny Depp/Tim Burton collaboration should fall to around $7 million for the weekend, and should probably end up at around $75 million domestic.

Lastly, in terms of significant films, we have What To Expect When You're Expecting, a chick flick that even chicks had no time for. Despite a packed cast, it opened to only $10 million, and should drop to about $6 million this weekend.