Weekend Wrap-Up
Marvel's Avengers Sink Universal's Battleship
By John Hamann
May 20, 2012
BoxOfficeProphets.com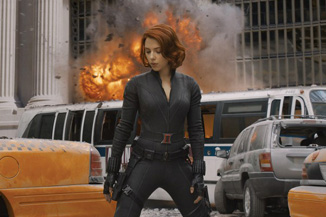 ---
After showing superior opening might at the box office and following that up with a superb second weekend, Marvel's The Avengers is now showing off a new trick – legs. After weekends of $207 and $103 million (three weekends ago I would have said that was downright impossible), one might think The Avengers had nowhere to go than down, but here it is still impressing with its box office playability. The Avengers had new villains on the scene this weekend in the form of Battleship and The Dictator, trying to score some of those millions away from Marvel and Disney. However, like last weekend with Dark Shadows, Marvel's The Avengers simply slapped them away, as it took another assault at the box office record book this weekend.

Our number one film at the box office, and now for the third consecutive weekend, is Marvel's The Avengers. The Disney release continued its epic rollout and world dominance, taking in another $55.1 million from 4,249 venues. While off a slightly larger than expected 47%, let's remember what The Avengers accomplished last weekend. In its second frame, The Avengers earned more than $100 million, giving it the 19th biggest weekend ever, despite already being in release for seven days.

Of the films that have opened to $100 million or more, only six were able to keep their second weekend drops better than 50%. Iron Man dropped 50% in its second weekend from an opening of $102.1 million. Shrek 2 opened to $108 million and then used strong word-of-mouth to reduce its second frame drop to a tiny 33%. Star Wars Episode III: Revenge of the Sith opened to $108.4 million and then must have used the force to keep the drop down to 49%. Toy Story 3 opened to $110.3 million and fell 46% in weekend two. Spider-Man started a lot of this craziness, opening to $114.8 million, and fell only 38% in its sophomore frame. Lastly, there is Alice In Wonderland, which opened to $116 million, and fell only 46% in weekend two. That means that only six of the 22 films (28%) that have had weekends higher than $100 million have fallen less than 50% in their second weekends. Marvel's The Avengers joins that club in a very odd way, as this is its third weekend rather than its second.

One record that Marvel's The Avengers won't be claiming is biggest gross for weekend three. That one will remain with Avatar, as the James Cameron flick used a well-timed New Year's frame (New Year's Eve was a Thursday) to propel its third weekend gross into the stratosphere. Avatar earned $68.5 million in its third frame. The Avengers third weekend gross of $55.1 million is now second, followed by Spider-Man's $45 million. The Avengers did become the fastest film to reach $400 million, a mark it reached on Thursday, day 14 of its assault on the box office. The Dark Knight did it in 18 glorious days in 2008, while it took Avatar 23 days to do the same. It took Spider-Man, Titanic, and The Phantom Menace more than two months to reach $400 million, while The Avengers did it in two weeks. My how the world has moved on.

The Avengers now sits with an overall domestic gross of $457.1 million. It will likely earn $15 million from weekdays next week, and with the Memorial Day weekend on the horizon, The Avengers is almost guaranteed another successful weekend in the next frame. It will likely behave like Spider-Man did in 2002, keeping the percentage drop similar to where it was in the weekend previous. That means The Avengers could earn as much as $40 million next weekend. All told, this Disney release should be knocking on the door of $500 million by a week from Monday, or its 28th day. The record for the fastest film to $500 million is Avatar at 32 days, which will give The Avengers a couple of days to work with should it beat the record. While still early, I've got The Avengers topping out at about $575 million, enough to get it ahead of The Dark Knight's $533 million, but unfortunately not enough to take down Titanic ($600 million) or Avatar ($760.5 million). Opening weekends are a summer thing – James Cameron Legs are a Christmas thing. With $720 million earned overseas, The Avengers is now at $1.18 billion worldwide, which is #4 all-time. Harry Potter and the Deathly Hallows Part 2 is (probably) the last film it will pass, at $1.33 billion.

In second and wondering what the hell just happened is Battleship from Universal and Hasbro, the movie with a similar budget to the Avengers, but not the providence. Based on the old Hasbro game, the movie opened like it was Liam Neeson and Rihanna at a kitchen table playing the old game. But no, this was an effects-filled extravaganza for which Universal paid $209 million, They are left with an opening weekend of only $25.4 million (if you just said uh-oh you are bang on). Battleship opened at only 3,690 sites, a number 400 short of what was needed/expected, which likely means theatres were hesitant to give up their big rooms currently cashing in with The Avengers. Battleship had a venue average of $6,870 – to say that's not enough is a big understatement.

We've all heard how well this one has done overseas, as Battleship was released to foreign cinemas a number of weeks ahead of its North American debut. Overseas, it has already earned more than $215 million – so why did the Peter Berg film work better over there than here? Sure, The Avengers is out, but this is weekend three, and a film earning $50 million shouldn't get in the way of a blockbuster like this one. Over the May 28, 2004 weekend, Shrek 2 earned $72 million, while The Day After Tomorrow earned $68.7 million. I could listen to an argument about The Avengers, The Dictator, Dark Shadows and What to Expect When You're Expecting cutting in to Battleship's pie, as the cumulative gross of those movies is $90+ million, and all would have drawn from Battleship's "hoped for" audience.

Surprisingly, the Friday audience for Battleship was older, and Universal and Hasbro had expected the younger generation to show up. This is where the problem with Battleship is. By connecting it to a boardgame that no one plays, the audience is confused. Older audiences might be able to make the connection between the two, but why even set your movie up like that? The concept is ridiculous, and the studio would have found more success had they called it Alien Invasion or Memorial Day or something like that. Reading the synopsis also put me off in an instant, as this sounds like the same old, same old, just louder and more expensive. Critics agreed, and Battleship came in at only 36% fresh (29% from top critics). I will happily save my money for a trip to Moonrise Kingdom next weekend.

Third goes to Sacha Baron Cohen's The Dictator, a film obviously not for everyone's taste, but then neither was Borat (Bruno was for no one's taste, save maybe the Little Nicky fanclub). The Dictator opened Wednesday to an okay $4.2 million, but really at that point we knew The Dictator was not going to break out. It dropped to $2.9 million on Thursday, and then as expected bounced up to $5.7 million on Friday. The Dictator finished the weekend with a gross of $17.4 million, well back of the first weekend for Bruno ($30.6 million) and Borat ($26.5 million). Since opening on Wednesday, The Dictator has grossed $24.5 million.

Why didn't this one work? Awareness was high, as Cohen is the best marketer I've ever seen for a movie (just this week, he rode a camel through Paris and threw George Clooney's ex-girlfriend off a yacht in a body-bag). Were North American audiences not ready for this one? Borat didn't seem as dangerous as The Dictator – was that it? Reviews for The Dictator were not nearly as good as that of Borat (91% fresh at Rotten Tomatoes) or even Bruno (67%), as the rating for The Dictator came in at 61% fresh. One thing these films seem to be is hit and miss. We have moments of hilarity, but we also have long periods of waiting. Maybe audiences are tiring of the schtick. Paramount bet $65 million that this one would open to at least $25 million, and now it will have to work very hard – at home and abroad – to make up for that budget.

Fourth spot goes to last weekend's Avengers roadkill, Dark Shadows. After not getting off the ground very well last weekend with a $29.7 million opening, the Tim Burton/Johnny Depp comedy got hammered again this weekend, grossing only $12.8 million and dropping 57%. Dark Shadows is now in some serious trouble. Let's not forget that Dark Shadows was a $150 million production, and it now appears like $75 million might be a stretch at the domestic box office. That puts a lot of pressure on this one to perform overseas, as it will have to wildly outgross its North American take to even hope to earn a profit. Unfortunately, it's getting creamed by The Avengers worldwide, with an overseas gross so far just over $35 million. Domestically, Dark Shadows has earned $50.9 million.

Fifth is What to Expect When You're Expecting, a movie guaranteed to cut out half the moviegoing population. Based on a self-help book, What to Expect was certainly no Think Like a Man, as the opening weekend gross came in at a soft $10.5 million (Think Like a Man was based on a self-help book and opened to $33.6 million). From Lionsgate, What to Expect opened at 3,021 venues and had a per location average of $3,476. With a Valentine's Day/New Year's Eve type casting strategy (robocalls to any actor looking for work), Lionsgate found Cameron Diaz, Jennifer Lopez, Chris Rock, Elizabeth Banks and Anna Kendrick doing little else and hired them on. Brooklyn Decker also joined the cast, and ends up in two disappointments this weekend as she starred both in this movie and Battleship. She now has two good choices to go with her Golden Raspberry for Just Go With It. Tracking was looking for $20 million from What To Expect, which would have been a solid opening against its $40 million budget (the actors must have been paid in fish). However, with about half the tracking estimate, all of a sudden this one is in some real trouble going forward. The real surprise here is that What to Expect received even worse reviews than Battleship, as it was only 22% fresh at Rotten Tomatoes.

The rest of the top ten are a group of also-rans. Sixth, seventh and eight are the good news stories. Seventh is The Best Exotic Marigold Hotel, which is now in 354 theatres. It earned $3.3 million this weekend and had a venue average of $9,181. The Fox Searchlight release has earned $8.2 million domestically, and over $75 million overseas. Seventh is The Hunger Games, which earned another $3 million this weekend and dropped 33%. The Lionsgate release has now earned $391.6 million. Eighth goes to Think Like A Man, the now five-weekend old comedy from Screen Gems. Think earned another $2.7 million and dropped 54%. It now has a running total of $85.9 million.

Ninth and tenth go to The Lucky One and Pirates! Band of Misfits. The Lucky One took in $1.8 million and dropped 57%; while Pirates! took in $1.5 million and dropped 54%. Respectively, they have totals of $56.9 million and $25.4 million.

Overall this weekend, the box office is off against last year. Over the same weekend in 2011, the top 12 films rang up $158 million thanks to Pirates of the Caribbean: On Stranger Tides, which earned $90.2 million. This weekend, the top 12 pulled in $135 million. Next weekend, Men In Black 3 hits screens, along with the Chernobyl Diaries, with Wes Anderson's Moonrise Kingdom opening in limited release.