Weekend Wrap-Up
No Dark Shadows on Marvel's Avengers
By John Hamann
May 13, 2012
BoxOfficeProphets.com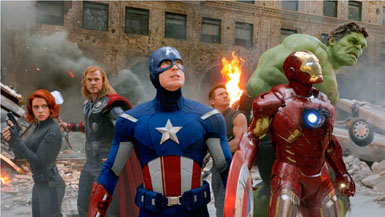 ---
When we left off last Sunday, The Avengers was estimated at a record-breaking $200.4 million. I had a discussion with some friends that Disney had estimated it over the $200 million mark for show, and it would drop back when the actual number came out. It didn't. On Monday, we realized the actual figure for the weekend was $207.4 million, an indication of how powerful The Avengers was over Saturday and Sunday last week. Would the juggernaut slow in weekend two? If so, what would success look like for the all-of-a-sudden ruler of the cinematic universe? Oh, and Dark Shadows opened as well, but it would seem that most people treated it like I did – as an afterthought.

What an odd position for a movie to be in. Despite The Avengers being in its second frame this weekend, a decent drop would still have it competing with some of the biggest first-weekend openers of all time. Usually, when a movie debuts big, I end up asking myself how much it will fall in the second frame. After a $207.4 million opening, I now find myself asking how will it hold. Would The Avengers drop 60%? More? It's no secret that Harry Potter and the Deathly Hallows Part 2 dropped 72% following its (former) record-breaking weekend. While true, the former number two biggest opener, The Dark Knight, fell only 52.5% following its $158.4 million opening. No film has ever earned more than $100 million in its second weekend – not even close. Avatar earned $75.6 million in its second outing, and the The Dark Knight is second at $75.2 million. To drop to those levels, The Avengers would have to drop roughly 64% from its opening weekend gross. With the media coverage, the box office record, and an A+ Cinemascore, I knew a second weekend drop as high as 64% was likely out of the question, and instead was left hoping for a drop better than 51.8%, as that decline would score it at $100 million over its second weekend.

Friday night was the key for The Avengers. A Friday figure around $30 million would likely be enough to carry it to $100 million; however, the number came in at an estimated $29.1 million, enough to make the chase toward a $100 million second weekend very interesting. To earn that $100 million, we now knew that The Avengers would need a weekend multiplier (total weekend divided by Friday) of 3.43, which is quite high when dealing with these lofty amounts. The Dark Knight's second weekend multiplier was 3.23; if we applied that multiplier to The Avengers' Friday gross, the weekend take would come in at $94.1 million, which demonstrates the large difference two-tenths of a point can make.

The Avengers had a few things going for it as it reached for the higher multiplier. The Avengers had a stronger opening weekend multiplier than The Dark Knight did at 2.95, as the formula looked like this last weekend: $207.4 million (weekend actual) - $18.7 million (midnight showings) = 188.7 million/($80.5 million Friday – 18.7 million midnights) $61.8 million = 3.05 multiplier. Also in favor of a higher Avengers multiplier was the release date. With kids still in school, the target audience for a film like this can't attend daytime screenings on Fridays, whereas when The Dark Knight came out in July, it didn't face the same issue due to summer vacation. So, there was reason to believe that The Avengers would have a better second weekend multiplier. If so, The Avengers would do the impossible and reach $100 million over days eight, nine, and ten.

The Avengers' first Saturday take is the true single day record breaker; however, you won't see it at the top of the biggest single day grossers of all time list. The Avengers' first Saturday actually ranks fifth all time at $69.7 million, but it lives behind its own Friday gross, Harry Potter 7.2, and two Twilight films. Why? Midnight screenings. The others films in the list are propped up by their midnight grosses, so really, The Avengers' second day is really the true record holder.

The Avengers set another record for fastest to $300 million, doing it in only nine days, one day faster than The Dark Knight did it in 2008. The Avengers missed setting the record in eight days by about $857,000, so the record could be eight days after actuals are reported on Monday. Looking ahead, The Dark Knight took 18 days to reach $400 million. The Avengers could accomplish this feat as early as Wednesday, which would be 12 days, and 13 days is a guarantee. As scalding as the pace was for The Dark Knight, The Avengers is almost 50% better.

The second weekend total for Marvel's The Avengers comes in at an estimated $103.2 million, as it becomes the first film ever to earn $100 million in its second weekend. This is the 19th biggest weekend of all time, meaning that The Avengers owns two spots in the top 20. The Avengers dropped only 50% from the biggest opening weekend of all time, where the former title holder (Harry Potter and the Deathly Hallows) dropped 72%, and The Twilight Saga: New Moon dropped 70% (prior to The Hunger Games, New Moon was the fourth biggest opener of all time). If we look at The Avenger's second weekend percentage compared to the previous top ten openers, it easily beats the average of 61.9% for those ten films. Additionally, the previous record for best second weekend decline was The Dark Knight's 52.5% in 2008, so again, The Avengers is showing unique behavior compared to other blockbusters.

The Avengers now has a running total – after only 10 days of release – of $373.2 million. That's enough to already put it in the top 20 overall highest grossing domestic films of all time, and has it already knocking on the door of The Hunger Games, which has a gross so far of $386.9 million. To say that The Avengers are creating box office history is a huge understatement – every time it rolls through a weekend, records fall like rain drops. Overseas grosses have been no different, and the worldwide total for The Avengers sits at an awesome $1 billion. To put this in perspective, The Hunger Games needed 52 days to become the 13th biggest film of all-time. The Avengers needed a week and a half to effectively match it. Equally amazing is that The Avengers is, if anything, more popular overseas, already becoming the 12th movie to earn a billion dollars worldwide. It is a mortal lock to become the third most popular film, perhaps as early as next week. The current holder of that position, Harry Potter and the Deathly Hallows Part 2, earned $1.33 billion. It has a chance to become the first non-James Cameron film to reach the $2 billion worldwide mark, as well as the first non-James Cameron film to join the $600 million club domestically.

Warner Bros. made the questionable decision to release the Johnny Depp/Tim Burton comedy Dark Shadows against the second weekend of Marvel's The Avengers. However, a week and two days ago, I thought The Avengers might open to $150 million. With the record-breaking assault by The Avengers, Depp and Burton were going to need a literal miracle to see their movie break out this weekend. Instead, we are left with more of a Sleepy Hollow result than an Alice in Wonderland result. Dark Shadows opened in 3,755 venues (many of them likely 'B' venues), and earned $28.8 million. When dealing with huge movies like The Avengers, sometimes perspective is blown when a movie like Dark Shadows opens. However, this movie came from Depp and Burton, the team behind hits like Alice In Wonderland ($116 million open) and Charlie and the Chocolate Factory ($56 million open), both of which, like Dark Shadows, had a known material to work from. While not the juicy backgrounds like Charlie and Alice, Dark Shadows does have a cult following, as it's based on the insane soap opera from the late 1960s. Reviews also didn't help, as the RottenTomatoes score came in at only 43% fresh, with "top critics" even lower at 39%.

Tracking was looking for more from Dark Shadows, and so was its distributor, Warner Bros. The tracking estimate for Dark Shadows had the comedy opening to $35-40 million, so audiences didn't buy in as much as expected. For Warner Bros., this movie was not a cheap production, as it cost $150 million to bring to the screen. Warner Bros. would have expected an opening weekend between $40-$50 million, and this throws well below that. Is Dark Shadows a disappointment? I don't believe so, at least not at this point. Let's remember who we are dealing with here – Johnny Depp – the man who made The Tourist a $120 million hit overseas, despite only earning $67 million stateside. Depp alone will make Dark Shadows a hit overseas, and will likely help Warner Bros. make some money off of this one – eventually.

Finishing third is Think Like A Man, now in the top three for four consecutive weekends. The Screen Gems/Rainforest release earned another $6.3 million in its fourth weekend, dropping 22% from the previous frame. Think Like A Man is already a huge success, behaving like The Avengers, but on a much smaller scale. Remember that this one cost only $12 million to make, opened to $33.6 million, and has a hot running total of $81.9 million. It has paid for itself four times over, and is really one of the great success stories of a targeted release. Think reminds me of director Tim Story's first big film, Barbershop, as it was the same kind of hit. It opened to $20.6 million and went on to earn $75 million, all against the same budget that Think Like a Man had, at only $12 million.

Fourth spot goes to the former box office story of the year, The Hunger Games. Now in its eighth (!) weekend, The Hunger Games took in another $4.4 million this weekend, and drops a sublime 21%. It is currently the 13th biggest film ever; however, it will drop to 14th when it is passed by The Avengers this week. It needs to reach $402.1 million to pass Transformers: Revenge of the Fallen, but is unfortunately a long shot to do so. So far, The Hunger Games has earned $386.9 million.

Fifth is The Lucky One, but the only thing Lucky about this one is its choice of release date. The Zac Efron flick earned $4.1 million in its fourth weekend and dropped 24%. The Warner Bros. flick has a running total of $53.7 million.

Sixth and seventh go to The Pirates! Band of Misfits and The Five-Year Engagement. Pirates! earned $3.2 million and dropped 42%.
Engagement earned $3.1 million in its third weekend and dropped 38%. The two films have respective totals so far of $23.1 million and $24.4 million.

Eight spot goes to The Best Exotic Marigold Hotel, a film I believe we will hear more of in the weekends to come. After a successful arthouse roll out last weekend, the Fox Searchlight release expanded to 178 venues this weekend and earned $2.7 million. It had a solid venue average of $14,888, and has a running total so far of $3.7 million.

Ninth and tenth go to Chimpanzee and new entry Girl in Progress. Chimpanzee earned $1.6 million, declined 35% and has a running total of $25.6. Girl in Progress is a limited release from Lionsgate featuring Eva Mendes. Thanks to a weak lower portion of the top ten, it was able to break in with a spot, earning $1.4 million from 322 venues.

Overall, things remain white hot thanks to The Avengers. The top 12 films at the box office this weekend pulled in $161.2 million. A year ago, Priest flopped, and Bridesmaids was just getting started. Thor repeated on top, and the top 12 took in $128.9 million. Next weekend, The Dictator opens on Wednesday, while Battleship and What To Expect When You're Expecting both open on Friday.