Weekend Forecast for May 11-13, 2012
By Reagen Sulewski
May 11, 2012
BoxOfficeProphets.com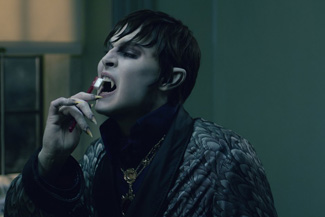 ---
After last weekend's earthquake of a start to the summer movie season, this week, and maybe the whole rest of the summer, seems kind of anti-climactic. But still we soldier on, with what might be one of the stranger wide releases of the summer.

Dark Shadows feels a bit like the cashing in of a chip for both Tim Burton and Johnny Depp, who reunite for the umpteenth time for a bit of weirdness. The film is an adaptation of a '60s/'70s soap opera filled with supernatural elements and practically constructed out of camp. Mainly remembered for how terrible it was, it's maintained a cult following all these years, and now we all get to indulge Depp and Burton in their fascination.

Depp plays Barnabas Collins, a Victorian-era vampire who was cursed by a witch (played by Eva Green) after rejecting her advances and buried in the ground until the modern age of 1972 – giving us the opportunity to relish in some oh-so topical "weren't the '70s weird?" jokes. Upon being unearthed, he seeks to bring his family estate back to its former glory, but there's still that pesky witch hanging around. There's also the modern Collinses, an Addams-esque collection of oddballs and bored screwups. It's a nice collection of actors that they've collected – including the now de rigueur Helena Bonham Carter, we also have Michelle Pfeiffer as the current Collins matriarch, Jonny Lee Miller, Chloe Grace Moretz and Jackie Earle Haley, with a bit of Christopher Lee thrown in for good measure.

The gist of the movie's advertising seems to be based on "Johnny Depp has a weird haircut and talks strangely. Isn't that *funny*?", and while that's not the strongest thing to build a campaign around, it has worked before. That's almost totally the appeal of the Pirates of the Caribbean movies, for instance, with a little sword play thrown in. Switch it up for vampires and you're pretty close to Dark Shadows.

The last collaboration between Burton and Depp was 2010's Alice in Wonderland, which shocked the world with a $116 million opening weekend, and over a billion dollars worldwide. That was in part due to it being on the forefront of the new 3D trend, which Dark Shadows won't be taking advantage of. That also had a huge in-built familiarity for the vast majority of movie-goers, who didn't have to have the premise explained to them. With Dark Shadows, there's almost a feel like we're being pranked, and the real movie's going to be revealed at some later date.

Still, when Burton and Depp try for blockbusters, they usually get them, after a fashion. Perhaps the only outright failure on Burton's part is Mars Attacks!, which topped out at $37 million. Neither Sweeney Todd nor Corpse Bride were really all that big, but budgets were kept smallish on those. Depp is a little more inconsistent, but also makes more smaller movies, like The Rum Diary, which was a personal project that was never destined for big things. I think the weirdness of this one falls onto the "bad Burton" side of the equation, which is going to keep it from huge status, but it should still start out with a decent $35 million.

Thus, barring a collapse like we've never seen in history, The Avengers will have a second reign atop the box office charts. The list of superlatives describing its take last weekend could get tedious, but here's a few amazing stats – it has three of the top 15 days in box office history, including #2 and #5; in just three days it became the 109th highest grossing film in history, besting the entire domestic runs of films like Ratatouille, Armageddon and Superman Returns; in just its first four weekdays (Monday through Thursday), it will have matched the domestic run of John Carter so far. Now here's the scary thing – this film might have legs.

With ecstatic word-of-mouth and the loyalty of rapturous fanboys who'll sign up for repeat viewings, The Avengers has a shot at dominating several weeks of box office and rewriting the record books. Not beating Avatar for having the highest second weekend at the box office would mean a drop of over 63% – which is possible. Some context seems necessary here – any film with significant midnight screenings isn't going to have a great percentage drop by the usual standards. Look at the most recent example, The Hunger Games, which shed almost two thirds of its initial box office, but has kept churning along ever since, and will be close to $400 million by the time its run is over, due to what must be some repeat viewings.

In terms of actual ticket numbers, thanks to 3D and IMAX pricing, the number of people that actually saw the film this weekend probably isn't that much higher than some other past blockbusters like The Dark Knight or Harry Potter, so there's still the same theoretical audience out there. The unusually flat drops across the weekend also show some promise – just an 18% hit from Saturday to Sunday – that this could be a film with some staying power. A really terrible overall performance from this point would leave it with around $450 million, so we're dealing with some rarefied air. A second weekend of about $87 million is probably in the cards here.

Thanks to the typical running scared mentality that rules May, that's pretty much the end of the line for significant films this week. Think Like a Man should lead all other returning films with a modest $4 million, and may be able to reach $90 million total, which is a great figure for a previously unheralded film. The Hunger Games, as mentioned, is shooting for the $400 million milestone, and should add about $3 million this weekend. Joining it at around that amount are The Pirates! Band of Misfits, The Lucky One and Five-Year Engagement. With the tenth place film like sitting at around $1.5 million, it'd be a great weekend for something in limited release to sneak up on people and get some press. The Best Exotic Marigold Hotel would seem to be the likeliest candidate, as it expands to over 150 screens, and finished 16th last weekend.