Weekend Wrap-Up
Avengers Explodes: Meet the New Box Office Superhero
By John Hamann
May 6, 2012
BoxOfficeProphets.com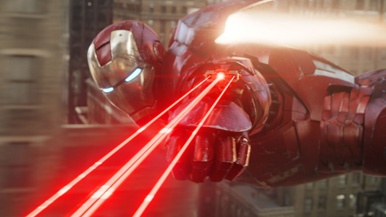 ---
Summer movies are here and the box office is rolling. Only seven weekends after The Hunger Games blew up the box office and opened to $152 million, we have something much bigger this frame in the form of Marvel's The Avengers. The superhero mash-up rode an impressive streak of superior marketing (maybe the best ever in the history of movies) and super-strong buzz to a record-breaking opening weekend of $200.3 million. Summer has started, and to say that Marvel's Avengers has started it with a bang is an insult to bangs.

The number one film in North America - and around the world - is The Avengers, the all-star superhero flick. Not only does it sport names like Robert Downey Jr., Samuel L. Jackson and Scarlett Johansson, but it also has the true stars of the Marvel Universe: Iron Man, Thor, and The Incredible Hulk, just to name a few. Never before has it been the case that the character names have been more of a draw for a movie than the actor's names.

Avengers started its historic weekend with $18.7 million on Thursday night, the most ever for a superhero movie, but the midnight gross paled in comparison with Harry Potter and the Deathly Hallows Part 2 ($43.5 from midnights) and to a lesser extent, The Hunger Games ($19.7 million from midnights). The Dark Knight earned a similar $18.5 million from those midnight screenings, so eyes were on the first day gross of the Avengers versus the first day of The Dark Knight's reign. The Batman Begins sequel took in $67.2 million in its first 24 hours. With midnights subtracted, it equaled a $48.7 million opening day. The Hunger Games had a first day of $67.2 million, but that's reduced to $47.5 million after midnights are removed. Finally, there's the big dog, Harry Potter 7.2 - it earned a historic $91.1 million on opening day. That's a record Potter will continue to hold, but you have to keep in mind that it really came in at $47.6 million once those midnights are subtracted.

So, compared to these juggernauts, how did The Avengers do?

After earning $18.7 million on Thursday night, Friday daytime screenings had Disney expecting a $65-$70 million opening day, according to The Hollywood Reporter. They were surprised by busy late night showings on Friday, and the opening day came in at a sizzling $80.5 million, behind only Harry Potter and the Deathly Hallows Part 2. However, if we pull out the $18.7 million earned by Marvel's Avengers on Thursday night, the true opening day tally hits $61.8 million, which should be considered the actual record breaker. After Friday, The Avengers was already leaps and bounds ahead of The Dark Knight, and had Potter in its sights. It was going to come down to the weekend multiplier (weekend gross divided by opening day gross). If we assumed that it would follow The Dark Knight's trajectory, the formula for the weekend would have looked like this:

$80.5 million (Friday) - $18.7 million (midnight showings) = 61.8 million x 2.7 multiplier = 166.9 million + 18.7 million (adding back in the midnight showings) = 185.6 million

Should the expected weekend multiplier of 2.7 hold, The Avengers was going to have the largest weekend of all time. Had the multiplier slipped to 2.6, the weekend would have been $179.4 million, still well above Potter's $169.2 million record-breaking haul. A multiplier of 2.5 would have given Potter a shot at holding the title, as The Avengers' total would have hit $173.2 million. Any multiplier lower than 2.5 would have left Potter as champ, and a 2.3 would put it on par with The Dark Knight. However, because the formula pulls out the midnight amounts, the multiplier should never be that low, and as of Saturday morning Marvel's Avengers was expected to come in at 2.6 or higher. After the midnights were pulled out of The Dark Knight's total, the weekend multiplier for that sequel came in at an amazing 2.9. The Dark Knight was able to pull that kind of multiplier because it had fan power and it was good, not unlike The Avengers. The Dark Knight was 94% fresh at RottenTomatoes, Marvel's Avengers came in at 93%, along with an A+ Cinemascore.

The Dark Knight's Saturday gross was off 29% from its first day gross (including midnights) at $47.65 million, or about $1 million off from its "true" Friday number. The Saturday gross for Marvel's Avengers was an absolutely astounding $69.7 million, meaning it dropped 13% from its midnight-inflated Friday, but increased 13% from its "true" Friday night gross. Sunday was estimated at $50.1 million, which means the new weekend champ of all time is Marvel's Avengers, which took in a world-beating $200.3 million over three days this weekend. Harry Potter and The Deathly Hallows Part 2 still owns opening day gross and midnight screening records, but the rest of them have fallen over this historic weekend.

The Avengers opened at 4,349 venues, and had an out-of-this-world venue average of $46,063, thanks to 3D pricing and IMAX venues. It finished the weekend with a multiplier of 2.94 (with the midnight screenings removed), which not only speaks to quality and buzz, but also to advanced ticket sales. This is a new movie ticket sales marketplace we live in compared to ten years ago, and people are now slotting themselves into Saturday and Sunday screenings in advance, which is having an impact on weekend box office. The Avengers is not a fanboy movie or sequel; however, those are ingredients in its success. It's like Potter 7.2, but didn't have seven films before it priming the eighth to launch into the stratosphere. While there were four disparate precursors (six if you count the failed Hulk projects) for The Avengers, Potter built to a conclusion, while the Marvel films built to an introduction. Logically, Potter's final chapter should have been more appealing than the start of The Avengers.

How did Marvel accomplish this feat? Marketing, but only a small portion was the traditional marketing we've seen over the last 30 years. Sure, the trailer was great and buzz worthy. Marvel and Disney did all the things necessary to turn a tentpole into a franchise, but we are talking the biggest movie weekend ever, after all, and Heath Ledger didn't die after filming. The best marketing for Marvel's Avengers happened inside the movies of the Marvel Universe. They did this by having Nick Fury show up in Captain America, Thor and the two Iron Man films, Agent Coulson in Thor and the two Iron Man films, Tony Stark in The Incredible Hulk, Captain America's shield in both Iron Man films, Black Widow in Iron Man 2, and Hawkeye and the villain of The Avengers, Loki, appearing in Thor. This cross-pollination of superheroes has always kept the idea of an Avengers movie at the forefront of audiences' brains. They knew that The Avengers was coming soon, and that they should pay attention. The Marvel films associated with the Avengers (Iron Man 1+2, Thor, Captain America, and 2008's The Incredible Hulk) have amassed $1.123 billion at the domestic box office alone, all of which kept this cross-marketing idea alive. I would say that it worked.

After seeing the opening credits for Marvel's Avengers, you may have thought this one was a Paramount release instead of a Disney release, as the Paramount logo appeared, but not Disney's. In 2009, when Disney bought Marvel for $4 billion (a price I thought was ridiculous at the time, but not anymore), Paramount had previously distributed the original Iron Man moving, earning about a half-billion dollars in ticket sales from just that film alone. Paramount also had rights to distribute Iron Man 2, Captain America, Thor and The Avengers. In 2010 it was announced that Paramount would continue with Iron Man 2, Captain America and Thor, but distribution would revert back to Disney for The Avengers and Iron Man 3. Disney paid Paramount $115 million to back away from The Avengers and Iron Man 3, or 8% of the box office, whichever is more. According to Variety, the deal also kept Paramount's logo on the film, even though they aren't the true distributor. Should what is now called Marvel's Avengers earn $1.5 billion at the box office, Paramount stands to earn $120 million from just this title alone.

To recap, here are some jaw-dropping stats to show what The Avengers accomplished at the box office this weekend. Three previous titles reached $200 million in five days. Those are The Dark Knight, Transformers: Revenge of the Fallen and Harry Potter and the Deathly Hallows Part 2. This feat was accomplished for the first time in 2008. Keep in mind that until 2002, no film had earned $100 million in three days. Ten years and three days after Spider-Man (another Marvel property) achieved that mark, The Avengers upped the ante by doubling the pace with more than $200 million in three days. Thus, we have gone from $100 million in three days, to $200 million in five days, to $200 million in three days in a ten year span. This is the front-loading era in a nutshell. The Avengers has beaten previous record-holder Harry Potter and the Deathly Hallows Part 2 by $31.1 million, or 18.4%.

More remarkably, $200.3 million represents more than the best Iron Man opening ($128.1 million) and the best opening for any of the other members of the Avengers (Thor's $65.7 million) combined. Thor + Iron Man 2 represents $193.8 million worth of opening weekend box office, over $6 million short of The Avengers. Clearly, the sum of Marvel's greatest heroes is greater than its parts.

Finally, BOP is a group of unabashed fans of Joss Whedon. We would be remiss if we failed to note the following: After years of lamenting the fact that Twilight, a cheap Buffy the Vampire Slayer knockoff, is more successful than anything Whedon has created up to now, the tide turned this weekend. Not only has Whedon's latest directorial effort, The Avengers, earned $57.5 million more than the most popular Twilight opener (New Moon), but The Avengers also earned more on Saturday ($69.7 million) than the original Twilight made in its opening weekend ($69.6 million). That sound you hear is Whedon (rightfully) having the last laugh.

I find it almost ridiculous to look at the other films in the top ten this weekend, as they are a sorry crew compared to The Avengers. Finishing second this weekend is the Screen Gems/Rainforest Films hit, Think Like A Man, now enjoying its third weekend in release, its first where it is not in the top spot. Think Like A Man earned $8 million in its third frame, and was off 55% compared to last weekend. Think Like A Man had already earned $65 million before entering the weekend, and last weekend dropped 48%, so this is drop A) cannot be attributed to the Avengers; B) is not a failure in any form. Let's remember that Think Like A Man is a $12 million film (compared to The Avengers' budget of $220 million), so at this point in its release, Think has already earned more than six times its production budget domestically (Avengers would have to earn $1.3 billion stateside to claim the same). Think Like A Man has a gross so far of $73 million, and is almost as impressive as The Avengers, but on a much smaller scale.

Third is the previous big box office surprise, The Hunger Games, which is now in its seventh weekend. After a strong charge last weekend that brought in $10.8 million and reduced its drop to only 26%, The Hunger Games got avenged this weekend. The blockbuster could only pull in $5.7 million and dropped 47% (still the best hold in the top 12), as the theater count goes from 3,572 last weekend to 2,794 this weekend. With a gross so far of $380.7 million, it's surprising to say that The Hunger Games will see Marvel's Avengers domestic gross close up in the rear-view mirror really soon.

The Lucky One drops to fourth this weekend. The Zac Efron flick earned another $5.5 million and dropped 49% compared to its $10.8 million gross last weekend. The Nicholas Sparks novel has brought in $47.9 million.

Fifth is The Pirates! Band of Misfits, which drops all the way from second spot where it debuted last weekend. Pirates! earned only $5.4 million and fell a drastic 52%. The domestic cume for the Aardman flick sits at $18.6 million, but it has also earned over $60 million overseas against a production budget of $55 million.

Sixth is the Judd Apatow miss The Five-Year Engagement, with Jason Segel. After getting off to a slow start last weekend with $10.6 million, this one didn't work as counter-programming. It took in only $5.1 million in its second weekend and fell 52%. The $30 million Universal release now has a running total of $19.2 million.

Seventh is The Raven, the Edgar Allen Poe story with John Cusack. After being dumped last weekend with $7.3 million, the thriller took a dive in this frame, taking in only $2.5 million. It fell 66% and now has a cume of $12 million against a production budget of $26 million. The good news for distributor Relativity is that they bought US domestic rights for $5 million, plus marketing.

Eighth is Jason Statham's Safe, which also got pushed to the side this weekend. The action flick took in only $2.5 million and dropped a woeful 69%. The Lionsgate release now has a total so far of $12.9 million.

Chimpanzee and Three Stooges are ninth and tenth. Chimpanzee earned $2.4 million and dropped 54%, while The Three Stooges earned $1.8 million and declined 65%. Respective cumes are now $23 million and $39.6 million.

Overall this weekend, it's a no-brainer that the box office is way up over last year. A year ago, Thor was on top with a $65.7 million gross, leading the weekend to a respectable top-12 total of $155.2 million. This weekend, Marvel's Avengers easily beat last year's top 12 all by itself, leading the top 12 to a $241.8 million total. Next weekend, Warner Bros., Johnny Depp and Tim Burton will try and launch Dark Shadows against the second weekend of Marvel's Avengers, which will make for a very interesting weekend.