Weekend Forecast for May 4-6, 2012
By Reagen Sulewski
May 4, 2012
BoxOfficeProphets.com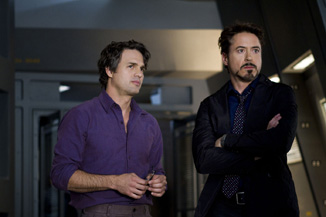 ---
And so it begins. The summer movie season, or Geek Christmas, gets underway this weekend, and boy is it not messing around this time. Our first big movie of the season is a really good contender to be the top film of the year, and has a shot at some records.

This weekend's release of The Avengers is the culmination of what might be one of the most ambitious projects in film history. What started a little over four years ago with the release of Iron Man comes to fruition, as the film collects four franchises worth of superheroes together for one gigantic battle for the world. It's sort of the Ocean's Eleven of comic book movies, but with more of the Earth exploding.

In addition to the aforementioned Iron Man (Robert Downey Jr), we also have the stars of last year's comic book one-two punch, Thor (Chris Hemsworth) and Captain America (Chris Evans), The Hulk (recast for a third time, with Mark Ruffalo) and the Professor and Mary Ann of The Avengers, Hawkeye (Jeremy Renner) and Black Widow (Scarlett Johansson). Also linking the films together are Nick Fury (Sam Jackson) and the film's main villain Loki, plus many other assorted minor characters who, quite frankly, matter to about 12 nerds out there. The remarkable thing here is that they were able to get everyone together at the same time (some of these people have actual careers outside this) for a price that didn't make this The Most Expensive Movie Ever™.

Writing and directing duties have been handed over to Joss Whedon, a move that almost makes up for having Firefly canceled. The creator of Buffy the Vampire Slayer et al. is perhaps the ideal choice for this film, given how connected he is with the comic world, and how he's shown himself to see capable of blending the fantastic and the ordinary. He's also known for the wit he brings to projects, which should help keep this story about magic aliens and monsters from becoming over-serious. Early reports say he's achieved that balance, creating spectacular action and making sure that character moments come through amidst all the 'splodin'.

Last year's Summer of Comic Book Movies was a bit underwhelming and pointed to the possibility that audiences are growing tired of the genre. I think this is a bit of a naïve view, considering that most of last year's comic movies, particularly the Marvel ones that led into The Avengers, were not of top flight heroes. Of course, Iron Man wasn't necessarily top flight either, but also had an amazing trailer. Thor and Cap... not so much. The Avengers previews have also been spectacular, with at least two amazing money shots and a number of smaller moments that really do a great job of selling the team concept and the epicness of the story.

It's that last quality that is what makes The Avengers likely to be such a world beater. This is the film where four movies worth of character building build to a climax, and with the fate and existence of the world as the stakes. How can that not be enticing? Available in basically every expensively ticketed format as required these days, The Avengers will have all the advantages of the myriad of films that have taken on the opening weekend record before.

Pre-sales have been announced as not just greater than any other Marvel film before, but all pre-sales for all Marvel films since Iron Man. Pre-sales have become a bigger deal as years go on, so we can't just add up every opening weekend like that, but it certainly shows that the interest is sky high. While it lacks the finality of a Harry Potter 7.2, there's a certain sense of closure in bringing this plan to a close and assembling the Avengers. It's already been open for a week overseas, and brought in a staggering $185 million. There's no apples to apples comparison possible here, but alone that's almost as much as the entire overseas take of Captain America.

When opening weekends get this big, there's an inherent unpredictability to them, since minor events can have major effects. Midnight screenings could sell out or not, and that could depress later days, or just reflect the overall demand. Sellouts and running time, usually insignificant, start to enter into the picture. As such, there's only so much confidence I can have in a number. I believe that there's a good chance for it to surpass the current record of $168 million, as posted in July by Harry Potter. On 4,349 screens, I predict The Avengers to kick off the season with a $172 million number.

And of course, there are other movies in theaters this weekend, but they hardly seem important. Think Like a Man will miss a third weekend at the top of the box office by thaaaaaat much, though its $60 million to date is very impressive. As a date movie, it shouldn't be affected much, if at all, by Avengers, and will be the Sham to Avengers' Secretariat with $10 million.

The Pirates! Band of Misfits will still serve as the major kid film for the weekend, or at least kid-specific. The $11 million opening isn't much to write home about, but Aardman productions have typically had decent legs, so there's a chance this hangs around for a little bit. Look for around $7 million this weekend.

The film that The Avengers is trying to overtake in the 2012 box office sweepstakes, The Hunger Games, just refuses to go away, earning almost $11 million in its sixth weekend (nowhere near a record, mind you, but still impressive in these days of two month theater runs). In fact, for each week after its opening, its rate of decline has fallen – after a steep and expected two-thirds drop initially, it's now dropping by about a quarter. Losing a big chunk of screens might hurt it some, especially if they're the expensive ones (and we know it had a limited IMAX run last week), but it should still grab about $7 million this weekend.

Two romantic movies, one comedic, one straight-up, wrap up our list of significant films this weekend. The Lucky One fell victim to the usual Nicholas Sparks second weekend letdown, more than halving its opening weekend. Live by the cult fanbase, die by the cult fanbase. Look for it to earn about $5 million this weekend.

Meanwhile, The Five-Year Engagement looks to be a bit of a speed-bump in Jason Segel's conquering of Hollywood, opening to just over $10 million, which is a big step back from some of his other films. Perhaps it was just too generic looking to be a big hit. I don't see this falling off too badly, though, with around $6 million for its sophomore weekend.