The Amazing Race Season 20 Recap
The Amazing Race Season 20 Recap
Daron Aldridge
May 1, 2012
BoxOfficeProphets.com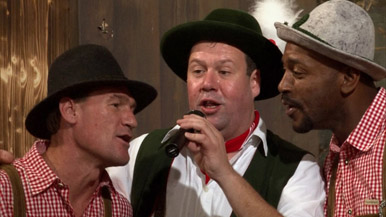 ---
Team Justified shouldn't take this descriptor as an insult (I actually like the guys) but last week proved they are the cockroaches of the Amazing Race 20. In that, they just seem impossible to eliminate. They were spared earlier on the fourth leg due to nonelimination and the same merciful fate was given them last week even after a marathon Bollywood session for Mark.

Let's jump right into the rankings heading into the tenth leg.

Army of Two Rachel & Dave - At this point in the race, there are only two teams that have shown they can win this thing without casting an incredible pall over the season. This (not necessarily) happily married couple is one of them. They reclaimed the top spot from Bopper & Mark who went from first to last in a gloriously choreographed flameout. Rachel & Dave still amaze me that they race so well, since they operate in only two gears – angry with one another and almost angry with one another. Passive aggressive may be the best way to describe how they interact with one another but aggressive (in a good way) is the best way to describe their competitive side. I simply don't think they can be beaten, which is what I used to think about…

Team Border Patrol Art & JJ - You'd think that three consecutive third place finishes would put them in third in the rankings. That would be the case, if the other remaining teams weren't so dreadful. Back to Border Patrol. These guys lost likability with their middle-school ranting about Dave not using the U-Turn and that seems to have translated into them losing focus on the race. Hence the three third place finishes. I blame that type of misplaced focus on their shortcomings as of late. For example, Art seemed more concerned with not being out done on the Cricket Detour by Bad Rachel than just getting done quickly. If they readjust their strategy, they could still get back in first or second.

Big Brother's Brendon & Rachel - It pains me to do this but Big Brother continues to perform as a middle of the pack type of team and unfortunately, the middle of the pack at this point is third place. If I was doing recaps way back in the third season when Zac & queen of emotional breakdown/threatening to quit Flo won, there isn't a snowball's chance in the fiery underworld that I would have picked them to make it to the end, let alone win. Well, that's how I feel about Brendon & Rachel. They don't deserve to win or even make it to the finale, so they probably will get to the final leg. Even with this week's teased breakdown by Bad Rachel at the prospect of shaving her head for a Fast Forward (I assume), I think they will not be eliminated. I predict she backs out of the Fast Forward (the episode's title "I Need Hair to be Pretty" supports the idea) but they somehow prevent me from being happy and are not eliminated.

Anti-Big Brother divorcees Vanessa & Ralph - I had such high hopes for this team at the start but with their blindness to clues right in front of them and Vanessa thinking this is the Amazing Insult Rachel Race, they have let me down. Just like Big Brother, they haven't exactly excelled on the race and sadly, haven't even done as well as Big Brother. It's for that reason that I put Anti-Big Brother on the fringe of the rankings but they are still ahead of…

Bopper & Mark - Team Justified struggled through an epically awful leg last week and I am still not sure if they really finished the leg properly. While they seem to have nine lives on the race, I think it may finally be over for them this week. Consider these FOUR reasons: Mark's ill from dehydration, Bopper's knee isn't doing them any favors, they are facing another Speed Bump, and they must be several hours behind the team immediately in front of them. Such a significant time difference was too much for the able-bodied/healthy Team Un-Fed Nary & Jamie to overcome, so I don't think our sickly Kentuckians will fare much better.
Let's get the fun started.

At 6:53 a.m., Blonde Rachel & Dave leave the pitstop for a temple via taxi. They read that their shoes must be removed before entering the temple, so I hope someone screws that up and is penalized. Why? Because I like when people overlook little details and Phil gets to burst their bubble. Why? Because I'm not exactly a nice person.

The married couple echo my thoughts expressed in the rankings that the only team that can beat them is themselves. They just have to not let their own issues stand in their way.

Just under 30 minutes after them is Big Brother. They acknowledge the other Rachel and her husband as the ones to beat and they need to not be too emotional. This is funny to hear them say since immediately before that they go on and one about how they just want Border Patrol and Anti-Big Brother out because they say mean things about them. Pretty sure just saying you shouldn't be emotional won't keep it from happening.

Art & JJ are off the mat next and JJ lets us know that for the last couple of legs he has been battling a head cold. This is the reason why he claims that he isn't as sharp, which I interpret as his excuse for them falling from grace after so many first place finishes. Vanessa & Ralph are the only a few minutes behind the guys but score a rickshaw quicker. They do acknowledge that a physical task for Vanessa could be their downfall.

So far all the teams have left, except Team Justified. In an unusual step, they check in with Bopper & Mark. Mark is laid out in bed with 'near heat exhaustion' and the onscreen prompt indicates that they are about three hours behind the other teams. Maybe the IV of fluid will help out but the fact that they appear to be staying in India doesn't bode well for the guys because there will not be an airplane-assisted bunching of the teams.

Rachel & Dave get to the temple first and get their clue pointing them to a 'mats and matting' store. They acknowledge that there is a Fast Forward in play but they can't use it again. That opens the door for Big Brother who is next on the scene to jump at the chance for the Fast Forward involving a traditional Indian ritual. It is reassuring to hear both of these teams acknowledge the need for reverence in the temple.

The Fast Forward awaits them at another temple. It looks like Big Brother will be the only ones to even attempt it because Vanessa & Ralph just disregard the clue and Border Patrol can't. But if Big Brother backs out and Team Justified at least gives it a shot (which they should if they are that far behind), that could be their saving grace.

Brendon reads the Fast Forward head shaving instructions as a somber Rachel listens. Phil reminds the audience that the last time this Fast Forward was done, Uchenna & Joyce actually went on to win the race. I really like when the show ratchets up the risk involved with Fast Forwards, a la head shaving or tattoo getting, because there is lasting effect on the team. Unlike this season's unloading a truck of hay or landing a toy helicopter on someone's head.

Brendon confirms that he would have no problem with doing it. Cue the tears…Rachel admits to paying $500 for hair extensions. But to be fair, a million dollars could buy a lot of wigs and even more elaborate hair extensions. Taking a passive aggressive page from Blonde Rachel, Brendon says it's her decision but when asked if he wants her to do it, he replies, "It's your decision…whatever…if we're out, we're out then…(mumbling)" Given that this is within the first hour or less of the leg, that seems a bit overdramatic to me. I rarely-to-never defend Bad Rachel but Brendon was just being douche-y here.

Thanks to a gas stop for Army of Two's rickshaw, Vanessa & Ralph get to the Roadblock clue first. They have to spin and spool 40 feet of rope made from coconut husk. Since this is remotely physical, Vanessa lets Ralph take it. I hope she realizes that she will be required to do a Roadblock as some point, even if it is physical.

Rachel & Dave are at the Roadblock with Border Patrol right behind him. Dave and Art are the ones up for their teams. As the girls are admiring Dave and Ralph's Roadblock attire of a sarong, Vanessa makes the unsolicited admission that Ralph is one of the few guys she has dated that didn't cross-dress. Not sure where that came from but now it's out there.

The guys are slowly…and I mean…slowly making progress on the task, when Big Brother shows up to the amazement of the other teams. They ask Rachel about the Fast Forward, since Brendon is doing the Roadblock, and she just says she doesn't want to talk about it. JJ then openly questions whether anyone is playing strategically since there are two teams that could've taken the Fast Forward but didn't. Accurately, JJ says that if Bopper & Mark do the Fast Forward, they are in a four way race for last place. That's a big if because I don't think that they would guess that it would still be available.

This also gets a better look at the utterly low self-esteem that Rachel has, as she said that Joyce was skinny and cute, so being bald didn't change that. Whereas, she says that she needs hair to be pretty and that she already has a big nose. She doesn't want to be the girl with a big nose and no hair. That makes Vanessa's nose job dig earlier seem even more harsh.

Back to the Roadblock, Dave is the first one down and off to spool four bundles of rope. Art and Ralph are next out. All three guys are spooling as fast as they can and losing flesh on the hands in the process. Brendon is the last one to finish the rope spinning portion and Rachel says she understands that they may be in danger of elimination because she wouldn't shave her head.

While Dave and Art lament the hand and back pain, Ralph just blows through the spinning portion. Anti-Big Brother is out first and heading to a barber at Fort Kochi. While they are running to the rickshaw, Vanessa takes a header into the sidewalk. Seems like a great time for a commercial. While we watch or rather skip the ads, we contemplate the severity of injury.

It appears to be a twisted ankle but Vanessa explains that she may have heard a pop. AND it's on the ankle with a screw in it, which implies surgery at some point. With Ralph taking her bag, she soldiers on and walks gingerly to their rickshaw. Meanwhile, Dave has finished the Roadblock, after squelching Blonde Rachel's cheerleading from the sideline. He explains that he just needs silence to focus. As Elton John sang in The Lion King, can you feel the love tonight? Because between these two, I cannot feel it.

The injury delay allowed Rachel & Dave to be in a virtual tie out of the Roadblock with Vanessa & Ralph. While they drive away, JJ gets Bad Rachel to explain why they didn't do the Fast Forward. Strategically and discreetly, JJ tries to plant the seed for them to go back to the Fast Forward so Bopper & Mark don't get it. He mentions that the door is wide open for Team Justified to bypass them all and then even tells Rachel that she would look good with a shaved head. In their confessional interview, I was surprised to hear JJ actually say that he thinks that Rachel is a nice girl but naïve and that is why he tried to sway her.

Brendon gets done as Rachel is letting JJ's words get her but not to the extent that JJ was probably hoping. Back at the pitstop, Bopper & Mark are on their way to the first temple clue.

Anti-Big Brother and Army of Two find the barber and get the Detour clue. They must now choose between Pachyderm or Pack a Box. For Pachyderm, they have to adorn an elephant with elaborate decorations and then haul 15 wheelbarrows of elephant manure to a truck. For Pack a Box, they have to fill ten boxes with dried ginger, seal the boxes, stencil labels on them and deliver them to a depot. Both teams opt for Pachyderm. Surprisingly, Big Brother catches up to the Border Patrol, with Brendon & Rachel doing the elephant and Art & JJ going for the spice box.

Bopper & Mark must face their Speed Bump, which gets them up close and personal with another guy wearing only a loin cloth (kinda like the oil bath task from earlier). They have to paint a tiger on the belly of a dancer to get their next clue. Bopper pulls out the finger painting and rock painting expertise with his daughter to make short work of the task.

While they paint, Vanessa & Ralph and Rachel & Dave are at the Pachyderm Detour. Vanessa is overjoyed that she will get to interact with elephant, yet seems not as excited once she gets on its back. Once again, Art & JJ have separated themselves from the pack and that could be detrimental at this point, considering the Pack a Box Detour seems much more labor intensive that the other one.

As the guys get to work on painting the boxes first, JJ spends the entire time complaining about the fact that the other teams didn't attempt the Fast Forward. Once again, I don't recall anyone being this upset about people not doing something on the race.

Rachel & Dave get the thumbs up on the first part of decorating the elephant and now they are off to part number two…get it…because it's shoveling and hauling elephant dung. Yes, I am a proud to have the sense of humor of a 12-year-old. Dave credits their work ethic and efficiency on the task for their success.

They have a slim lead over the other two Pachyderm teams, who are just now heading to the dung part of the Detour. Over at Pack a Box, Border Patrol has completed one of their ten boxes. This choice in Detour could spell their elimination, especially if Bopper & Mark go for the Fast Forward.

Speaking of Team Justified, they have painted their tiger belly and see the Fast Forward. They decide to head over just to see if the Fast Forward has been taken.

Rachel & Dave get their final clue, which sends them to a ferry for the pitstop. They are in the lead but could still may not get to the pitstop first, depending upon the ferry schedule, because Anti-Big Brother and Big Brother aren't far behind them. As they nervously wait on the ferry to leave, Dave contemplates paying the ferryman off to go early but they appear to already be preparing to leave. Fortunately, they are the sole team on the first ferry and the other two arch rival teams are left on shore to wait with each other.

Border Patrol admits they may have picked the wrong task for their Detour, as they are only half way through the box filling part. Awaiting them still is delivering said boxes to the spice depot. The only plus that they aren't aware of is that Team Justified still hasn't reached the Fast Forward. Border Patrol then takes it upon themselves to mock the contentious relationship between Rachel & Dave. Of course, this is instigated by bitter JJ. Sadly, it wasn't clever or funny but just him lashing out about being 'out-raced'.

As far as the targets of his ridicule, Rachel & Dave are officially team number one with their sixth first place. They are only one such placement away from tying the record. If they pull out a win the next leg and take home the million dollars after that, they will be the winningest team in Amazing Race history.

Uncomfortably, Big Brother and Anti-Big Brother hit the mat in second and third and Phil morphs into Jeff Probst by stirring the animosity pot between them. He asks if there will be any penalties, which Vanessa says she doesn't know because she thinks that Big Brother miscounted their wheelbarrows. This allows them to rehash all the ugly comments back and forth in front of our host. They actually apologize for some of the harsh comments they have made, like the nose job one, and shake on it. But they also admit they won't be friends when this is over.

Squarely in fourth place for now, Border Patrol's JJ slices open his pinky on the lid of the box. With blood dripping, they fight each other all the way to their delivery. Meanwhile, Team Justified are about to be giddy as school girls when they see the Fast Forward still available. It'll take even less time considering Mark is already bald. The guys at the temple at least go through the motions of pretending to shave Mark's hair and Bopper's head takes no time at all.

Border Patrol has delivered their boxes but is stuck in traffic as Team Justified is cruising along the streets. Oh is this a case of creative editing or truthful storytelling?

It is creative editing, as a disgruntled Art & JJ stroll up to the mat as the fourth team to arrive. JJ is demoralized and isn't exactly thrilled to be in fourth. They are still determined and convinced they will win it.

That means our Kentucky boys are in last and are finally eliminated from the race. They are proud of how they raced and are humbled by the overall experience. Well, with the teams that are left and Bopper & Mark gone, the race will be a lot less care-free and fun-loving and more competitive backbiting and bitterness.

Next week the producers bring back the two-hour season finale, so we will have to settle in for a long one. In it, both Rachels yell at their team mates with Blonde Rachel's "Then shut the [expletive deleted] up!" being the standout.

It also offers up a first: A team hits the final mat with all the other teams on hand but fails to complete the Roadblock, so Phil can't crown them the winner until it is completed. My guess is that it will be Border Patrol or Army of Two. My other prediction is that the final three will be those two teams and Big Brother with Vanessa & Ralph being eliminated in the first hour. This is based solely on previews and the fact that I REALLY don't want another disappointing winner but will probably get one in Brendon & Rachel.

Until next week.