Monday Morning Quarterback Part II
By BOP Staff
April 24, 2012
BoxOfficeProphets.com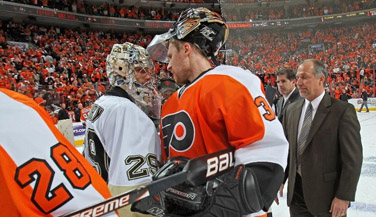 ---
Now we've got a Loverboy earworm

Kim Hollis: The Lucky One, which we presume refers to the one character in a Nicholas Sparks movie who lives, opened to $22.5 million. Should Warner Bros. be satisfied with this as a success? Also, what do you think of Zac Efron's career at this point?

David Mumpower: I believe any Nicholas Sparks adaptation that starts on the ground level tomorrow should expect roughly a $20 million opening weekend, give or take a bit for quality, star power and all the other miscellany that factor into the mercurial box office equation. This premise is a bit more romantic than most albeit quite stalker-ish, too. I was expecting just a touch more from the project since Zac Efron films have largely exceeded my expectations thus far. I guess I over-adjusted for this one. That in no way changes the fact that Warner Bros. has a hit on their hands here, though. $22.8 million in domestic revenue for a $25 million production is impeccable.

As for the latter question, I am of the opinion that Zac Efron has that rare ability that could make him the next Leonardo DiCaprio if he chooses commercial enough projects to achieve that sort of success. Charlie St. Cloud and Me and Orson Welles were not those sorts of projects, but New Year's Eve was supposed to be, The Lorax was (not that it sold well because of him) and The Lucky One is impossibly commercial. If he continues to gravitate toward these roles, he is going to be an anchor player in Hollywood.

Edwin Davies: Every time a Nicholas Sparks adaptation comes out, I find myself thinking, "Sure, that's a good result, but imagine how much better it would be if the film was good." Sparks' name is strong enough now to guarantee a solid opening for any adaptation, but the long-term success of each seems to hinge on how good the film is overall. There's a reason why the most successful Sparks adaptation, The Notebook, is also the one that comes closest to being a good film.

I think that Efron seems to be on the verge of either becoming a huge star or a mid-tier actor who never quite makes it. He's got an old school song-and-dance man charisma that is pretty rare these days, and with the right project he could be headlining huge films. However, the projects that he has chosen since becoming known for playing young Simon Tam in Firefly starring in High School Musical have not been the right ones. Another few films like The Lucky One and he could be a major figure.

Matthew Huntley: From a Warner Bros. perspective, this result is solid and the studio will certainly end up in the black on this. That's good for them and for the industry, but from a viewer's perspective, it just means we'll have even more "From the best-selling author of 'The Notebook'..." adaptations to endure. Granted, I haven't seen The Lucky One, but the trailer made it seem overly schmaltzy and cookie-cutter. Hopefully I'll be proven wrong if/when I see it.

Speaking of schmaltzy and cookie-cutter, Zac Efron's career looks like it's turning into just that. I've seen a handful of his films, but I've yet to see him stand outside the "male celebrity idol" roles. He's likable, sure, but nothing special. Perhaps he needs to delve into more independent cinema and find a part that can show off his raw acting talent, if any.

Felix Quinonez: I think this is a very good opening weekend. Sure it's not too much higher than the base opening of the usual Sparks adaptation but they also have opened lower and any time a movie with a $25 million budget has an opening weekend of $22 million, it has to be marked as a win.

As far as Efron's career, I think he's done very well for himself, especially when you compare it to his High School Musical costars. Yes, his Orson Welles movie was a flop but it was never meant to be a big hit. And it certainly did add some variety to his resume and it does show that he's willing to take some risks. I don't think The Lucky One is going to have too much of an impact on his career but it will allow him to keep having one.

Reagen Sulewski: Edwin, I think the problem is always going to be that people know what to expect from Sparks movies. Those that are sold on his style of romance are going to turn out every time, while everyone else would rather drink bleach. That's a pretty good recipe to churn out modest successes (and the movies stay cheap), but it's rarely going to get you a big break out hit.

Max Braden: Any $20+ million opening for a two-person drama should be considered a hit, but on Zac Efron's career? He's got all the blistering thrills of Kevin Costner.

Chimps will eat your face off if you let them. Don't be fooled.

Kim Hollis: Chimpanzee, a rare G-rated movie from Disney, opened to $10.7 million. What do you think of this result...and chimpanzees in general?

David Mumpower: I mentioned last week that Lockout seemed like a failure until we examined the isolated aspects of the release. Just because a movie doesn't open like The Hunger Games doesn't automatically make it a waste of time for the owners of the property. Disneynature has cultivated this new line of National Geographic-esque projects that show animals in their natural habitats. I actually have African Cats sitting on my TiVo right now and plan to watch it soon. I presume it will be like a less musical version of The Lion King. With regards to Chimpanzee, this style of release hearkens back to a different era wherein parents would take their children to the theater to watch subject matter that wasn't available on television. Since this is no longer true, I am of the opinion that a $10 million debut is exceptional. The implicit trust parents have in the Disney brand carried the day here.

As for what I think of chimpanzees, let's see. I like the orangutan from Every Which Way But Loose, any ape that uses sign language and the music of The Gorillaz. I do not like the chimpanzee from Ed (without opposable thumbs, I question his defensive abilities), King Kong due to Peter Jackson's laborious remake and all of those punks from the Planet of the Apes because they enslaved humanity. So, I guess I'm indifferent to chimpanzees. A particularly cute viral video of one hugging a baby koala bear could change my mind, though.

Matthew Huntley: I agree with David on this being an exceptional debut for a nature film. In fact, it's the best opening of any of the Disney Nature productions, which isn't too much of a surprise considering that chimpanzees are the most human-like animals observed so far, and we all know how much humans like to watch things that are like them.

I know it's all for business, but I really hope Disney keeps making these movies because I think they truly have noble intentions and educate viewers in a sweet, innocuous way.

Regarding chimpanzees, I wish I knew more about them to make a better informed judgment (perhaps that's incentive for me to see the movie?), but based on what I know at this moment, I think they're cute, interesting and I admire their protective nature. I believe the premise of Chimpanzee is that an infant gets lost and is "adopted" by an older male; if that's the case, I can see them setting an example to humans. They also live minimally and in relative peace with one another. Wish we could ask them what their secret is...

Felix Quinonez: I haven't seen any of these Earth Day movies basically because they look like stuff I could watch on the Discovery Channel or National Geographic. I mean yes, Disney seems to have some good intentions, like educating people about...stuff, which is good. But if I'm just being honest, I have no interest in watching this stuff when it's on TV...for free, so I'm definitely not going to go the theater for it. And I'm sure I'm not the only one who feels this way...right? So a $10 million dollar opening seems very respectful to me.

As for chimpanzees in general, I just googled them and they're kind of cute, I guess. But, I mean, I'm a big fan of the Planet of the Apes series and I've seen those guys ride horse, shoot weapons, and even speak...so I'm not that impressed.

Reagen Sulewski: I gave this a slight uptick from the previous nature docs, but I had it in the back of my mind that this could break out a little more because of the Jane Goodall connection. If there's such a thing as a brand in this world, it's Goodall, and getting her blessing on this film made a difference, I'm sure of it.

Max Braden: What impresses me is that nature docs can perform in theaters when families can get high quality nature material like Planet Earth and Frozen Planet at home. I did enjoy TBS's Chimp Channel back in 1999. I think I enjoy snarky chimps more than back-talking, traffic-jam-causing chimps like in Rise of Planet of the Apes.