Weekend Wrap-Up
Book vs Book vs Book – Hunger Games Eviscerated, by Steve Harvey and Nichol
By John Hamann
April 22, 2012
BoxOfficeProphets.com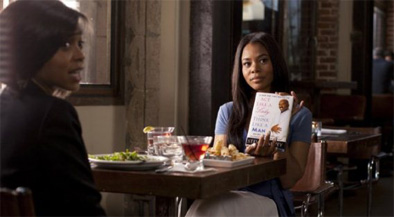 ---
And I thought the printed word was dead. After uber-bestseller The Hunger Games dominated the box office for four consecutive weekends (the longest streak since Avatar), it is only appropriate that two other bestsellers – a romance from Nicholas Sparks and a self-help book from Steve Harvey – dethroned the champ. Also, an important lesson was learned again at the box office: White males aged 18-35 aren't the only demographic that go to movies.

Our number one film of the weekend, despite being out to only 2,015 venues, is Think Like A Man. The Screen Gems release earned a massive, and completely unexpected $33 million, and had a fantastic venue average of $16,377, due to that small screen count. The masters of the small budget/big return, Screen Gems has done it again with Think Like A Man, spending only $12 million to make a film, and finding real dollar profit, likely after only seven days of release. A movie like Think Like A Man doesn't have the huge costs that a film like The Hunger Games did. Marketing was targeted and direct (cheap), and a tight venue count (likely urban centers) enabled those marketers to focus their efforts. The marketing worked very well, as Screen Gems is going to quickly realize a tidy profit from Steve Harvey and Think Like A Man – likely at least a $75 million domestic gross against that tiny, $12 million budget.

For those not in the know, this is a romantic comedy from director Tim Story, who broke into the scene in a big way with Barbershop, the $12 million comedy/drama that took in $75 million (and kept MGM in business for a few more months) in 2002. Story went on to direct some massive turds, including Taxi with Jimmy Fallon and Queen Latifah, and those excruciatingly bad Fantastic Four movies (which earned a combined half-billion worldwide). Tim Story thankfully moved back in his history to Think Like A Man, the movie based on Steve Harvey's non-fiction self-help book, Act Like a Lady, Think Like A Man: What Men Really Think About Love, Relationships, Intimacy and Commitment. Despite that title, this was a 2009 bestseller, and the book was used in the film as a plot device, as the characters read the self-help book and use Harvey's advice in their relationships.

The real star of the show, though, is Screen Gems, a studio that is always known for tight budgets with decent (but not excessive) grosses. Most recently, Screen Gems found success with The Vow, the Rachel McAdams/Channing Tatum romance that cost the studio $30 million to make before returning $124.3 million in domestic ticket sales. The list goes on forever, but includes titles like Easy A, a film that cost $8 million to make and earned $58.4 million at the domestic box office; The Exorcism of Emily Rose, a Laura Linney/Tom Wilkinson horror drama that cost $19 million and made $75 million; and Dear John, the Amanda Seyfried/Channing Tatum romance that cost $25 million and made $80 million. This list goes on forever, as Screen Gems made hay with the cheap horror phase that Hollywood went through in the early 2000s. Think Like a Man is just another profitable title the studio can add to their resume.

Think Like A Man wasn't the only female-driven film to trounce The Hunger Games. Zac Efron and Taylor Schilling also got in the way, as The Lucky One was just that. The film, based on the Nicholas Sparks novel, earned a not bad $22.8 million from a far too wide venue count of 3,155. The Lucky One had a venue average of $7,228. Does this mean that Zac Efron is back? No, it just means another Nicholas Sparks book has been turned into a movie, although this one did a little bit better than the average.

Nicholas Sparks is his own brand at the movies. His novels sell in the millions, and his core audience turns out for the movies based on his books, some of them multiple times. The first of them was 1999's Message in a Bottle, which featured Kevin Costner and Robin Wright. It had a stellar opening weekend of $16.8 million and went on to take in $52.9 million domestically. Its worldwide total was $118.9 million. It did have a budget of $80 million, so it did require some work to get to profitability. In fact, we'd have to wait for the turn of the century for Sparks to be a big deal.

Moving into the 2000s, Sparks had A Walk to Remember released in 2002. It starred Mandy Moore and earned an okay $41.2 million domestically, but that was against a budget of only $12 million. Over its first three weekends, A Walk to Remember had an average drop of 31% - despite being only 27% fresh at RottenTomatoes – and finished with an opening-to-total multiplier of 3.4. Then, The Notebook came in 2004, and it changed the careers of Sparks, Ryan Gosling and Rachel McAdams. The Notebook opened to only $13.5 million, good for only fourth place in its frame, but was still in good position considering the $29 million production budget. Following the opening, The Notebook proved to be excellent counter-programming against Spider-Man 2 (it dropped 23%), against Anchorman: The Legend of Ron Burgundy (it fell 12%), and against I, Robot (it dropped 14%). The Notebook turned a $13.5 million open into a $81 million domestic gross, or six times the opening weekend. Sparks proved that his books-turned-movies didn't need big stars to make them go.

Efron also proves that theory. The kid from High School Musical hasn't had a hit since 2009's 17 Again, and even that one wasn't all that. The body switching film earned $64 million for Warner Bros., well off the $90.6 million that High School Musical 3 earned in 2008. 2009's Me and Orson Welles was an out and out flop, barely earning $1 million, and Charlie St. Cloud didn't blow the cover off the baseball either, earning $31 million in 2010. In 2011, he was lumped in with other "B-listers with a pulse" for the ultra-forgettable New Year's Eve, which brings us to this weekend. This was the perfect choice for Efron, as this is a Sparks film, so success was virtually guaranteed, at least on a small scale. The Lucky One cost Warner Bros. only $25 million to make, so Efron's risk was minimal at best. Unfortunately, due to an agent's good choice, we are going to be stuck with this guy for years to come. Just look at Channing Tatum now. Hopefully a Jump Street sequel doesn't use Zac Efron.

That means The Hunger Games falls to third, as its streak of four consecutive weekend wins and 28 consecutive daily wins comes to an end. Despite dropping down, things aren't all bad for the Jennifer Lawrence-driven film, as The Hunger Games still earns $14.5 million, dropping a reasonable 31%. Let's remember that The Lucky One could be considered strong competition for The Hunger Games audience – both are based on books, and both are targeted largely at females. Despite the Lionsgate behemoth having earned $356.9 million domestically, The Hunger Games held even better than last weekend when it fell 36%, so it's obvious that this one is getting either repeat business, or is expanding its audience to older viewers. The Hunger Games still has an outside chance at $400 million, but will have to hold strongly again next weekend before facing off against The Avengers the following weekend (have you seen the reviews? Goodbye box office records).

Disneynature's latest title to try and cash in on Earth Day is Chimpanzee. The studio seems to be gaining a following for these films. Chimpanzee opened to $3.5 million on Friday, and turned that opening day into a weekend gross of $10.2 million from only 1,563 venues. It had an average of $6,529. Like African Cats ($6 million opening, $15 million finish), Oceans ($6.1 million opening, $19.4 million finish) and Earth ($8.8 million opening, $32 million finish), Chimpanzee caters to the Earth Day crowd, and is critically accepted (77% fresh at RottenTomatoes). Thankfully, a portion of the proceeds goes to the Jane Goodall institute.

Fifth goes to The Three Stooges, which takes a poke in the eye. After fooling people into $17 million in ticket sales last weekend, the Fox comedy got left behind this weekend, earning only $9.2 million and dropping 46%. The Farrelly Brothers comedy has now earned $29.4 million, as they look forward to washing this one off, and moving forward with Dumb and Dumber 2.

Cabin in the Woods is sixth, earning $7.8 million and dropping 47% compared to its $14.7 million opening last weekend. Despite the 92% fresh rating, the Cinemascore for Cabin came in at a C, which is likely affecting word-of-mouth. Still, Cabin, which cost Lionsgate $12 million (or about 3.5% of The Hunger Games current gross), has now earned $27 million, so despite sitting on the shelf for years, it will still eke out a profit.

American Reunion is seventh, and is dying on the vine, as this franchise never should have been resurrected. In its third weekend, Reunion earned $5.2 million and dropped 50%. The $50 million dollar film has now brought in $48.3 million for Universal.

Titanic 3D plummets to eighth, as with the anniversary of the sinking now in the past, people no longer care. The re-release earned another $5 million, but when compared to last weekend's $12 million gross, the drop equals 58%. Since returning to screens in 3D, Titanic has now earned $52.8 million.

21 Jump Street spends what could be its last weekend in the top ten. The leggy Sony release earned another $4.6 million and dropped 30% compared to last weekend. The comedy with the $42 million budget has now earned $127.1 million.

Finally in tenth is Mirror Mirror, the Julia Roberts fairy tale miss from Relativity Media. The film earned $3.8 million, off 40% from last week. Its grand total sits at $55.2 million, still well short of its $85 million budget.

Overall, this weekend is a surprising winner compared to last year, winning by just a hair. Thanks to strong debuts of Think Like A Man and The Lucky One, the top 12 films brought in $123.3 million, a couple million ahead of the $121.2 million that last year's top ten earned. Next weekend is the frame prior to The Avengers, and brings The Five-Year Engagement (aka future counter-programming), The Raven with John Cusack, Safe with Jason Statham, and Pirates! A Band of Misfits, from those wonderful oddballs at Aardman Animation.