Weekend Wrap-Up
Hunger Games Plays With Cabin, Stooges
By John Hamann
April 15, 2012
BoxOfficeProphets.com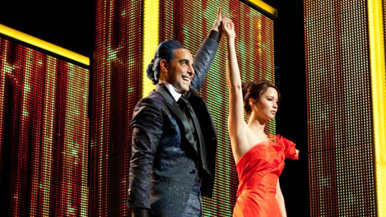 ---
The April box office slow-down is once again upon us this weekend, as The Hunger Games repeats on top for the fourth straight weekend, and the openers fail to earn $20 million. In 2010, the top 12 films in the first week of April earned $168.6 million; by April 23rd of that year, the top 12 was down to $89.7 million. This weekend, while The Hunger Games continues its pace toward greatness, openers were the much talked about The Cabin in the Woods from Josh Whedon, The Three Stooges from Fox, and Lockout from Open Road. I can feel us sliding already.

If Zac Efron's target audience has dissipated (and there's a good argument that it has), and The Lucky One fails to earn more than $15 million next weekend, The Hunger Games is likely going to be a five-weekend champ. Why? In its fourth weekend, The Hunger Games earned another $21.5 million, down a not bad 35% compared to last weekend's Good Friday inflated weekend. Quick trivia: What was the last movie in release that repeated at #1 four consecutive times? It's not Inception (three times). It's not Harry Potter and the Deathly Hallows Part 2 (it was number one only once). It's not Alice in Wonderland (three times). Instead, it is Avatar, which reigned for seven consecutive weekends at the end of 2009 and through the first month of 2010. Hunger Games' fourth weekend is in no way record breaking – the second biggest fourth weekend behind Avatar's $50 million is Titanic, way back at $28.7 million, followed closely by Spider-Man at $28.5 million. This weekend's gross does, however, make the Twilight films look foolish. By weekend four, every Twilight film ever released topped out at an embarrassing $7 million.

The Hunger Games is now on the verge of joining the top 20 domestic films of all time. The Jennifer Lawrence blockbuster moved ahead of total domestic grosses of some classic films this weekend including Harry Potter and the Sorcerer's Stone ($317.6 million), Iron Man ($318.6 million), and Alice in Wonderland ($334.2 million). To finish in the top 10 all time, The Hunger Games needs to gross more than Toy Story 3, which rang up $415 million in 2010. While a longshot, the next two weekends are barren in terms of exciting releases (they barely have a pulse), but The Avengers opens May 4th and will destroy everything in its path. So far, The Hunger Games has pulled in a magical $337.1 million, more than three times the gross of Lionsgate's third biggest film ever, The Expendables.

Second goes to The Three Stooges, which is either A) an affront to the past, or B) an affront to the present. Regardless, enough people got out to see this to keep it ahead of The Cabin in the Woods, which I thought might sneak up and steal second. The Stooges, played by comedy superstars (?) Will Sasso, Sean Hayes and something called Chris Diamantopoulos, earned a not-completely-bad $17.1 million from a way too wide 3,477 venues. This one seemed made for Jim Carrey, Jeff Daniels and Seth Rogen as Moe, but 20th Century Fox went cheap and got TV people. Directed by Peter and Bobby Farrelly, who haven't had a hit since the early part of the LAST decade, The Three Stooges drew a 42% fresh rating at RottenTomatoes. The studio has to be thankful the result isn't worse – critically or box office wise. Fox put up quite the marketing fight for this one, likely because the production budget was so slim – only $35 million. Stooges will likely make money for Fox, as this one may also play in Europe.

Third is The Cabin in the Woods from director and co-writer Drew Goddard (Cloverfield) and co-writer Joss Whedon (Buffy the Vampire Slayer, Angel, Serenity, the upcoming Avengers). On the shelf since MGM folded, The Cabin in the Woods had a buzz-filled week, due to mystery around the story line and some incredible reviews. The result, though, was almost expected. The Cabin in the Woods drew only $14.9 million worth of business this weekend from a muted venue count of only 2,811 venues. Is it horror? Is it sci-fi? Audiences were unclear, and the payoff was a lukewarm opening weekend and little buzz following, as the Cinemascore came in at a C. This one was originally supposed to be released by MGM in early 2010, but was sold to Lionsgate. The production cost for Cabin was $30 million, and with the strong reviews and buzz following this picture, it could turn into a cult classic on home video, which means Lionsgate should eventually make money on the film.

Fourth goes to Titanic 3D, as the famous boat marks the anniversary of its sinking this weekend. In its second weekend of 3D re-release, Titanic earned another $11.6 million, giving it a 33% drop compared to last weekend. The easiest comparison for this one is Star Wars Episode I: The Phantom Menace in 3D, which opened to $22.5 million, followed by four consecutive 60%+ drops. Titanic is saved this weekend by the non-stop babble in the press about the anniversary of the sinking, not to mention James Cameron's non-stop self promotion (this guy should have run for the Republican nomination – yes, I like him that little). After two weekends, Titanic 3D has taken the film's overall domestic total up to $638.1 million. Now sink and stay sunk, dammit.

Fifth is American Reunion, a sequel few wanted to see. But hey, it at least gave Tara Reid some non-street work. After opening to $21.5 million over Easter weekend, Reunion gets dumped in weekend two – badly – as it earns only $10.6 million, dropping 50%. American Reunion cost Universal $50 million to make, and will need some overseas help to make profit a reality. Its total so far is $39.9 million.

Relativity's Mirror Mirror drops to sixth this weekend, as the once promising Julia Roberts release is fading into obscurity. Now in its third weekend, the Tarsem Singh release earned $7 million, down 37% from its $11.1 million take last weekend. Mirror Mirror cost $85 million to make, and had it not been for overseas dollars, it would have been a mistake on a grand scale. The fairy tale has now earned $49.5 million stateside, and over $40 million from foreign shores.

Wrath of the Titans is a laughable seventh this weekend, as the swords and sandals sequel has quickly been shown the door. In its third weekend, Wrath earned only $6.9 million and was off a painful 53%. The $150 million picture opened to $33.5 million, fell 56% last weekend, and basically does the same thing this weekend. Shouldn't that mean a loss on the John Carter level? No way. Wrath has already earned more than the production budget overseas, and will likely finish with a $300 million worldwide total. Its domestic take is $71.3 million.

Eighth is our old friend 21 Jump Street, starring Jonah Hill and Channing Tatum. Now in its fifth weekend, Jump Street spends its first frame under the $10 million mark as this weekend's gross came in at $6.8 million, off 32%. The average drop for this one has been about 35%, and is the reason the comedy has pulled in $120.6 million stateside. Like The Hunger Games, 21 Jump Street is a true spring success story at the box office, with Sony turning nothing into a huge hit. The comedy cost $42 million to make, and will likely launch a franchise.

Ninth is Lockout, which Open Road Films is distributing for FilmDistrict. The only thing I know about this one is that it's a movie and it stars Guy Pearce from Memento. It earned $6.3 million from 2,308 venues, and was made in France for about $20 million. You won't hear about it again until it comes out on video.

Finally in tenth is Universal's over-achiever, Dr. Seuss' The Lorax, which has now been in release for seven weekends. The Lorax took in another $3 million this weekend, bringing its domestic total up to $204.5 million, against a budget of only $70 million.

Overall this weekend, box office numbers have hit the brakes as we pause and wait for The Avengers. The top 12 films this weekend earned $107.6 million, the lowest top 12 since March 16th. A year ago, the top 12 brought in $117 million thanks to Rio and the disappointing debut of Scream 4. Next weekend, things don't heat up unless there are still Zac Efron fans. Efron's The Lucky One opens, along with Think Like A Man (no, it has nothing to do with Madea), and the doc Chimpanzee, as Disney takes advantage of Earth Day again.