Weekend Forecast for April 13-15, 2012
By Reagen Sulewski
April 13, 2012
BoxOfficeProphets.com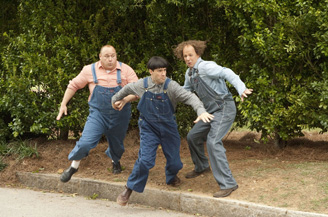 ---
We're officially into the pre-summer slow down, with studios holding back films they actually think have potential for those summer months. That doesn't necessarily mean the weekend is without quality, but let's just put it this way – one of this week's films should have come out in 2009.

That film is The Cabin in the Woods, a reductionist and highly meta- horror movie from the Joss Whedon factory. Originally filmed over three years ago, it fell victim to a studio battle over an aborted 3D conversion, and then a bankruptcy proceeding that delayed it indefinitely. Now, with The Avengers making Joss Whedon a better known name (though it's actually directed by LOST scribe Drew Goddard) and one of its stars having found a franchise of his own, it's worthwhile to dust this off and put it into theaters.

Most reviews are highlighting the need to go in as cold as possible for this film, so I'll do it the courtesy of describing it as little as possible. It is being advertised as a science fiction tinged take on the usual "teens in the woods" horror film, and presented as a commentary on them, in that usual Whedony way. Not an out and out comedy like Scream, it's not without humor, but mostly it's going for scares and for screwing with the audience's head.

One thing that's worked in the film's favor – three years ago, Chris Hemsworth wouldn't have been nearly the draw he is now. Last year's Thor vaulted him into superstardom, though the jury's still out as to whether he has any appeal beyond that. Unfortunately for the film, none of his co-stars has had the same luck in the intervening years, and they're all still relatively anonymous. Still, Thor! Hey kids, Thor! I exaggerate a little but that's a lot of the film's ad campaign.

Luckily, the quality of the film appears to be there to back up the mystery-filled ads. Reviews are almost universally positive, which almost never happens for horror films. This horror film in particular could have been sensitive to review slippage with its delay in getting to the screen. It turns out this is a bit of a hidden gem. In the meantime, however, teenagers getting stabbed has given way to found-footage horror, though that too may be running out of steam. Horror audiences looking for an alternative to Paranormal Activity may give this a chance, to the tune of about $17 million this weekend.

April's theme of "wait, who asked for this" continues with The Three Stooges, as directed by the Farrelly Brothers, who have just totally given up now. Adapting the classic slapstick comedy team from the 1930s-50s into modern times really just seems like Bad Idea Jeans writ large, but there's not a single intellectual property that won't be given a shot, so here we go. The roles of Larry, Moe and Curly go to Sean Hayes, Chris Diamantopoulos and Will Sasso (aka Jack, "Who?" and "Who?"), and they're placed in a fairly classic plot situation for the original trio – their orphanage is being sold and they need to come up with some scheme to save it, preferrably involving eye-gouging and windmill punches. A few other recognizable names are on hand, including Jane Lynch, Jennifer Hudson and swimsuit model Kate Upton as nuns, Sofia Vergara as the evil land developer, and the cast of Jersey Shore as themselves, which is reason enough to burn the negatives right now.

In fairness, this film is pitched purely at the under 13 set, so criticism of the intelligence level of the film is probably misplaced. This kind of gratuitous slapstick and broad comedy just looks odd in modern contexts, and there's not a lot of moments in the trailer that really qualify as clever or funny. Even the tagline, "Just Say Moe", makes no sense. Was that the first thing they came up with and called it a day? It sure shows the care they probably took in making this, which is to say not much. Don't expect a lot out of this, with maybe a $9 million opening in store.

Whatever criticisms might get laid at the feet of Lockout, a lack of plot won't be one of them. Guy Pearce stars as a wrongly-convicted man chosen for a one-man mission to rescue the President's daughter from a prison riot – in space. Hey, at least it's been a while since Escape from L.A., and maybe putting it in space could add something. Or probably it's just a gimmick. But it's worth a shot, right?

Another thing you have to give the film is that it sure looks like they're having fun with the concept, though whether the script, the action or the effects are any good are still up for debate. It's a Luc Bresson production, which can mean a wide variance in making any sense. That is, if they even get to American shores – for every Besson production you see, there's like eight more out there in the world somewhere. With a different star, this might have gotten an actual push, but Pearce is still pretty much a non-factor as a draw. Describing his character entirely in cliches and tropes doesn't help things. The bottom line here is that without a big ad push, a star that people care about or any kind of money shot in the trailer, this is going to be a quickly forgotten film. I'd say we're looking at around $4 million here.

That leaves things wide open for The Hunger Games to take a fourth straight weekend crown. After a pretty steep fall in its second weekend, things turned around a bit, and it held serve with a $33 million third weekend. Currently sitting at around $315 million domestic, it should hit the top 20 all time by the middle of next week after a $19 million take this weekend.

American Reunion defied its inessential nature to earn $21 million in its bow, though this represents a low point in its inflation-adjusted history. Whereas the rest of the American Pie series all broke $100 million domestic, this one might struggle to crack $60 million. I'd add another $11 million to its total for this weekend.

Titanic 3D failed to make as much of a splash as many might have thought, with just $17 million and $26 million over five days. That's quite a bit less proportionally to some of the other 3D re-releases like The Lion King and Beauty and the Beast, considering this was once upon a time the box office champ. Perhaps it's backlash, perhaps the core audience was smaller than we thought, but either way it's a bit disappointing. I'd expect about $10 million here.

Crowding around the $6 million mark should be three more carryovers, Wrath of the Titans, Mirror Mirror and 21 Jump Street. Of these, only the latter should be this far down in its weekend number already. While Mirror Mirror's eventual $60 million total looks pretty bad, Wrath's future $90 million finish is a much bigger disaster on a relative scale. Meanwhile, the TV adaptation is cruising along towards $150 million.