Weekend Wrap-Up
Games Ruin Reunion, Sink Titanic
By Kim Hollis and David Mumpower
April 8, 2012
BoxOfficeProphets.com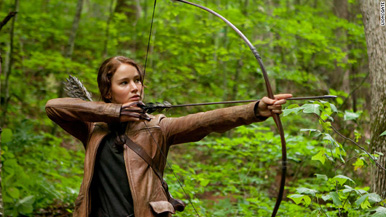 ---
Easter Weekend is here, along with glorious spring weather, baseball and two new(ish) theatrical releases from Hollywood that took over megaplexes. American Reunion, an attempt to recapture the magic of the American Pie films, was the primary new offering from studios, but we also had an obligatory 3D re-release. Titanic 3D, a remastering of James Cameron's world-conquering, Academy Award-winning masterpiece, was looking to capitalize on the 100th anniversary of the tragic event. Neither one was able to overcome the awesomeness of The Hunger Games, though, as that film pushed past the $300 million mark and showed some staying power.

Yes, our #1 film for the Easter holiday weekend is The Hunger Games, which now sits at a massive $302.8 million and still has plenty of life left. The Lionsgate feature earned another $33.5 million over the weekend, which included a Good Friday that many had as a day off. Its decline was an improved 43%, which is pretty solid when you consider that Easter Sunday is well known for being a family day that keeps people away from movie theaters.

In the process, The Hunger Games becomes the 37th most successful film of all-time and will enter the top 25 within the next week or so. To put this performance into perspective, consider that it has now earned more than any Twilight film (ha ha!), as well as every Harry Potter film except for the first one and the last one.

Compared to the other top ten openers of all-time, The Hunger Games is standing out for its long-lasting appeal. Only two titles from that group, The Dark Knight and Pirates of the Caribbean: Dead Man's Chest, had better third weekends. Also, assuming that estimates hold, only The Dark Knight has a better third weekend decline than The Hunger Games' 43%. Overall, this is the ninth best third weekend in box office history, conveniently surpassing a film named Titanic, which we will discuss again in a moment. The Hunger Games is headed for a final domestic total somewhere north of $350 million, which means The Dark Knight Rises has a lot of work to do if it is to be crowned most popular film of 2012.

Self-fulfilling prophecy undoes the American Pie franchise as American Reunion finishes in second place with a disappointing $21.5 million. This total represents the worst performance for the franchise since viewing audiences first learned about that one time at band camp. The original American Pie debuted to $18.7 million, which inflation adjusts to roughly $31 million in 2012 box office dollars. That title and its two sequels all cleared $100 million domestically. Unfortunately, high school reunions are stale affairs where almost complete strangers reunite to share awkward moments with people they barely remember. The only way the situation could be worse is if one of them is Stifler.

American Reunion is less an attempt to reinvigorate a retired franchise than a cautionary tale about the dangers of young Hollywood. Making return appearances are Tara Reid and Natasha Lyonne, both of whom have been among the most popular dead pool picks of the 2000s. Also onboard is Shannon Elizabeth, whose celebrity has been maintained almost exclusively due to her frequent appearance at professional poker events. And then there are the male leads. Jason Biggs, Thomas Ian Nicholas, Chris Klein and Eddie Kaye Thomas are virtually forgotten while Seann William Scott works regularly but is far from a household name. In fact, the only male cast member who still has a major presence in Hollywood is John Cho, who once took a trip to White Castle and somehow wound up on the starship Enterprise.

The idea here was to remind consumers in the 25-30 range of how they grew up with the cast of American Pie. Alas, most of them only cop to finding Alyson Hannigan funny. Everything else about the return of the cast of American Pie borders on sad, which is why Universal has probably understood for a while now that this title will be the first of the four to earn under $100 million. Whether they are satisfied with a $21.5 million debut for a $50 million production depends upon how steep the movie falls in its second and third weekends. Our instinct is to shout "TIMBER!", especially given the critical drubbing American Reunion has absorbed. Only 44% fresh at Rotten Tomatoes, that number falls to 33% among top critics. Frankly, American Wedding was a sloppy money grab in 2003 and rather than redeem the franchise with a better offering in 2012, consumers are instead treated to what feels like one of the American Pie Presents… straight-to-video titles instead. All signs thus far indicate that American Reunion will not be remembered fondly.

The re-release of Titanic as a 3-D feature has created a lot of nostalgia for old school box office trackers. BOP has received several "did you know" factoids from some of our best and most loyal readers this week (thanks, folks), a tribute to the seminal nature of Titanic's original box office run. While early projections indicated that the magic could happen again this weekend, it wasn't to be.

Titanic earned a respectable $17.4 million from its diehard fans, thereby boosting it past the $600.8 million mark for the first time since 1998. Titanic closes the gap with Avatar, the film that usurped it as the most popular domestic title of all time, to $142.3 million. Fewer Titanic loyalists than expected were willing to sit through a three hour cinematic experience rather than watch it from their homes.

Reviews indicate that Cameron, the only director universally accepted as a master of 3-D, imbued his masterpiece with the appropriate technical advances to future-proof it for many more years to come. Even so, the 11 Academy Awards-winning production failed to recapture the magic of its initial domestic run. This may sound harsh until we consider that $17.4 million is only the 14th best weekend performance for Titanic. If box office actuals wind up $200,000 lower, it falls to 15th place. As strange as it sounds, Titanic's re-release is the closest the modern classic has ever come to failure. Still, its current box office tally of $618.2 million represents over twice what The Hunger Games, the industry story of the year to date, has earned thus far. Even almost 15 years later, Titanic's dominant box office run is still difficult to process.

Fourth place goes to Wrath of the Titans, the unwanted sequel to the remake of Clash of the Titans. In its second frame, the 3D effects-driven extravaganza fell hard and fast, declining 55% to $15 million. Wrath of the Titans' grand total of $58.9 million is less than the $63.4 million that Clash of the Titans made on its opening weekend. Warner Bros. can add in another $75 in overseas receipts to that total, which does help the situation some. Still, with a budget of $150 million and even more that would have been spent on marketing expenses, this sequel has turned out to be a very costly proposition that will probably end up causing some write-offs. When you look at worldwide gross, the film is going to exceed budget, but it's important to keep in mind the distributors make a lot less from those overseas venues than they do on the domestic front.

Last weekend's other new release, Mirror Mirror, is our fifth place finisher for the weekend. After a slightly disappointing opening weekend of $18.1 million, the Julia Roberts fractured fairy tale fell 39% to $11 million. Its grand total after two weekends is $36.5 million. Add in overseas revenues and the worldwide tally comes to $48.3 million. Mirror Mirror had a pretty sizeable budget at $85 million, and it's going to take some work to get that amount covered, particularly since we know that advertising doesn't really get counted in those reported budgeting expenses. Roberts doesn't have the audience pull she once did. Will Snow White and the Huntsman have a better result later this year? It's certainly being presented as an event film, but the numbers for Mirror Mirror have to be concerning for the second Snow White movie of the year.

21 Jump Street continues its excellent run in theaters, earning another $10.2 million. That's good for a sixth place and a decline of only 31%. The Jonah Hill/Channing Tatum comedy has now crossed the $100 million mark as its domestic total is up to $109.6 million. This '80s remake might have seemed like a terrible idea at one point, but it proves that when studios make good movies, people will respond positively. It's turned out to be decent counter-programming against The Hunger Games juggernaut, and has already well exceeded its conservative budget of $42 million.

The last top ten title to make any kind of money worth talking about is Dr. Seuss's The Lorax, which finishes in seventh with $5 million and declines 36% from last weekend. The popular animated film brings its domestic total to $198.2 million, meaning that it will cross the $200 million mark by the end of next weekend. The Universal production is still going to wind up as the second-highest grossing Dr. Seuss adaptation, well behind the reprehensible How the Grinch Stole Christmas.

Our eighth, ninth and tenth place are all movies that wind up with weekend totals under $1 million. These days, it doesn't take a lot to finish in the top ten (but that's all going to change next month once our "summer" releases begin taking over multiplexes. Eighth place goes to the CBS Films release Salmon Fishing in the Yemen, the Ewan McGregor/Emily Blunt drama. It fell 23% to $975,000, bringing its cumulative domestic total to $4.6 million. John Carter hangs on to a top ten spot simply because the lower rungs of the top ten are so pathetic. It brought in $820,000, down a painful 60% from last weekend. The financial disaster now has a domestic total of $68 million. Our final top ten spot goes to Safe House, which has been in theaters for nine weeks and earned another $581,000. The Denzel Washington/Ryan Reynolds film now has a domestic total of $124.8 million.

Overall, the box office is up over the same weekend last year, when Hop was the #1 movie. This weekend's total of $117 million is a 14% increase over last year's total of $102.8 million. Next weekend brings three more new movies into the fray, with the most interesting amongst them being Cabin in the Woods, the extremely well-reviewed horror film from Drew Goddard and Joss Whedon (Buffy the Vampire Slayer). Other new films will include Lockout, a Guy Pearce action(?) film, and The Three Stooges, a horrible-looking Farrelly Bros interpretation of the classic TV series.