Weekend Wrap-Up
Hunger Games Devours Titans and Julia Roberts
By John Hamann
April 1, 2012
BoxOfficeProphets.com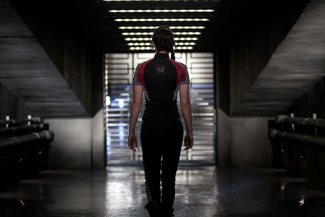 ---
All eyes were on The Hunger Games this weekend, to see if the latest (and almost greatest) uber-blockbuster could hold in its second weekend. It wasn't competition-free by any means. When your film opens to $152.5 million the weekend before, all comers are competition. Openers this weekend included Wrath of the Titans, sequel to the laughable Clash (but this time with Sam Worthington "trying") and Mirror Mirror, the new fairy tale flick with Julia Roberts as the Evil Queen. While the openers may seem shiny, a closer look reveals that there isn't much to them, and The Hunger Games has been given another opportunity.

Our number one film of the weekend is The Hunger Games – something that was never really in question. The real question was how it would hold, given last weekend's huge, record-breaking opening, the calendar configuration, and this weekend's competition. Since Sunday, when we last left off The Hunger Games story, the Jennifer Lawrence film has had solid returns through the week, however it was trending behind slightly the Twilight sequels in terms of mid-week grosses (although one also wouldn't expect a March film to see the same sort of weekday numbers as a Thanksgiving or July 4th release). I wondered if The Hunger Games was going to experience a huge drop-off of Twilight proportions this weekend, falling in the 70% range. To avoid a strong comparison to Twilight (which I pray it will), The Hunger Games needed to earn more than $46 million to stay away from that 70% plunge. The number that Lionsgate was looking to beat on Friday was approximately $17 million, as anything higher than that would likely keep the drop below the dreaded 70% area.

As you read in Tim Briody's Saturday Update yesterday, The Hunger Games was (thankfully) able to earn more on its second Friday than any of the moody vampire scenarios. The Hunger Games took in $18.9 million on Friday, about $2.2 million more than The Twilight Saga: Breaking Dawn Part 1, and about $1.2 million more than New Moon. At first glance, these may seem like small numbers, but once the internal multiplier (weekend gross divided by Friday gross) is applied, the difference is bigger. Take for example the difference between The Hunger Games and Breaking Dawn Part 1 – if we multiply that $2.2 million by 3.3 (a generic second weekend multiplier), the difference becomes $7.25 million, and shows the potential for separation between the two films.

While it easily bested the Twilight series, The Hunger Games still fell on its second Friday against movies like The Dark Knight ($23.2 million second Friday), and the original Spider-Man ($19.9 million second Friday). It did beat the biggest opener of all time, Harry Potter and The Deathly Hallows Part 2, which despite opening to $169 million (almost $17 million more than The Hunger Games), took in only $14.6 million on its second Friday, down a wild 84% from the previous Friday, when its midnight Thursday numbers were added in.


As for the rest of the weekend, let's start by thinking about last weekend, and how the super-gross for The Hunger Games came about (for a better description, read David Mumpower's The Hunger Games Math). The $50.4 million The Hunger Games earned last Saturday was the second biggest ever, behind only Spider-Man 3, which took in $51.3 million. It beat the Saturdays of the two films that opened bigger, The Dark Knight ($47.7 million Saturday) and Deathly Hallows Part 2 ($42.4 million). Then, on Sunday, The Hunger Games dropped back, mostly because of the calendar date. As we know, summer days make it much easier to see a film late on a Sunday night. In theory, the same thing should happen this weekend. Without the late showings on Thursday night, the second weekend behavior for The Hunger Games should be a decent Friday, followed by a huge Saturday, with a softer Sunday, at least compared to the biggest openers of all time.

This weekend, The Hunger Games performed as expected, with a weekend haul of $61.1 million, and a solid drop of 60%. Why is a 50%+ drop solid? In box office, the rule is usually simple: the bigger they are, the harder they fall. The Twilight films certainly know that adage – both New Moon and Breaking Dawn Part 1 fell 70%. Spider-Man 3, now the fourth-biggest opener of all time, fell 62%. The Dark Knight, which (at the time) went on to be the second biggest grosser of all-time, fell 53%. Considering that advance tickets sales are now a huge reality with opening weekends, the risk of the bigger drop is even larger, and in my opinion, The Hunger Games did quite well in its second outing. Additionally, The Hunger Games had a limited IMAX engagement that ended on Thursday, so we're also not factoring in those higher ticket prices in this second frame. Since we know that those shows were full to capacity last weekend, it's not unrealistic to think that a lot of money was left on the table because those theaters were given to Wrath of the Titans instead.

With this information, where is The Hunger Games headed? I believe the drop this weekend is good news for The Hunger Games. The second weekend is in the top five all-time, which is led by Avatar at $75.6 million and The Dark Knight at $75.2 million, two films The Hunger Games didn't have much of a shot at. While it is really to early to forecast, at this point I would say The Hunger Games is looking like a $400 million film stateside, and has a cume so far of $251 million, having crossed the $200 million mark on Friday, its eighth day of release.

Finishing second is Wrath of the Titans, sequel to Clash of the Titans, which fooled $61.2 million worth of ticket buyers on opening weekend exactly two years ago. Audiences (surprisingly) woke up this weekend and punished the Titans franchise for putting such a bad film on the screen the last time. Wrath of the Titans opened to only $34.2 million, or just better than half of the original. It went out to 3,545 venues – many in 3D – and garnered a venue average of $9,647. The makers of Wrath of the Titans not only took a hit in the revenue department, Warner Bros. also chose to spend more on this one, increasing the budget from $125 million to $150 million. Like last time, they decided to convert the film to 3D after the film-making process completed. This got them into trouble with Clash of the Titans, as the 3D made a bad film even worse due to shoddy workmanship.

Reviews were also worse this time out. Wrath, at the time of this writing, sits at 24% fresh, with only 28 critics out of a possible 115 finding something to like. Clash on the other hand, is the better reviewed film (ha!), sitting at 28% fresh. Who would have thought that would happen, given the lessons-learned out of the original? The press tells us that Sam Worthington wanted to get into his character more, that the 3D was going to be so much better, and the writing would improve. The original director, Louis Letterier, was dropped, and Jonathan Liebesman (Battle: Los Angeles) was brought in. Yes, they brought in the director of Darkness Falls and Texas Chainsaw: The Beginning to helm their $150 million picture. Does anyone still think Warner Bros. was trying to deliver a quality picture? No way.

Clash of the Titans was big over opening weekend, and did earn $163 million stateside. What you may not know is that Clash earned $330 million from overseas cinemas alone, and when subtitles are involved with a picture like this, the words and acting don't really matter all that much in foreign venues. Instead, it's all about effects and 3D. Warner Bros. may take a write down domestically on Wrath of the Titans, but this is still going to be a half-billion movie for the studio. At least the People's Republic of China will be happy.

Third spot this weekend goes to Mirror Mirror, the new Julia Roberts film. Directed by Tarsem Singh, the film looks great, but at least according to some reviews, there's not much substance. Regardless, Mirror Mirror managed to earn $19 million from 3,603 venues, giving it a venue average of $5,273. Mirror Mirror was quite fresh at RottenTomatoes only a few days ago, but has dipped since (I will save you my conspiracy theories on early reviews at RT). As of this writing, critics are split right down the middle on it, with 58 reviews going both ways. This is an $85 million film for Relativity Media, but reports say that rights to overseas grosses were sold off, reducing the film's exposure to risk. An opening like this likely guarantees a $60 million domestic finish, so Relativity should escape unscathed, but likely not much better than that.

Fourth place goes to 21 Jump Street, which is turning into a leggy hit as it continues to benefit from a very smart release pattern. Jump Street earned another $15 million, down a shy 27% compared to last weekend's showdown against The Hunger Games, when it earned $20.5 million. The Sony release is proving how well smaller counter-programming can work against these much bigger films, as the comedy cost only $42 million to make, and has earned $93 million at the domestic box office so far. However, next weekend it will face off against American Reunion, and will have to battle for exactly the same audience.

Fifth is Dr. Seuss' The Lorax, which is now in its fifth weekend. The animated earth hug earned $8 million in its fifth frame, and dropped a respectable 39%. The $70 million Universal film has a running total now of $189.6 million, and still has a few more weekends before hitting the $200 million mark.

John Carter From Financial Hell is sixth. After earning $5.1 million last weekend, the Disney Disaster took in a laughable $2 million this weekend, giving John Carter another hefty drop of 61%. While this movie has been beat down badly, the worldwide gross has almost matched the $250 million production budget, which means Disney may lose only $200 million on this one instead of $300 million. Yay!

The rest of the top ten are there because they showed up, and still handle enough screens to make them relevant. Seventh is Salmon Fishing in Yemen, a drama with Ewan McGregor, which earned $1.2 million. It expanded to 483 screens this weekend, and has a cume of $3.2 million. Eighth is Act of Valor, which earned $1 million and has a cume of $67.7 million against a $12 million budget. Ninth is A Thousand Words, which earned only $915,000 million, and has a running total of $16.5 million. And finally, Journey 2: The Mysterious Island holds on to a top ten spot for a final week, with $835,000 for the weekend, bringing its total just shy of $100 million, at $98.5 million.

Overall this weekend, the 2012 box office continues to embarrass the pants of the same weekends in 2011 (the last two thanks solely to The Hunger Games). Last year, Hop was on top (for the first of two weekends of April if you can believe that) with $37.5 million, leading the top 12 to $114 million. This weekend, The Hunger Games led the top 12 to a strong $144.9 million. Next weekend brings the aforementioned American Reunion as well as Titanic in 3D, which reminds me, I need to ask for the weekend off.