Weekend Forecast for March 30-April 1, 2012
By Reagen Sulewski
March 30, 2012
BoxOfficeProphets.com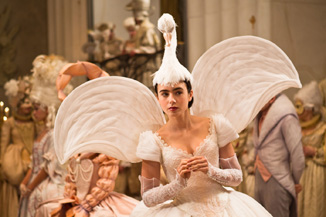 ---
Two new, relatively big films open this weekend, but it's still a Hunger Games world. But hey, those other films are just going to go out and give the old college try, right? Right?

The first of two weeks with not-particularly-asked-for sequels brings us Wrath of the Titans, the sequel to 2010's remake of Clash of the Titans, with Hollywood still trying to make Sam Worthington happen. One of the first big blockbusters to jump on the 3D conversion bandwagon (and which almost killed the nascent exhibition technique in its cradle, it was so poorly done), Clash earned a surprising $61 million opening weekend off some hot demi-god on Kraken action. That, combined with impressive international box office, ensured a second kick at the cat for this budding franchise whether you wanted it or not.

It's "second verse, same as the first" for the most part although there's a new director, Jonathan Liebsman, who was responsible for such classics as Battle: Los Angeles, one of the Texas Chainsaw remakes and the immortal Darkness Falls (aka the evil Tooth Fairy movie). Worthington as Perseus again does battle with a bunch of beasts unleashed by the gods, who are battling for all and sundry reasons, only this time, they're really, really angry and wrathful, I guess. Liam Neeson and Ralph Fiennes are back as Zeus and Hades respectively, but the whole thing has "going through the motions" written all over it. Reviews are worse than the last time, and the novelty has largely worn off this concept, so I anticipate a large fallback from that $61 million figure, down to around $36 million.

Every couple of years, Hollywood likes to play "Dueling Ideas" by releasing two films with the same basic concept, just tweaked slightly. So, you get Christopher Columbus and 1492. Armageddon and Deep Impact. Gordy and Babe. And now, Mirror Mirror, which is the comedic take on the Snow White story to the more dramatic-actiony Snow White and the Huntsman coming later this summer. This version arguably has the biggest star, with Julia Roberts playing the evil Queen, but then things drop off precipitously from there, with relative newcomer Lily Collins as Snow White, Armie Hammer as a prince of some kind, and then Nathan Lane to make sure it's good and slapsticky.

The visuals are admittedly gorgeous, thanks to director Tarsem Singh, though to say this is a departure for him is a bit like saying the Donner Party got a little bit lost on the way to California. For a guy who's specialized in gothic horror to go the fairy tale route is a bit bizarre, like Martin Scorsese making Hugo after all these years. This film feels awkwardly positioned in between hip modern irony and keeping true to the source material, and all the cartoonish action doesn't make it look any better. Roberts + fairy tale probably means something towards a solid opening weekend, though, which should be in the neighborhood of $18 million.

Which brings us back to the eye-popping numbers for The Hunger Games. With a $152 million start (including midnights), the third-highest opening of all time, this debut put to rest any possible lingering doubt that this trilogy of books would continue on screen. Although calling it an original property is a huuuuuge stretch, it's the first non-sequel to break the $100 million mark since Alice in Wonderland and only the third overall. That it did so by such a wide margin is all the more remarkable and speaks to the power of hype. After six days, it's already the highest grossing film of 2012, and is now firmly in the mix to hold it for the rest of the year (though I don't think it will).

Carrying forward, the question is just how big those legs will be. Historically, an opening weekend like this has meant a final total between $300 million (the Twilight) and $550 million (the Batman). The safe bet is somewhere in the middle, though with the fanatic female portion of fanbase for this film, legs are not an impossibility here (though that maybe gets kneecapped by the Titanic re-release anyway). Weekday figures are about what you'd expect for a March mega-buster after accounting for the midnight shows, so there's probably not a lot to be told from that, other than the fact the film's audience really is as diverse as you'd expect in order for it to get this many people out in a weekend. I'd look for a figure of $76 million, which looks steep on paper but still represents a solid carryover with all the quirks of its release measured up.

After that, we're getting short on relevant films, what with so many movies getting out of The Hunger Games' way in advance. 21 Jump Street wasn't a one-weekend wonder and added $20 million to its total, putting it well on the road to respectability and justifying its sequel. It should bring in another $12 million this weekend.

The Lorax is likely to be the only other film with significant earnings, and should inch close to the $200 million plateau after this weekend. It's been a solid and consistent performer over the last month, and although it'll fall a little short of The Grinch's earnings, it's unquestionably a big win for Universal. Add another $8 million to the total this frame.

This leaves John Carter to slink out of relevance with about $2 million this weekend, which is a remarkable turn of events for the $250 million budgeted film just four weeks into its run. This is a story executives will be telling their kids to scare them straight for generations.