Weekend Wrap-Up
Hunger Games = Box Office Insanity
By John Hamann
March 25, 2012
BoxOfficeProphets.com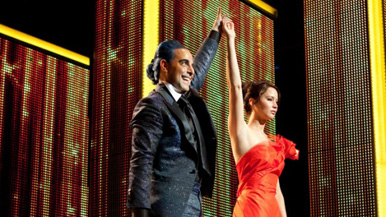 ---
Bam! The latest teen book craze rolled into theaters as a movie, and what do you know? We have a Twilight-sized hit on our hands with The Hunger Games. The savior of Lionsgate took out a handful of records and avoided the glum, poorly-made style that young people have become used to thanks to those terrible Twilight movies. Yes, The Hunger Games is actually a movie of two molds. First of all, it is based on a book and has the solid film-making that dominated the Harry Potter era. Secondly, it also benefits from the same sort of fanatical following demonstrated by the thankfully-almost-over Twilight era. The Hunger Games is the new big thing, Jennifer Lawrence is now a superstar, and Lionsgate is back in business.

It was late February. Act of Valor and Tyler Perry's Good Deeds were on top of the box office and I was depressed. Sure, The Lorax was coming and was sure to provide a jolt to the box office, but the majority of films on the release schedule simply weren't exciting. That week, I read a news story about Fandango pre-sales for The Hunger Games outpacing those of last Twilight release. Impossible, I thought, there is no way a movie, a first in a supposed trilogy, is outpacing that of the fourth film in the Twilight series. As an early-40s male, The Hunger Games was only on my radar due to the upcoming film, and following the Fandango story, I thought The Hunger Games might eclipse the gross of the first Twilight film, which came in $69.6 million. That thought gave me joy.

The following weekend, The Lorax broke out. The weekend after that, John Carter seriously faltered, and the door fell wide open for The Hunger Games. It was still two weekends away, but one could tell that teens were already frothing at the mouth. Last weekend, 21 Jump Street opened very strongly for a mid-March comedy. The box office had been strong all year, but the number four film last weekend earned only $4 million – the box office was extremely top heavy. The bottom six last weekend earned only $20.9 million combined, and had 13,500 venues in play. Thus, many theaters were virtually empty last weekend – again, a very good sign for The Hunger Games.

Then, I saw an article on The Hunger Games last weekend at The Hollywood Reporter web site, with the title "Hunger Games Tracking To Open Bigger Than Breaking Dawn", and the little hairs began to stand up on the back of my neck. I knew then that something really big was going to happen this weekend.

That brings us to Friday morning, when we all learned that The Hunger Games earned $19.75 million from midnight screenings alone – a record for a non-sequel. Unless something very weird happened, The Hunger Games was going to join the big five – the five biggest opening films of all time. The last Harry Potter film did $43.5 million from midnight screenings, so the $169 million, number one weekend was likely out of reach. The Friday number for The Hunger Games came in at a red-hot $68.25 million. If you subtract the $19.75 million from midnight sneaks, the studio realized a true first day gross of about $48.5 million. This number made me realize how big The Hunger Games is, and this is why: Harry Potter and The Deathly Hallows Part 2, currently the biggest opener ever, earned $91.1 million on its opening day. Subtract the $43.5 million from midnight screenings, and the final Potter had a true first Friday gross of $47.6 million, or about a million LESS than The Hunger Games did on opening day. This, ladies and gentlemen, indicates a phenomenon has been born at movie theaters this weekend. Potter had seven films to build to a conclusion, and an obviously big gross. The Hunger Games had none.

To stay with the final Potter, The Hunger Games was going to need a huge Saturday and Sunday, bigger than Deathly Hallows Part 2. It would have to break out to non-fans of the book and appeal to people older than 20. The Saturday gross for the Suzanne Collins book came in at $50 million (Potter earned $42.4 million on Saturday), and is estimated to have earned $36.75 million on Sunday (Potter earned $35.7 million). What The Deathly Hallows Part 2 had going for it that The Hunger Games did not was the prime release date, as Potter was unleashed in July, and this is March, barely even spring yet. July is not a school month, whereas this weekend some were returning from March break on Monday. In other words, Potter had significantly more weekend advantages yet The Hunger Games managed $86.75 million on Saturday/Sunday while the final Potter film accumulated $78.1 million. Yes, The Hunger Games outperformed the final Potter film by 11% in this time frame.

Another method to underscore the power of The Hunger Games is that the previous record holder for the month of March was Alice In Wonderland, which took in $116 million in 2010. Second is 300, $45 million behind Alice at $70.8 million. The Hunger Games is almost $50 million above the previous record holder and well over double the 300 debut. The Hunger Games has redefined March box office potential.

With few other choices out there, The Hunger Games was able to draw all-comers. Theater owners multiplied their screens to get more bums in seats, and IMAX screenings were packed. The result is a huge $155 million opening weekend – one for the ages. The Lionsgate release went out to 4,137 venues – 238 less than that final Potter film. It had a venue average of $37,467, which has to be welcome news for beleaguered theater owners. The Hunger Games now holds the record for biggest March opening, biggest opening weekend ever for a non-sequel, and the biggest opening day for a non-sequel. It is the third biggest opener ever, behind only Harry Potter and the Deathly Hallows Part 2 and The Dark Knight (which only beats it by $3.4 million).

For Jennifer Lawrence, a quick career rise has now been blown into the stratosphere. Despite work prior to Winter's Bone, the 2010 release was the film that catapulted her into stardom, despite the film being seen by very few in theaters. Lawrence was an out-of-nowhere Oscar nominee for Winter's Bone, and while she didn't win, the fact that she was nominated got her the role of a young Mystique in X-Men: First Class, the comic book critical darling of 2011, and earned $350 million worldwide. Lawrence was paid only $500,000 for her role in The Hunger Games, or about 0.3% of the film's opening weekend.

Gary Ross, who hadn't directed a film since 2003's Seabiscuit (a $120 million hit), helmed The Hunger Games. This, in my opinion, was a much better choice than, say, Catherine Hardwicke for the first Twilight film. It was more of a Chris Columbus move. Columbus directed the first and second Harry Potter films, despite his last big hits coming eight years earlier with Mrs. Doubtfire and the Home Alone series. Ross is also a writer, and like Lawrence, is also an Oscar nominee for scripting films like 1988's Big and 1993's Dave.

Lionsgate brought on plenty of quality for what is to be the jewel in their library. Supporting actors include Woody Harrelson (nominated for two Oscars), Wes Bentley (American Beauty), Stanley Tucci (nominated for The Lovely Bones), Josh Hutcherson, Liam Hemsworth and Elizabeth Banks. Despite the strong cast, The Hunger Games had a relatively low production budget of $90 million, which was reduced to $78 million following production subsidies. That amount was likely earned by lunchtime Saturday, The Hunger Games' second day of release.

Following Friday's gross, The Hunger Games was already Lionsgate's sixth biggest grosser of all time, behind only a documentary, a Tyler Perry film, two Saw movies, and The Expendables. By the end of the weekend, this is already the studio's biggest release ever, and by a mile. Fahrenheit 9/11 earned $120 million way back in 2004. The Hunger Games exceeds that number by multiple tens of millions. The Hunger Games is from a studio that has only two films in its library that have earned more than $100 million, and whose biggest hit last year was The Lincoln Lawyer, which brought in only $58 million. The Hunger Games brings Lionsgate into the forefront, and will keep it there for years to come.

Second this weekend is 21 Jump Street, last weekend's winner, which played fairly well versus The Hunger Games. 21 Jump Street took in $21.3 million this weekend, which gives it a not bad 41% drop compared to last weekend. My belief is that Sony, the distributor of Jump Street, intentionally threw this one into the storm that is The Hunger Games, so it could play as counter-programming against the behemoth. This plan worked for Horrible Bosses when Harry Potter and The Deathly Hallows Part 2 opened, as the Warner Bros. comedy opened the weekend before to $28.3 million, and dropped only 37% in its second weekend, against Potter's record breaking debut. Jump Street, which cost only $42 million to make, has now earned $71.1 million after only 10 days of release.

Third is Dr. Seuss' The Lorax, which gets hammered somewhat by The Hunger Games, but was waning already, as it had already earned $160 million following last weekend's $22.8 million gross. This weekend, The Lorax earned $13.1 million, off 42% compared to last weekend. The $70 million Universal production has now taken in $177.3 million stateside, and the only question now is how much more than $200 million it will earn.

John Carter takes a Katniss arrow to the forehead this weekend, as The Hunger Games has officially killed the ailing Martian-American. After a $13.6 million second weekend, John Carter can only earn a distant $5 million this weekend, giving it death-blow drop of 63%. The $250 million Disney film now looks like it will struggle to get to $75 million stateside, but has earned over $125 million overseas, which will ease the blow for Disney. Give John Carter $62.3 million so far.

Films finishing from fifth to eighth could end up anywhere in that rank. The only one to talk about is a surprise entry, the faith-based film October Baby, from a distributor Samuel Goldwyn. This film about abortion (it's aimed at religious audiences, so you know what side it's on) earned $1.7 million this weekend from 398 venues. It had a venue average of $4,406. Kudos to the distributor for knowing they would get a top ten slot this weekend, with The Hunger Games dominating.

The rest of the top ten looks like this: Fifth went to Relativity's Act of Valor, which earned $2.1 million. It has a total now of $65.9 million against a budget of $12 million. Next up in sixth is Project X, which earned $2 million. It has a running total of $51.7 million against a $12 million budget. Seventh was Eddie Murphy's A Thousand Words, still stuck at 0% fresh at RottenTomatoes. It took in $1.9 million, dropped 47% versus last weekend and has a total of $14.9 million. Eighth was the aforementioned October Baby. Ninth is Denzel Washington's Safe House, which earned $1.4 million and has a domestic cume of $122.6 million. Finally, tenth goes to Journey 2: The Mysterious Island. That one earned $1.4 million, has a domestic total of $97.2 million, and has earned more than $300 million worldwide against a budget of $80 million.

Overall this weekend, it's all about The Hunger Games, as that film alone easily beat last year's top 12 total. A year ago, Diary of a Wimpy Kid 2 was on top with $23.7 million (it was the weekend that Sucker Punch was sent to die), and the top 12 films could only manage $108.6 million. This weekend, the top 12 pulls in an awesome $206.9 million. All of a sudden, next weekend gets very interesting, as Wrath of the Titans (sequel to Clash) is released and will also likely be huge, setting up a big one-two punch at the box office. The question will be how Relativity's Mirror Mirror performs versus the second weekend of The Hunger Games.