Weekend Wrap-Up
Jump Street Hides Quiet Box Office
By John Hamann
March 18, 2012
BoxOfficeProphets.com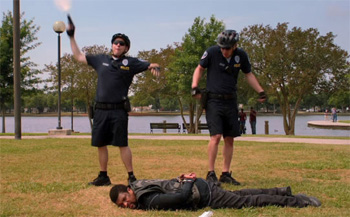 ---
With The Hunger Games now only a weekend away, studios shied away from opening big films this frame, as the novel-based tentpole is tracking to open above $100 million next weekend. That means that this weekend, we get early Hunger Games counter-programming in 21 Jump Street, the re-imagining of the '80s TV show redone as a comedy starring Jonah Hill and Channing Tatum. While Jump Street may have jumped this weekend and The Lorax continued to over-perform, the top three films hid a bottom seven that barely earned $20 million. With that knowledge, you can bet on The Hunger Games to be even bigger (hungrier?) next weekend.

The number one film of the weekend is Sony's 21 Jump Street, as Jonah Hill and Channing Tatum went back to school and likely created a franchise. This take on the classic TV show worked for audiences – and surprisingly also for critics – as the $42 million Sony release banked $35 million from its first three days. Released to 3,121 venues, Jump Street had a venue average of $11,214. After opening to $13.1 million on Friday night, Jump Street earned a weekend multiplier of 2.7, which means it played well – and older, due to the R-rating – all weekend. Considering the budget, the R-rating, and converting the TV drama into a big screen comedy, Sony has to be thrilled with the result. It was also a scheduling coup for Sony, as comedy had gone soft at the box office, with the closest competition earning less than $5 million. It should serve as effective counter-programming against the youth-oriented Hunger Games next weekend.

Why did Jump Street work? The cast on this one certainly helped, as Hill has certainly been highlighted in the media since his Oscar nomination for Moneyball, one of the films that deserved the big prize at last month's Oscar ceremony. And with Tatum coming off of the success of The Vow, Jump Street likely had both male and female viewers rooting for it. Critics were also big fans of Jump Street, calling it the funniest film so far this year, and anointing it with 131 positive reviews out of a possible 151 at RottenTomatoes. It earned an 87% fresh rating, and becomes the only film in the top ten with positive reviews. Jump Street is reminiscent of Starsky and Hutch, the Todd Phillips comedy starring Ben Stiller and Owen Wilson. That film opened to $28.1 million in March of 2004, but got buried under the second weekend of The Passion of the Christ and never really recovered, finishing with $88.2 million. Jump Street has a much better shot at $100 million, but will have to play through The Hunger Games in weekend two and Wrath of the Titans in weekend three.

Considering Hill hasn't even hit 30 years old yet, this guy has a stellar resume. Hill is from the school of Judd Apatow, as he had small parts in The 40 Year-Old Virgin and Knocked Up before breaking out in Superbad ($33.1 million opening, $121 million finish). Since then, Hill has appeared in hits like Horton Hears a Who, Forgetting Sarah Marshall, How to Train Your Dragon, Get Him to The Greek, Megamind, and Moneyball, which opened to $19.5 million and brought in $75.6 million stateside. Next up for Hill is Neighborhood Watch, a film from a script by Seth Rogen, co-starring Ben Stiller and Vince Vaughn. A good film you may have not seen with Jonah Hill is The Invention of Lying with Ricky Gervais. Hill plays a suicidal young man and is hilarious in a very odd way. Check it out.

Finishing second is Dr. Seuss' The Lorax, Universal's very popular Spring Break release. After two weekends at number one, the inevitable happened this weekend, as The Lorax slips to number two. Despite the drop, The Lorax is still rolling, as the $70 million film earned another $22.8 million and slipped 41%. That's a slight improvement over last weekend's 45% drop against John Carter, and follows a series of strong weekdays where every weekday was bigger than the week previous, except for Monday. The Lorax now has a running total of $158.4 million, and may approach $200 million plus in North America. It has earned more in three weeks than Horton Hears A Who did over its entire run ($154.5 million), becoming the second-biggest Dr. Seuss film, behind only The Grinch, which earned $260 million.

Third spot goes to John Carter, the film that is getting hammered in the mainstream press. After opening to $30.2 million last weekend – a result that wasn't all that bad – John Carter really flamed out this weekend, as the Disney release earned only $13.5 million. That gives the $250 million film a scathing drop of 55% - one from which it won't recover. Now, with the writing squarely on the wall for this one, it is looking like an overall $65 million North American take, which means the overseas box office is really going to have to perform. Last weekend, Disney reported that John Carter took in $70.6 million in international venues, and if its able to earn three times that overseas, it would find $210 million, and adding the domestic gross to that makes the overall result for John Carter not all that bad. I would much rather have the rights to a film like that than a film like How Do You Know, which earned $48.7 million worldwide, against a production budget of $120 million. John Carter has a domestic gross of $53.2 million so far.

The box office goes off a cliff as we drop to fourth, as no film beyond number three could muster more than $5 million.

Fourth goes to Project X, the found footage party movie. Project X got hammered by 21 Jump Street, and was only able to earn $4 million from 2,922 theaters. Project X dropped a serious 64% compared to last weekend, but Warner Bros. and Todd Phillips have already made their money. As the film has a found footage concept and stars nobody, production costs came in at only $12 million. As of Sunday, this one has earned $48.1 million in North America alone. While it won't finish huge for Warner Bros., it will be profitable enough to consider a sequel.

Eddie Murphy proves the box office is slow this weekend as A Thousand Words manages a fifth place finish, despite having a 0% fresh rating at RottenTomatoes. After opening to $6.2 million last weekend, Words dropped 39% this weekend on its way to $3.8 million. Please tell your friends that this movie is so bad its been on the shelf for YEARS. Somehow Paramount has turned a $40 million, straight-to-Netflix release, into a gross so far of $12.1 million – more than it ever had any right to earn.

Act of Valor, a film I thought would be on top one weekend and gone the next, finishes sixth due to the quiet box office. Act of Valor earned $3.7 million in its fourth weekend, dropping 47%. The $12 million Relativity release has earned the company a small fortune, as it has now brought in $62.7 million.

Seventh is Denzel Washington and Safe House, as the thriller spends a sixth weekend in the top ten. This frame, the Universal release earned only $2.8 million and dropped 43%. The $85 million film has now taken in $120.2 million.

Journey 2: The Mysterious Island holds onto a top ten spot for one more weekend, finishing with $2.5 million. That means the sequel featuring The Rock had the best decline in the top ten with 32%, and has now inched its way up to a domestic total of $95.1 million. People might have thought this was a silly sequel to make, but it has come pretty close to matching the total of the original, which was well known for its outstanding legs.

We have a bit of a surprise in ninth place, as the Spanish-language film Casa de mi Padre captures a top ten spot with $2.2 million thanks to numbers being so low overall. The film features Will Ferrell, Gael Garcia Bernal, Diego Luna and Nick Offerman and was partially financed by Ferrell and Adam McKay (director of Anchorman, Talladega Nights). The film was showing in only 382 locations, so it's fairly impressive that something so off the wall had such a strong showing.

This Means War is tenth in its fifth weekend. The Reese Witherspoon flick has lasted longer than anyone thought it would, and took in another $2.1 million this weekend, dropping 43%. The $65 million Fox release has now brought in $50.5 million.

Overall this weekend, the box office is on pace with where things were last year. A year ago, Limitless led the pack with $18.9 million, and the top 12 films last year earned a combined $103.4 million. This year, the top 12 found $96.5 million, thanks to almost solely 21 Jump Street and The Lorax. Next weekend, all bets are off, as The Hunger Games opens in over 4,000 theatres. The only question now is where in the top 20 films of all time will it end up.