Friday Box Office Analysis
By Kim Hollis
March 10, 2012
BoxOfficeProphets.com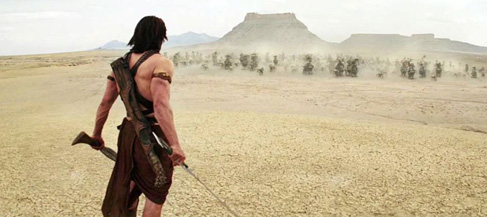 ---
Disney spent a reported $250 million (including technology development that can be used on other projects) on John Carter. That gamble is not going to pay off.

John Carter

The effects-driven extravaganza based on Edgar Rice Burroughs' early sci-fi/adventure stories earned $9.8 million on Friday. That's enough to give it the top spot, but John Carter is only going to hold that position for a day. With marketing that turned a number of potential viewers off, it was always fighting an uphill battle, particularly since the source material is really only known by a dedicated few. Taylor Kitsch is someone we are fond of thanks to his great portrayal of Tim Riggins on Friday Night Lights, but we have a feeling this film's performance sends him straight back to TV. John Carter is likely to have had some fanboy rush, too, which is going to bring its total to about $25.4 million for the weekend. The good news for Disney is that this is the kind of movie that should attract a decent overseas audience, and they obviously weren't relying on John Carter to recoup its costs for developing new tech all on its own.

Silent House

This remake of a popular Uruguayan film found itself lacking an audience this weekend, as it earned just $2.8 million on Friday. The film's star Elizabeth Olsen had gained a lot of attention thanks to her performance in Martha Marcy May Marlene, but it didn't translate to buzz for Silent House. The "captured in real time" gimmick didn't do anything to help. Obviously, people just want their found footage. Look for Silent House to bring in around $7.6 million for the weekend.

A Thousand Words

You might not have known that Eddie Murphy had a new movie this weekend, mainly because Paramount just barely gave it a token release and didn't really bother to market it. You know why? No one was going to see it anyway. This is a film that currently has 36 reviews at Rotten Tomatoes, and not one of them is positive. This one sat on the shelf for awhile, and it's easy to see why. It earned $1.9 million on Friday (seriously? Who even went to see this?) and should be in line for a $5.1 million weekend.

Notable Holdovers

Dr. Seuss' The Lorax drops 45% from last Friday to $9.6 million. That's a somewhat steep decline, but there was obviously a rush amongst Seuss fans to run out and see this last weekend, given its strong showing. Also, CGI animated films that are in 3-D frequently have larger drops in their second weekend than other sorts of family films. It's going to win the weekend anyway, with a total of around $32 million.

Project X fell 52%, which isn't terribly surprising. Its $3.9 million Friday should be enough to lead to about an $11 million weekend.