Top Chef: Texas Recap
By David Mumpower and Kim Hollis
March 7, 2012
BoxOfficeProphets.com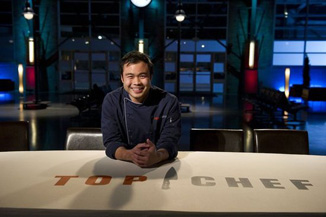 ---
Final Power Rankings:

1) Paul: The difference between Paul and whomever had made the final round of competition would be the difference between Albert Pujols and a Pee Wee League kid who plays only because his dad is the coach. We believe this. Our stated opinion is that Paul could serve the judges Longpig with a side of Soylent Coleslaw and he would still win. Yes, the editing will make it seem like the other contestant has a chance but let's be honest. They don't. Paul has delivered the strongest individual season in the history of Top Chef. He will be named the victor tonight. If he doesn't, Bravo should call it a day and cancel the show. If they cannot get this one right, they don't deserve to be on television.

2) Sarah: Lindsay, Sarah, Beverly, Anthony Bourdain, Joel Robuchon the ghost of Julia Child, it wouldn't matter. Paul would beat any of them. To her credit, Sarah has followed the blueprint created by Mike Isabella last season by using the weeks-long sabbatical to improve her craft. She is treating the Top Chef finale like a job interview process, which it is. Her video resume always will be available for posterity's sake. She had little to lose as the finalist who had never won anything and this liberty has shaped a Go For It attitude in her.

Previously on Top Chef, Paul won almost everything. This is only a slight exaggeration. There were 29 chefs at the start of the season. Paul has won eight out of 14 elimination challenges. Yes, in a field with many competitors, Paul has won more often than he has lost. He also has won roughly as much in cash and prizes as the grand prize winner is supposed to attain, $125,000. His winnings include a new Prius and some exotic vacations. This is why we view his (impending) victory as a foregone conclusion.

Also, Sarah is there.

Okay, that is a cheapshot of sorts. After an obnoxious debut appearance wherein she threw Keith under the bus for what was a group failure, the emotional player frustrated us throughout the season with her temper. She also had a tendency to treat Beverly, who is older than her, as a misbehaving child. We later found out that Sarah dropped out of school in order to pursue her culinary dream, which explains quite a bit about her arrested development.

Sarah is now in the finale of the ultimate cooking competition, which means her dream could be realized tonight. Alas, we give her the same odds of winning as the Patriots have in Super Bowl XLVI…and that game has already been played. The Patriots lost. Sarah is playing to show, to represent herself well as the greatest cooking talent this side of Paul. Unfortunately, at Judges Table, she will be on this side of Paul and it happens to be the losing side.

Mock us all you want if we are wrong but we have been maintaining Paul was head and shoulders above everyone else. We placed him at the top of the power rankings when those debuted in early December. We have had him in first place in every update in the interim. We definitely will not be jumping off the bandwagon at the end after we were the first ones onboard.

As for Sarah, we placed her ninth out of the 13 remaining competitors at the time. Lindsay was third if you were curious. In that update, we derided Sarah for her selfish streak and not much has changed in the interim. We still view her as such. Still, we are impressed with her fortitude in surviving until the end. Sarah won only two elimination challenges and one Quickfire challenge in her home state of Texas. She has won almost as much in Canada with an elimination challenge as well as a Quickfire challenge victory to her credit. Clearly, she is cooking with more freedom and purpose as we reach the finale.

The judges congratulate the remaining Top Chef contestants on making the finale. Next, they reveal that a pair of popular Vancouver restaurants, Black + Blue and Coast, will be the setting for the last meals. Our presumption is that a form of Restaurant Wars will occur. Tom mentions that some very talented sous chefs will aid them. This leads to the inescapable conclusion that previous players from Top Chef: Texas will return.

We are mostly correct. A pair of James Beard award winning ringers, Barbara Lynch and Marco Canora, joins several previously eliminated players in the kitchen. They are all asked to prepare a dish. Based upon Top Chef history, we recognize that the chefs will do a blind taste test then select whomever prepared the food in question. Theoretically, both James Beard winners could be on the same team. If that happens to be Paul's team, we can all call it a day and change the channel to ESPN.

The above is the dream scenario. There is also a nightmare scenario. A few of the chefs who never made it to the Sweet 16 are among the returning players. Colin Patterson is an outsider chef from Seattle who failed to include a key component on his trial dish. Ashley Villaluz immediately won our hearts with a marvelous story about her in-laws before failing to qualify. We are thrilled to see them given another chance.

We are less excited to see Tyler Stone, the dreaded butcher whose knife skills led to the quickest elimination in the show's history. He was so incompetent he almost got Grayson eliminated in his wake. His presence is unwelcome albeit understandable since the show's producers probably felt as if he did not receive a fair shake. Since this is a sous chef assignment, however, he is a lodestone if anyone winds up with him.

Humorously, Keith is also one of the people in attendance. Were Sarah to select his dish, there would be a strong amount of karma if he returned the favor from their earlier encounter. She was vile to him and her half-apology after the fact that did little to provide consolation. In a perfect world, Sarah selects Tyler Stone and Keith and we laugh at the group dynamic for the body of the episode. Alas, this is only a half-perfect world.

Since Paul won the previous challenge (not that you could have known this from the way Paul seemed to be in jeopardy of elimination), he receives first choice of dishes. Paul immediately selects master chef Barbara Lynch. The odds of his winning just increased from 100% to 120%. Sarah picks someone we believe was a better chef than her, Nyesha. You may recall Nyesha was eliminated for Dakota's mistake, then won several heads up challenges in Last Chance Kitchen before losing to Beverly due to a "slight under-seasoning." Effectively, Nyesha proved herself to be one of the best chefs in recent memory but fate was against her. If Bravo does Top Chef All-Stars 2, Nyesha will be a strong contender to win. Sarah's chances of winning just went from -5% to -3%.

The other participants chosen by Paul are Ty, Malibu Chris and Keith. Sarah's selections are more interesting. She is targeting Heather, because she isn't mean-spirited enough on her own. She wants her team to be Uber-Bitchy. Alas, this causes her to choose a dish due to its components rather than its flavor. Sarah knows that Heather serves it on her restaurant's menu, so Sarah chooses a scallop curry dish. It is Tyler Stone's, not Heather's. When Sarah finally selects Grayson, she has three fourths of a solid team…and Tyler Stone. Amusingly to us (but not to him), Marco Canora does not have his dish selected. His friends and co-workers will never let him hear the end of this, we're sure.

As preparations begin, we are briefly reminded of that adage, too many chefs spoil the broth. Paul has struggled in some team challenges, particularly when paired with Ed. A lot of this stems from the fact that Paul is respectful of his older peers, something that was confirmed when his mentor talked about him a few episodes ago. Barbara Lynch is a pedigreed chef used to barking orders. She provides enough suggestions to Paul that we wince as we remember Carla Hall listening to Casey Thompson and thereby throwing away a chance at victory. We are relieved when Paul states that he has similar concerns and will not be undermined in such a manner.

Meanwhile, Sarah enjoys the Tyler Stone Experience. And by enjoys, we mean despises. Stone is a young chef who was publicly humiliated during his Top Chef debut. He has much to prove and is far too self-centered to recognize that the Top Chef finale is not about him. There were 29 players this season. The dude who finished 29th is inserting himself in everything he can as we determine which of the two finalists is better. Sarah clearly wants to kill him…and she has sharp knives.

Paul is instructive as he defines his expectations for the sous chefs. There is a sharp contrast in the chemistry in his kitchen as opposed to Sarah's. We suspect that the difference is that Paul has earned the respect of his peers while at the very least Grayson believes she is better than Sarah and Heather might as well. Grayson is right. Still, Grayson is a cool chick who can get along with anybody. She seems happy just to be cooking in this format once more.

The chefs finish the first day of prep work then meet Tom Colicchio and Emeril Lagasse in the evening. At this point, Emeril informs them that they will be pairing their meals with a wine. When asked how much experience they have with the process, Sarah says that she loves to drink and that's about it. Paul doesn't even have that going for him. This could be a factor that evens the odds a bit. Paul is playing with a handicap.

Paul also doesn't catch a lot of breaks with his preparations. The crab that they had prepared the previous day has turned. It smells "a little funky" and the taste is not right. Keith notices immediately and asks for confirmation from Barbara Lynch. Once she agrees, Paul is notified and he determines that the crab has to be dumped. They go with shrimp instead. Paul is now playing with two handicaps. This is turning into the nine misfortunes softball episodes from The Simpsons.

"We're gonna jam out with our clams out…" – Grayson making what we presume will be the Bravo t-shirt for the season

Tom and Gail eat at Paul's restaurant; it is simply named Qi. The judges are immediately impressed by the simplicity of the menu as well as its daring. There are no meat items, possibly a first for a Top Chef finale. Amusingly, one of the judges is the man Paul and Sarah did not choose as a sous chef the previous day, Marco Canora. Cat Cora and Top Chef Canada host Mark McEwan are the others.

Across the city, Padma Lakshmi, Emeril Lagasse and Hugh Acheson sit down at Sarah's restaurant. Bill Terlato of Terlato Wines and famed chef David Myers join them as judges. All of them note that Sarah has created dishes wholly out of character for her. As we had expected, she continues her carefree, lucky to be here style by going for it with her final meal.

The first course is squid ink tagliatelle, spot prawns & coconut. The second course is rye crusted steelhead trout with fennel sauce, pickled beets & gras pista. Next is a braised veal cheek with crispy veal sweetbreads. Finally, she delivers a dessert of hazelnut cake with kumquat & roasted white chocolate ganache.

Sarah catches a break at one point. Her family arrives. This is a wonderful surprise that should be done every season. More importantly for Sarah, her future husband has been around her enough to recognize major flaws with dishes. He pulls her aside and quietly whispers to her that his fish had a bone in it. Sarah rushes back to the kitchen to check all of the remaining product in case it is in need of de-boning.

The judges are deeply impressed by Sarah's overall meal. She has the advantage of lowered expectations relative to her opponent and that serves her well. Her flavors pop throughout all four courses. There are a few concerns here and there, particularly with the second course. Lagasse believes the fennel is a bit too overwhelming while Myers is shocked by how raw the beets are. Lagasse quickly agrees that she did not pickle them enough.

Where Sarah's dish shines is in the dessert. She has turned white chocolate into a flavor mimicking caramel; the judges are in awe of this. It is her best dish of the evening and one of the best ever presented during a finale. Yes, it is up there with the pepperoni sauce Mike Isabella presented last season. Sarah has cooked to the best of her abilities on this evening and possibly even surpassed her previous ceiling as a chef. For this, she is to be commended.

Before we mention the details of Paul's meal, we should mention a beautiful moment that occurs. Throughout the season, Paul has expressed frustration with the person he used to be. He knows that he made mistakes and those errors in judgment reflected poorly upon himself, which he has accepted. He has always demonstrated frustration that such acts may indicate anything negative of his parents. Paul clearly craves his parents' approval, particularly that of his father.

Earlier, we stated that Sarah's family had arrived and there was a beautiful moment between Sarah and the single mom who raised her as they celebrated her big moment. Paul is informed that a table wants to speak with him. He is shocked when he realizes his girlfriend and his parents are there. Paul and his father both begin to cry. The pride on the face of Paul's father is unmistakable. We don't think you have anything to worry about in terms of having your parents' approval, dude.

Paul's menu consists of a daring first course of chawanamushi, edamame, pea shoots & spot prawns. This affords the judges the opportunity to play with their food a bit as it jiggles in the bowl. His second course is grilled sea bass with clam dashi, pickled radishes & mushrooms. The third dish is congee with scrambled eggs, uni, kale & smoked albacore. The dessert is a coconut ice cream, puffed rice, kumquats, mangosteen, thai chili foam & jasmine gelée.

Judging from the comments of Tom and the others, Paul has created a meal for the ages. We do not exaggerate when we say that Tom's eyes light up as he describes the various flavors as well as the overall dining experience. We mentioned last week that Tom's opinion carries more weight than the rest of the judges in combination. As such, we believe that Paul is about to be named Top Chef.

"It was a sexy meal." -- Mark McEwan, summing up Paul's triumphant performance

When the judges switch restaurants, there is one key moment of note. Paul is informed that the chawanamushi is overcooked. Even worse, Keith and him cannot make another batch because they have exhausted their supply of eggs. This too mirrors last season's finale wherein Richard Blais offered a better dessert for one set of judges than the other group. Paul freaks out and understandably so. The good news for him is that Tom received the properly cooked meal rather than the disastrous batch.

Judges Table begins with a celebration of what has been accomplished this evening. Tom says (for the third time in four seasons) that this is "the best food we've ever seen in a finale". We have stopped believing Tom because one can only cry wolf so many times. Even so, what we take from this is that Paul has matched the lofty expectations for him while Sarah has surpassed the lowered ones for her less proven style of cooking. Everyone is thrilled with the news.

At one point, Tom comments that Paul created his "favorite dish of the night." Sarah's look of consternation speaks volumes. Her worst fears have been confirmed. After the finalists are dismissed, Sarah then proceeds to debate the evening's courses with Paul. By the end of this conversation, she has again convinced herself that she has a strong chance at victory. We shout at the television as if this were a horror film and she were a recently deflowered teen heading down into the basement where the guy with a chainsaw and hockey mask is waiting.

In a humorous switch from last week, Gail champions Sarah, the very woman she wanted eliminated in the previous episode. The other judges all sound thrilled with the overall output. Sarah has definitely won the first course due in large part to the issue with the chawanamushi while the next two are Paul's although Gail probably gives Sarah the nod for the third portion. The dessert is up for debate as the judges decide between the delicious flavors Sarah provided as opposed to the thematic completion from Paul's symmetrical offering. In the end, Paul wins this as well.

Stating the obvious, Paul Qui is the winner of Top Chef Texas. This announcement signifies the culmination of the most dominant performance in the history of the show and quite possibly all of competitive reality television. Paul wins his ninth elimination challenge out of a possible 15, a staggering accomplishment in a field that originally included sixteen participants.

Paul's triumph has felt like a foregone conclusion for months now. Still, we are thrilled that for the second consecutive season, the best chef won. Top Chef is a special program in this regard. The best competitor frequently does win, something otherwise sadly rare in relative programming.